Latest Nigerian wedding hairstyles
Your big day is coming up, but you still have no idea what to do with your hair? Then you should definitely check out thispost on the latest Nigerian wedding hairstyles. Just look through our 15 picks, choose the one you like and show the picture to your hairdresser to get the bridal hairstyle of your dreams.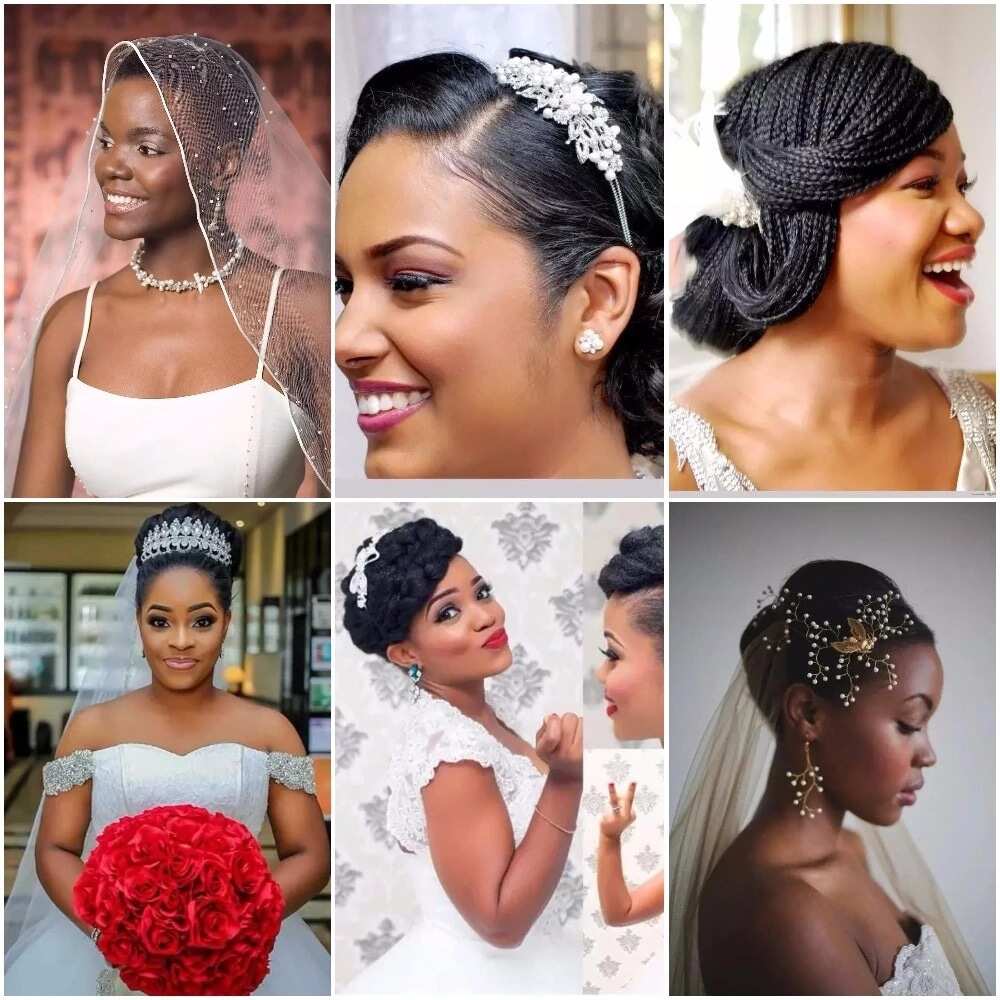 Choosing a hairstyle for a wedding is never a simple task. You need to figure out what you like, what works with your face shape, what works for your type of hair and whether you can afford to have your hair styled like that. Hopefully, we will be able to help you find what you like, so that you can spend more time figuring out the rest. Without further ado, here are 15 wedding hairstyles you should consider for your wedding.
Intricate wedding hairstyles with natural hair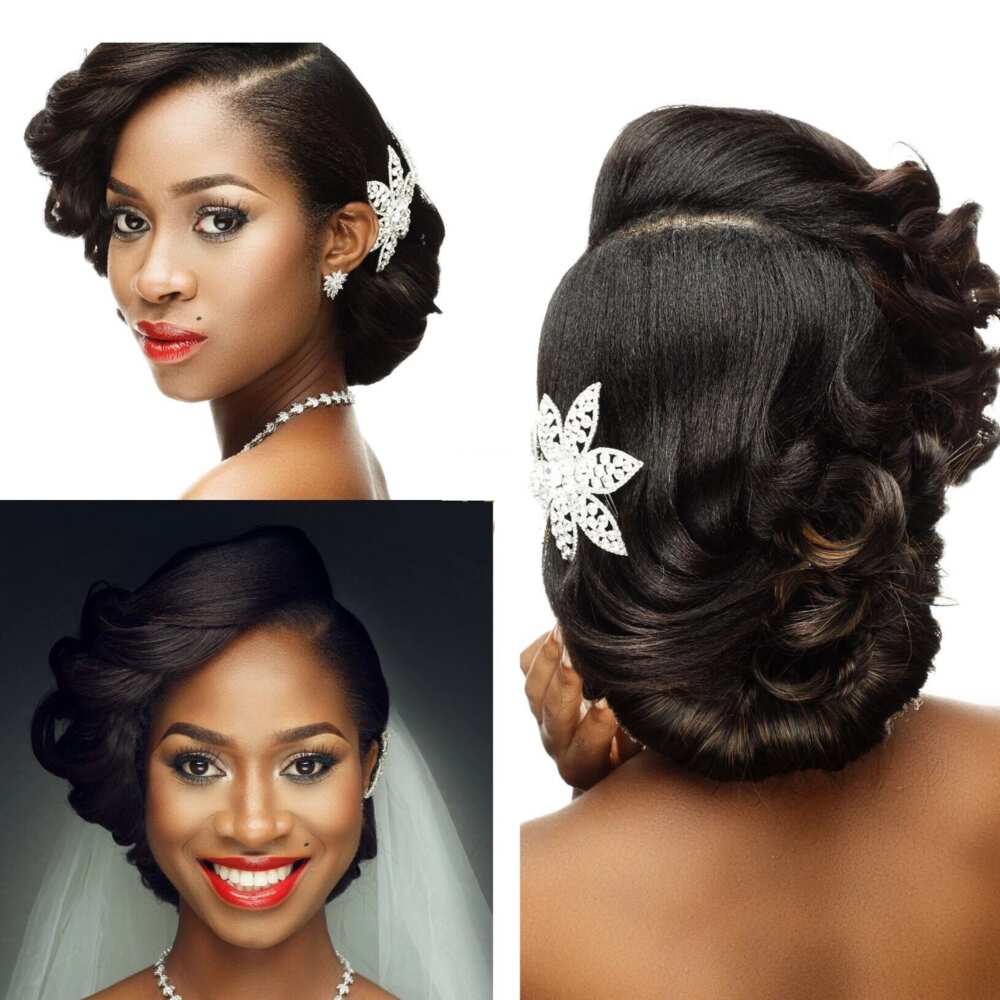 We thought it would be great to start with this hairstyle, which is gorgeous from every single angle, and not a single hair is out of place. The thick waves that merge with the elegant updo create a very stylish look. The updo is actually very convenient if you plan to have a veil. The lovely flowery hair brooch rounds up this hairstyle nicely.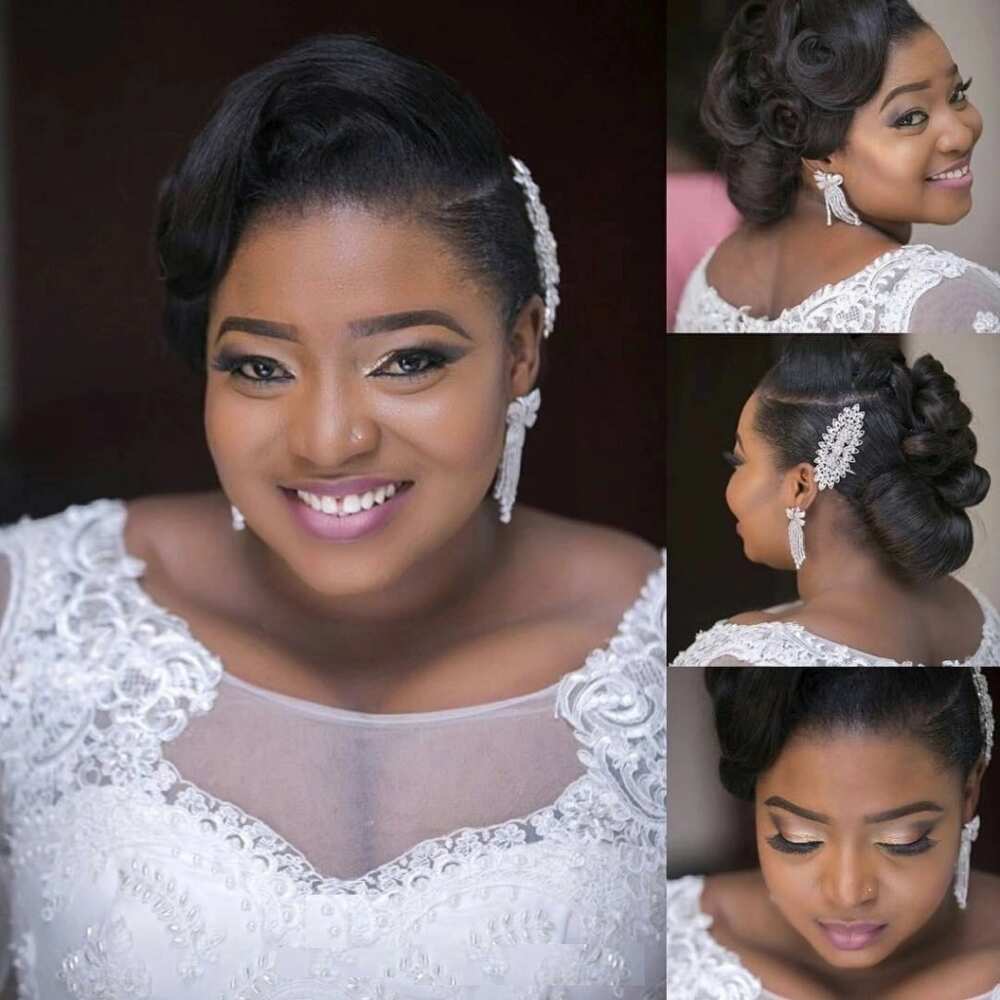 When you are not exactly sure what to do with your hair, going for an updo is always a great choice. It usually requires less hassle than other wedding hairstyles, but it always looks great. You can also customise it to your liking, for instance, putting the hair in the front in little circlets (pin curls) on the side of your head or adding a sparkly brooch.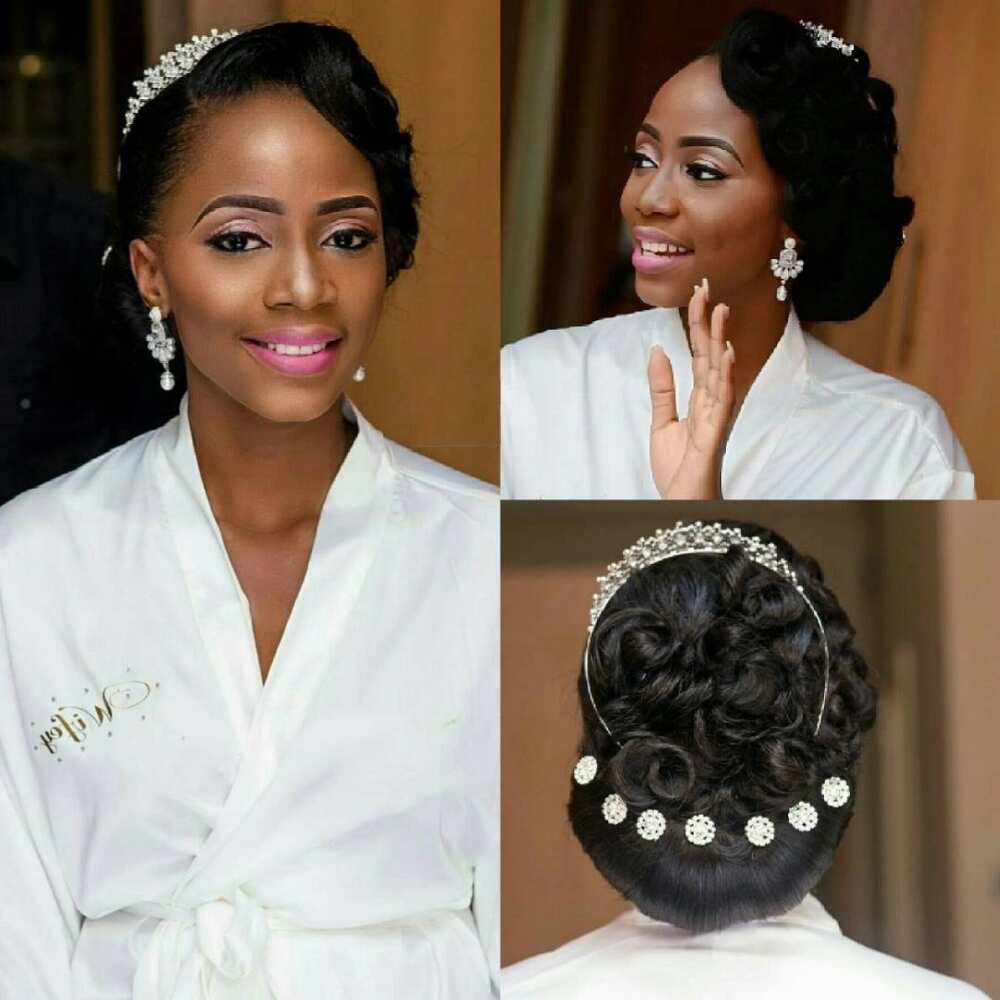 Speaking of circlets, you can have your whole hair done like that. You can also use decorative hairpins to keep your updo in check (or to attach the veil to it) and add a little tiara on top, because who does not want to look like a princess on their wedding day?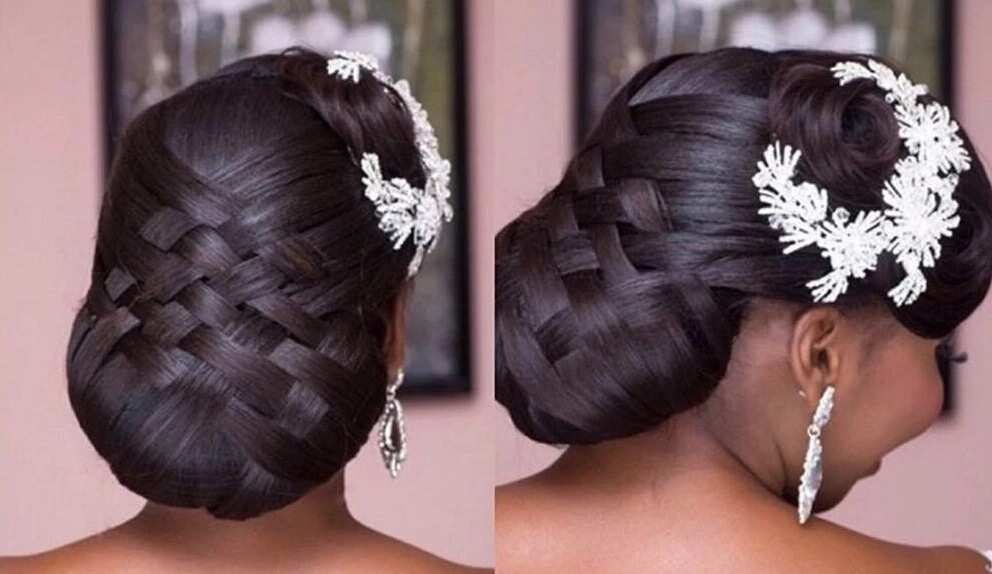 Now, this hairstyle blew our minds. Even though it does not look all that complicated, it must have taken hours to make it look that neat and flat. Every strand of hair looks as smooth as silk. To be fair, we are not sure where each strand begins or ends, so major props to the hairstylist.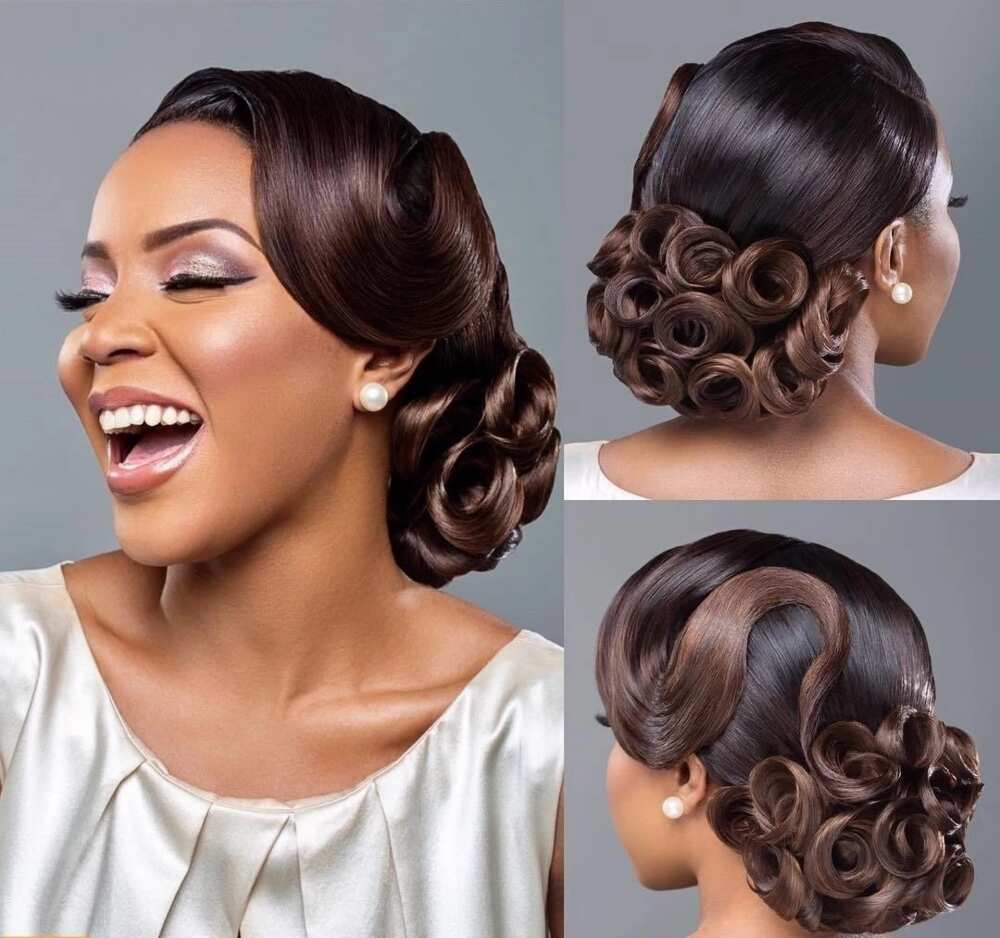 And we are back to the circlets, which seem to be all the rage these days. This time, they are collected in a shape of a low bun. The hair at the front is wonderfully styled in a slick wave, and there is not a single flyaway. It probably took at least two cans of hairspray to keep such a major construction in place.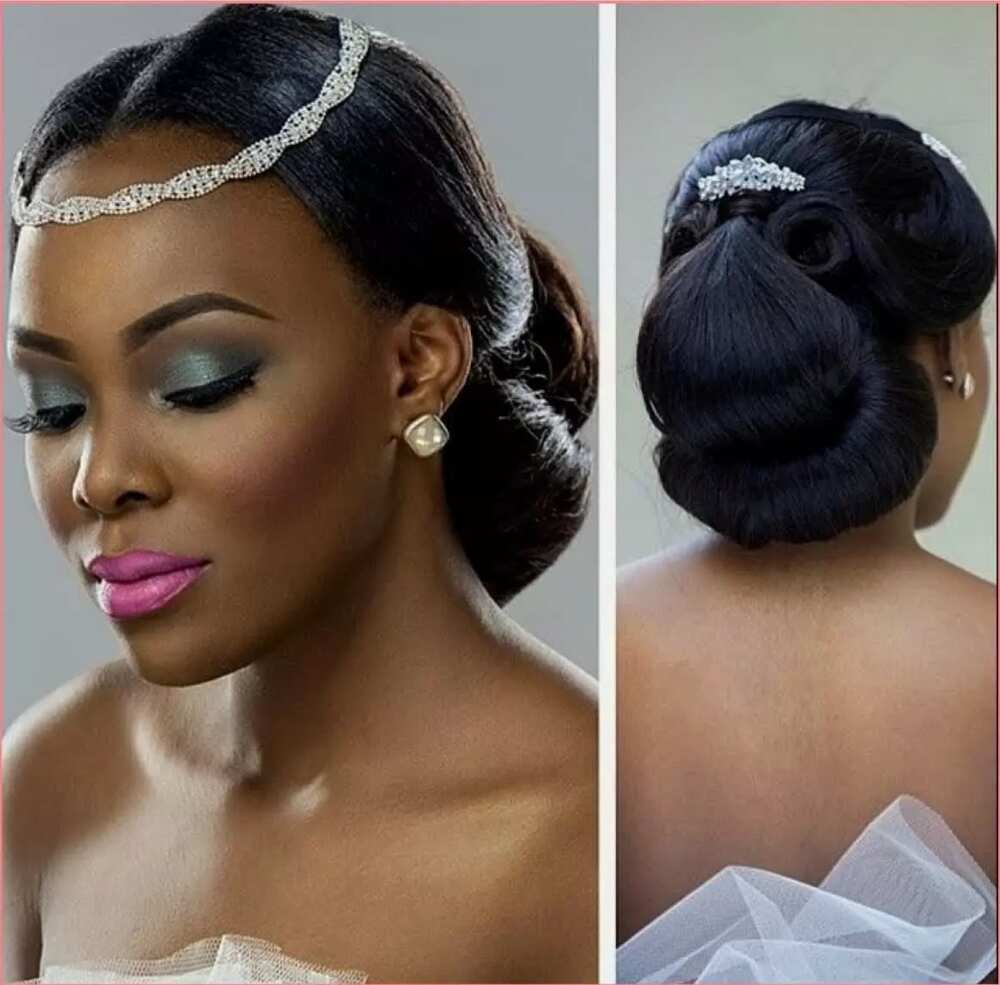 You cannot have too many updos, especially when we are talking about wedding hairstyles in Nigeria. This one in particular looks very interesting, with its symmetrical circlet-shaped strands and a lovely two-layered structure of the updo. Once again, the brooch most likely has a double purpose of holding the whole thing in place, as well as attaching the veil.
Simple wedding hairstyles for natural hair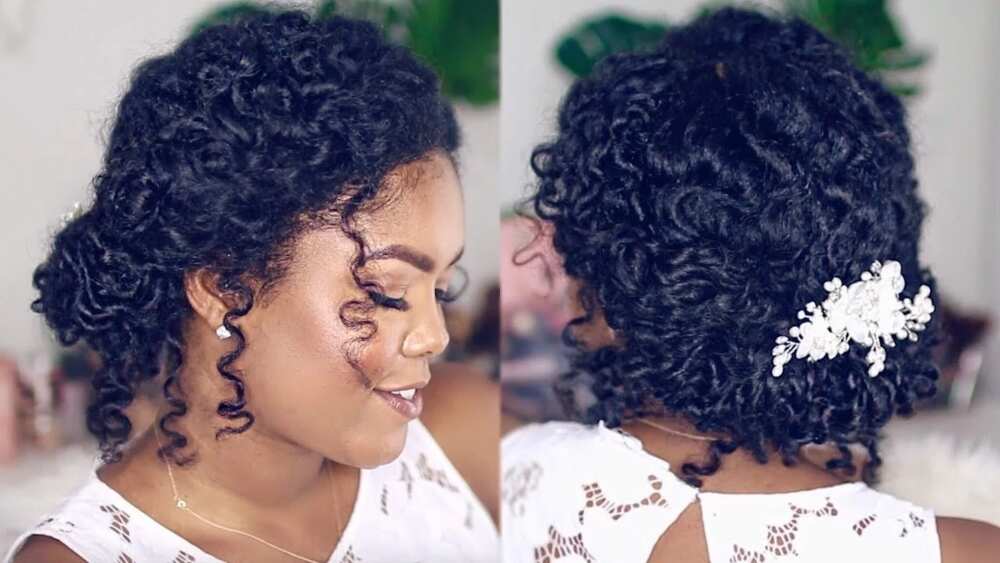 Now, not everyone wants to get something incredibly complicated with their hair for the wedding, which is why we have decided to have a separate category of wedding hairstyles pictures that do not require as much effort as the ones mentioned previously. For instance, there is this lovely curly updo that does not require litres of hairspray to stay together. All you need is a lovely bridal brooch.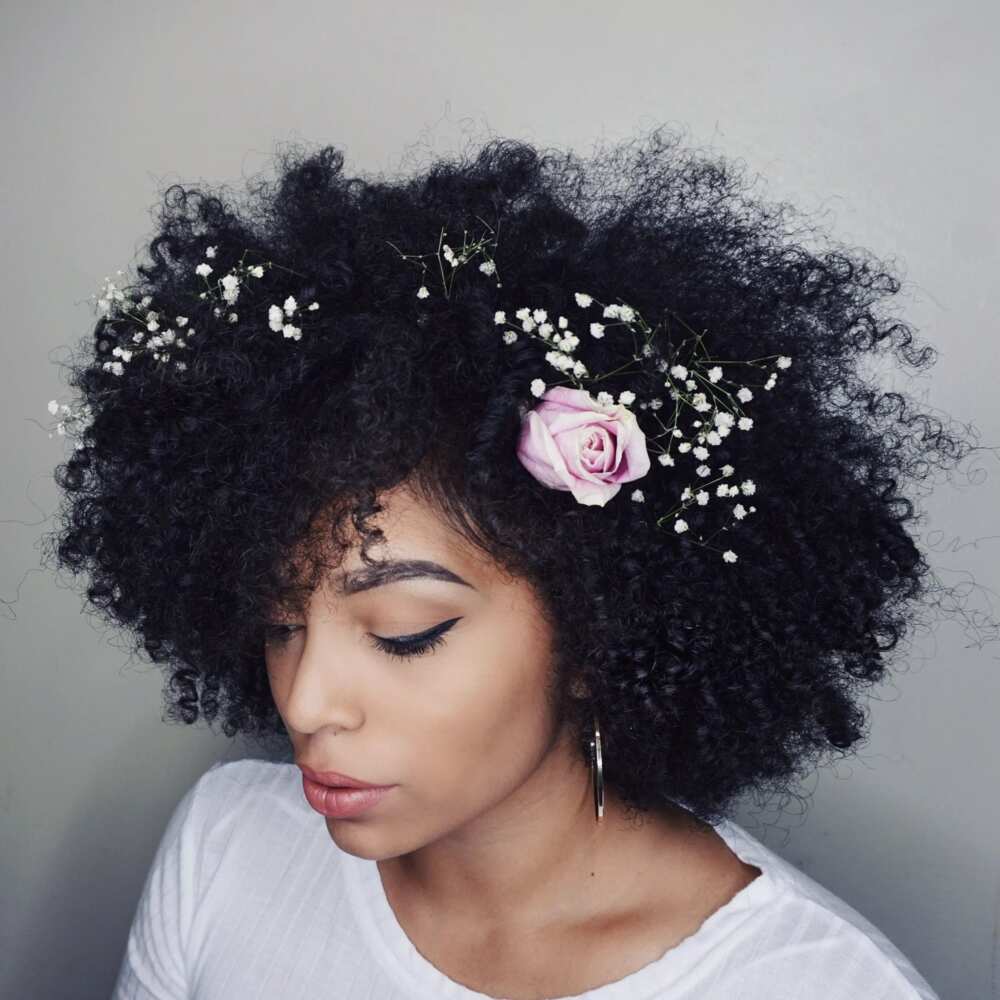 READ ALSO: Black natural hairstyles for medium length hair
You can also just go in with your natural hair and put some flowers or other accessories to make it more fit for the occasion. After all, weddings last for hours, and having a tight hairdo for that long will not be beneficial for you nor your hair.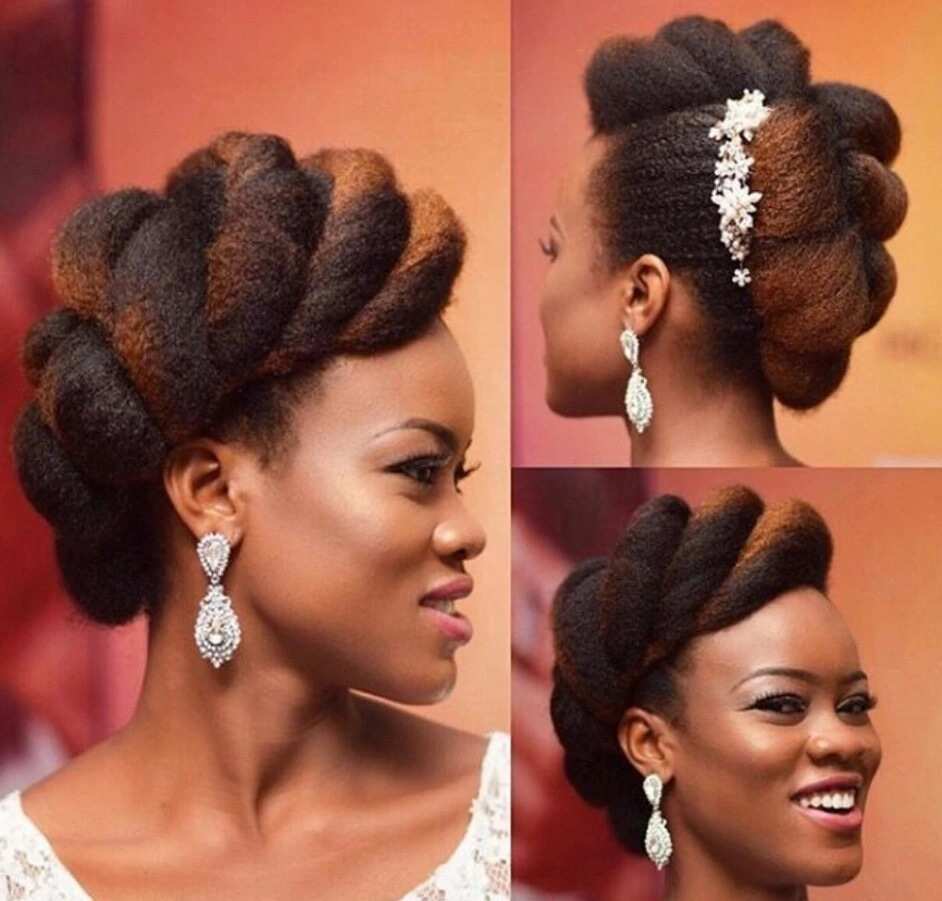 You can use a regular natural hairstyle, such as this twist, and make it look more bridal with the help of the brooch and accessories. It will look especially fascinating if you have highlights in your hair, adding more dimension to an already voluminous hairdo.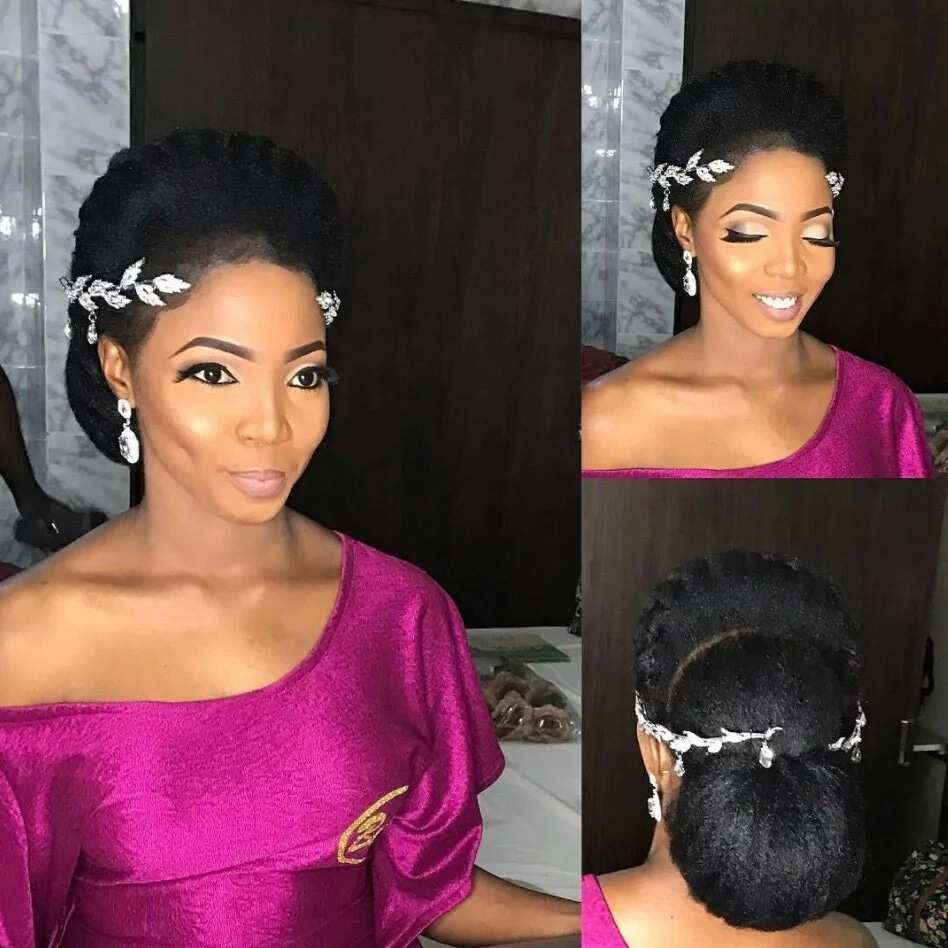 There is also an option to create a lovely crown out of your own hair, gather the rest of it in a tight low bun/updo and adorn the whole thing with a two-peace leaf crown. Be the woodland queen you have always wanted to be :)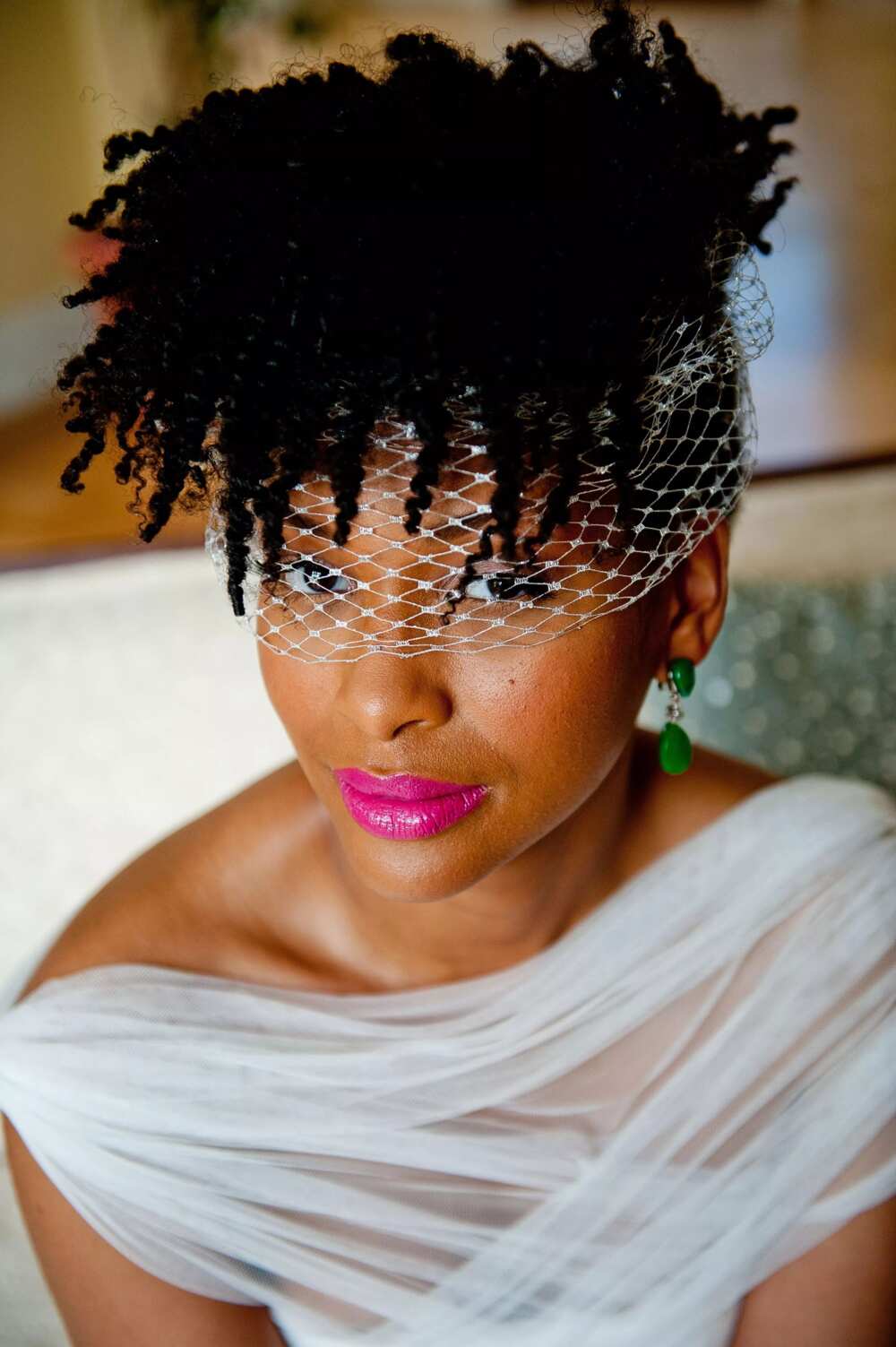 Sometimes a wedding hairstyle does not take much more than a single accessory. You can just have your hair in twistouts, add a little veil net and voila! You are ready. After all, spending countless hours in a hair and makeup chair is not for everyone.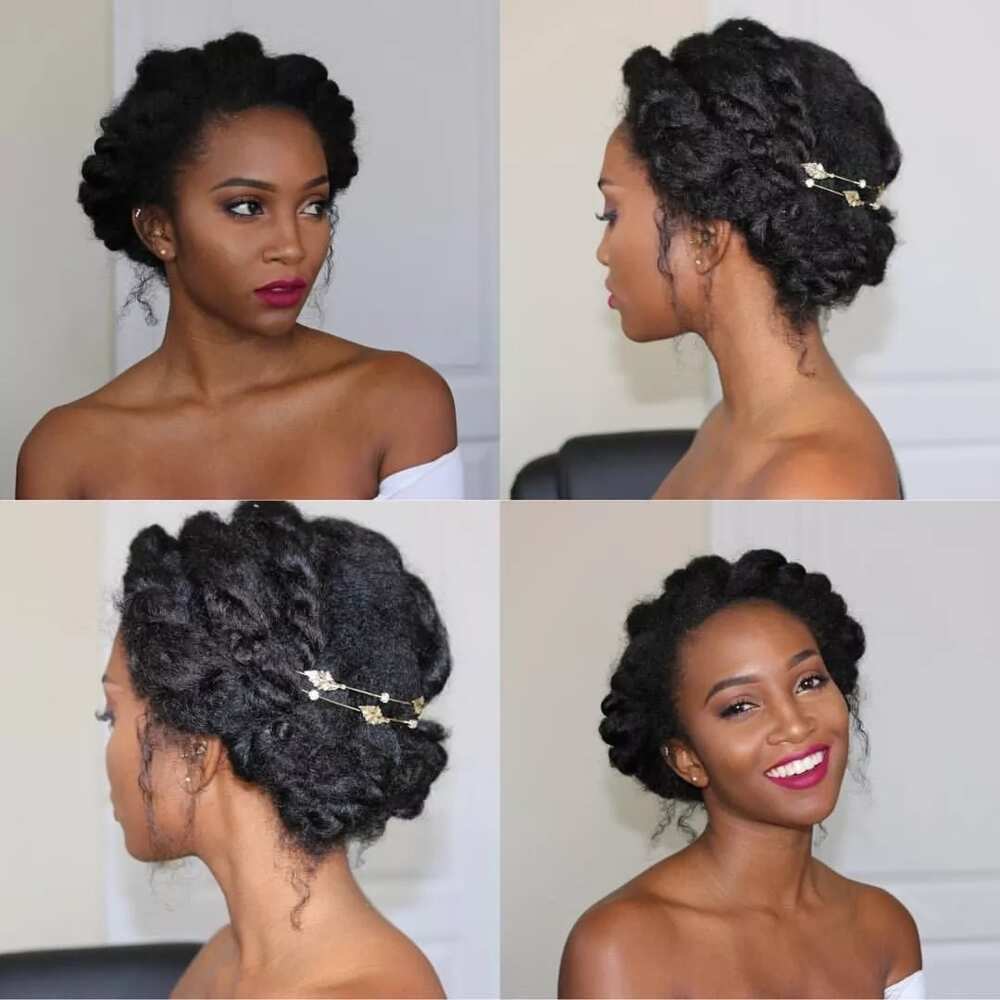 If you want to look soft and youthful with little to no effort, you can go for this hairstyle. All you will need to do is make some twists and gather them at the back with a brooch. And do not worry about misplaced strands or flyaways, as they will only add to the look.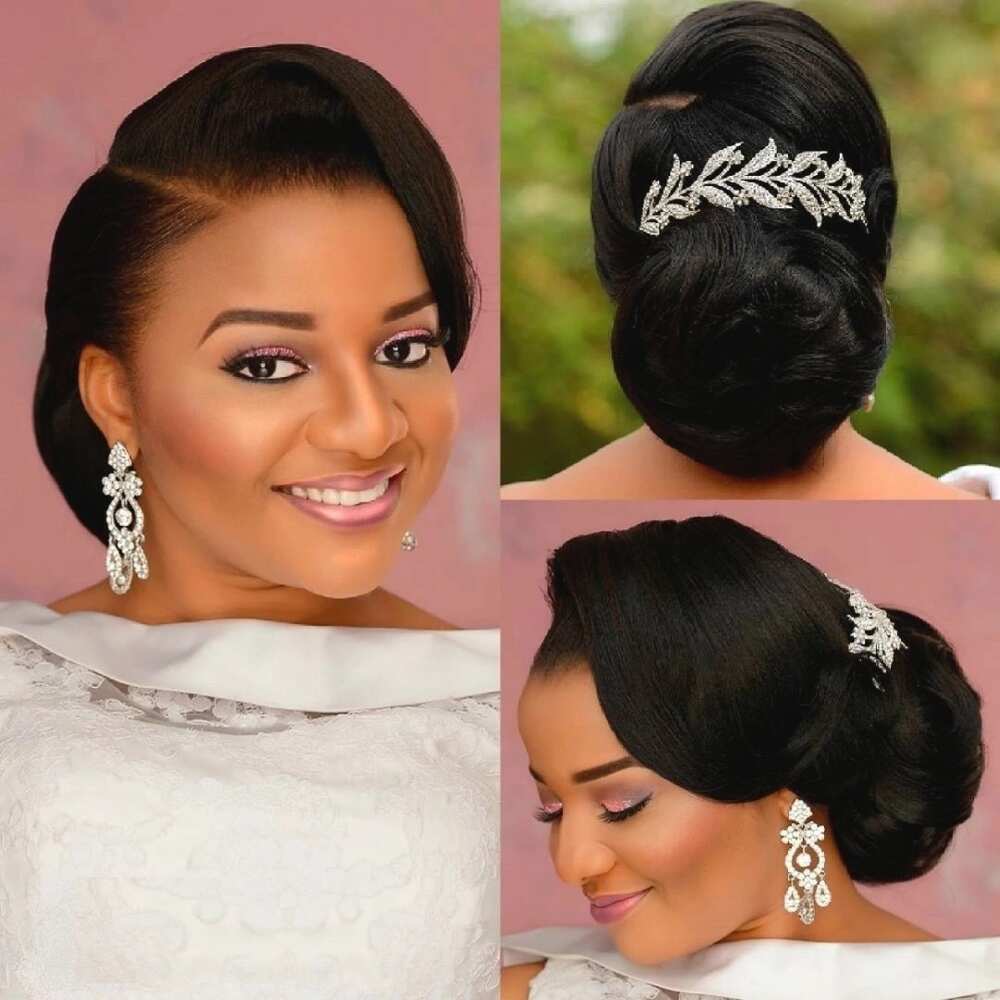 Now, if you are willing to apply some effort, but not too much, you can go for a low bun and a styled wave. While it will take some time to straighten the hair, creating the bun and the wave should not take nearly as long as it would take for anything out of the first category. And yet, this hairstyle still looks very elegant.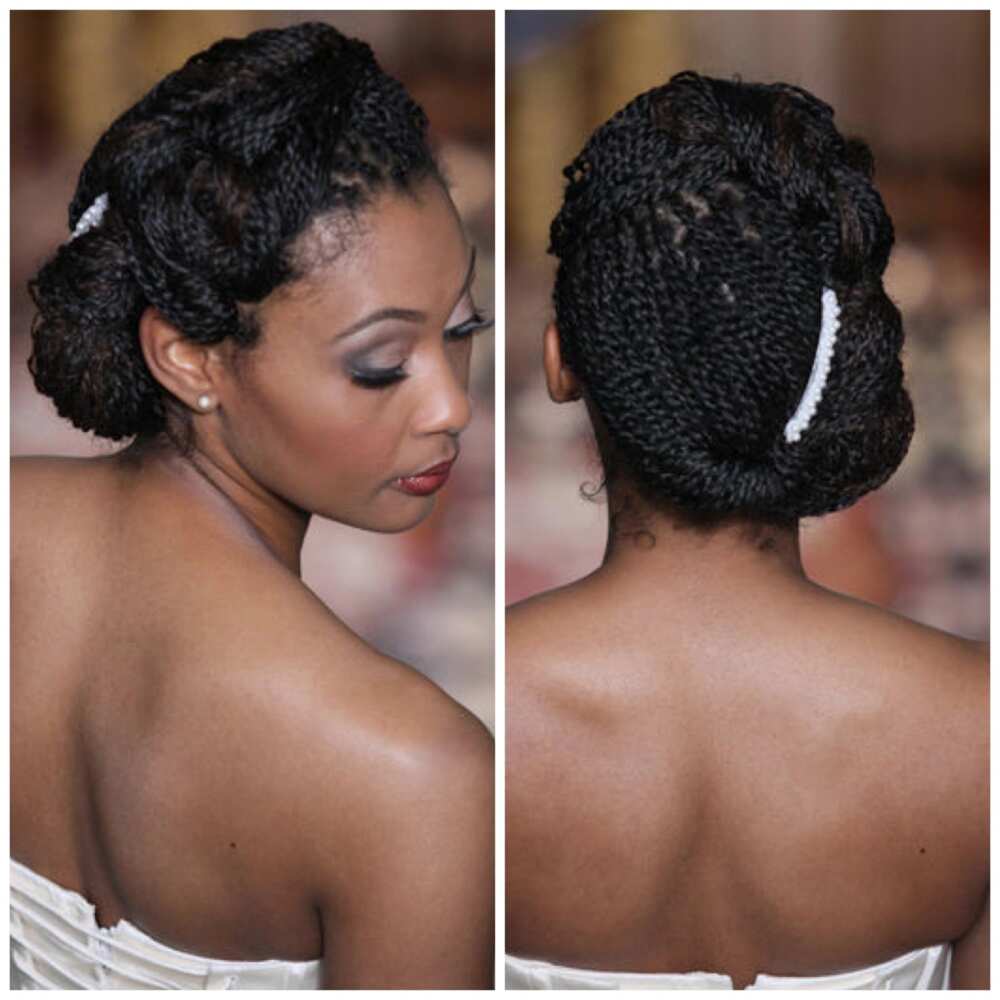 If your hair is in braids and you do not want to take the braids off for the wedding, you can actually turn them into a beautiful hairdo. Or you can have your hair braided just for the occasion. After that, all you will have to do is twist it at the front and gather it all at the back with a large hairclip or brooch. And your bridal hair is done!
These were our 15 favourite bridal hairstyles. Which ones did you like the most? Have you found some inspiration for your wedding hairdo? Or, if you are already married, what hairstyle did you have on your big day? Let us know in the comments!
READ ALSO: Protective hairstyles for short natural hair
Source: Legit.ng