Colours that go with purple for a wedding: Best combinations
Read about the colours that go with purple for a wedding: best combinations. Purple is ideal for newlyweds who prefer bright and unordinary wedding colors. It's not so easy to use it correctly. You should pay special attention to a combination of tones and keep the color balance.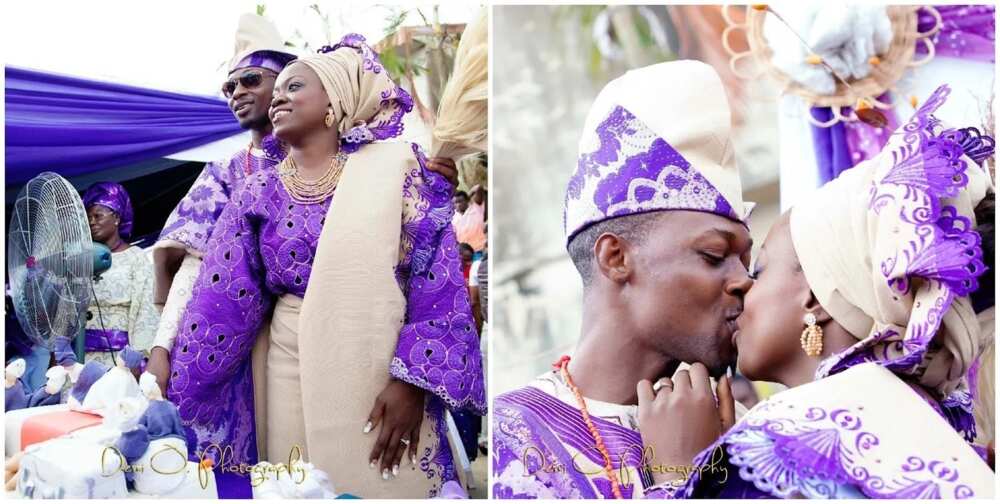 Purple is one of the most amazing and beautiful colors existing in nature. If you dream of a wedding ceremony decorated in non-traditional tones, you should pay attention to the purple colour and its combination with other colors. Many years ago purple symbolized the harmony of a human with nature. It's a symbol of luxury and respect.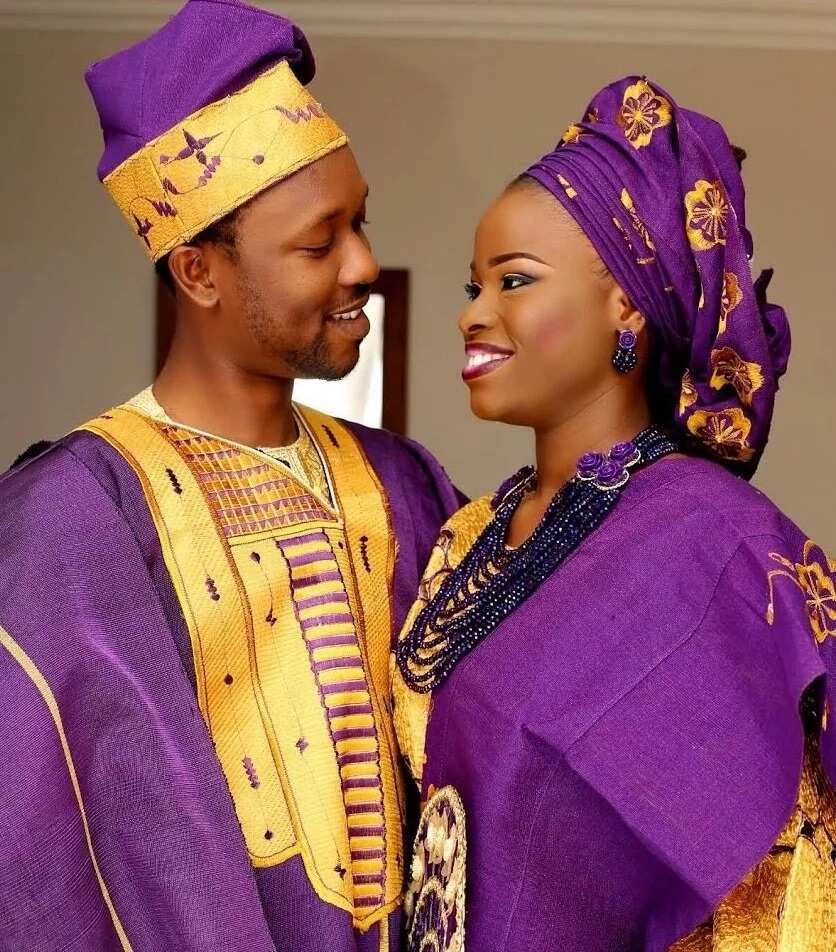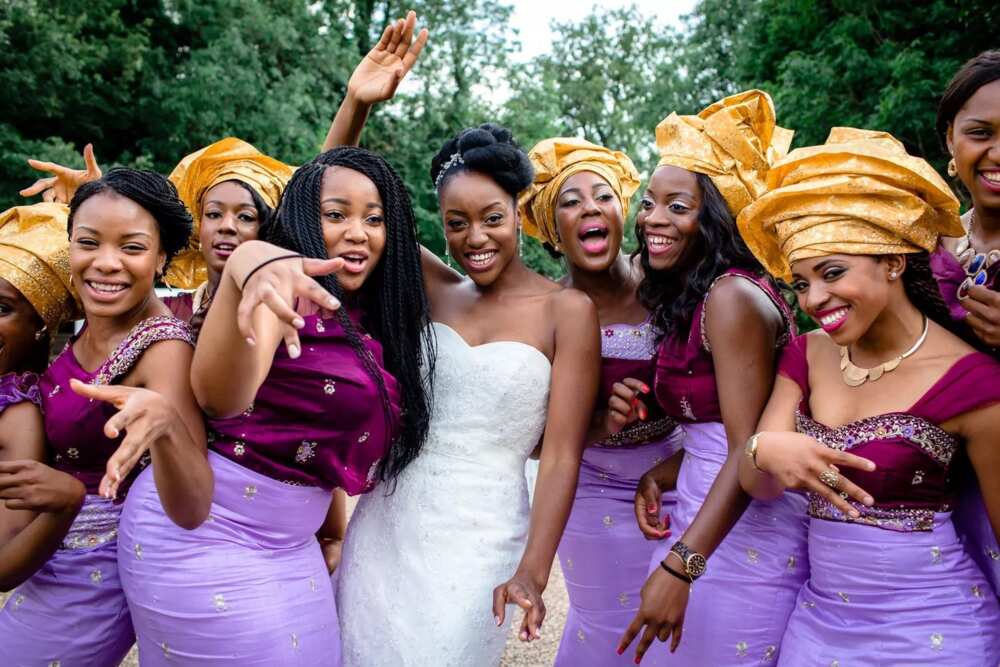 In ancient Rome, purple made of rare mollusks' shells, so that only very rich people could afford to wear violet-colored clothing. To date, this tone cannot be called rare, but the aura of wealth and elegance is still inherent. The most common shades of purple are blackberry, lilac, lavender, plum, indigo, amethyst and others. Violet is a complicated color, and its intensity should vary depending on the season.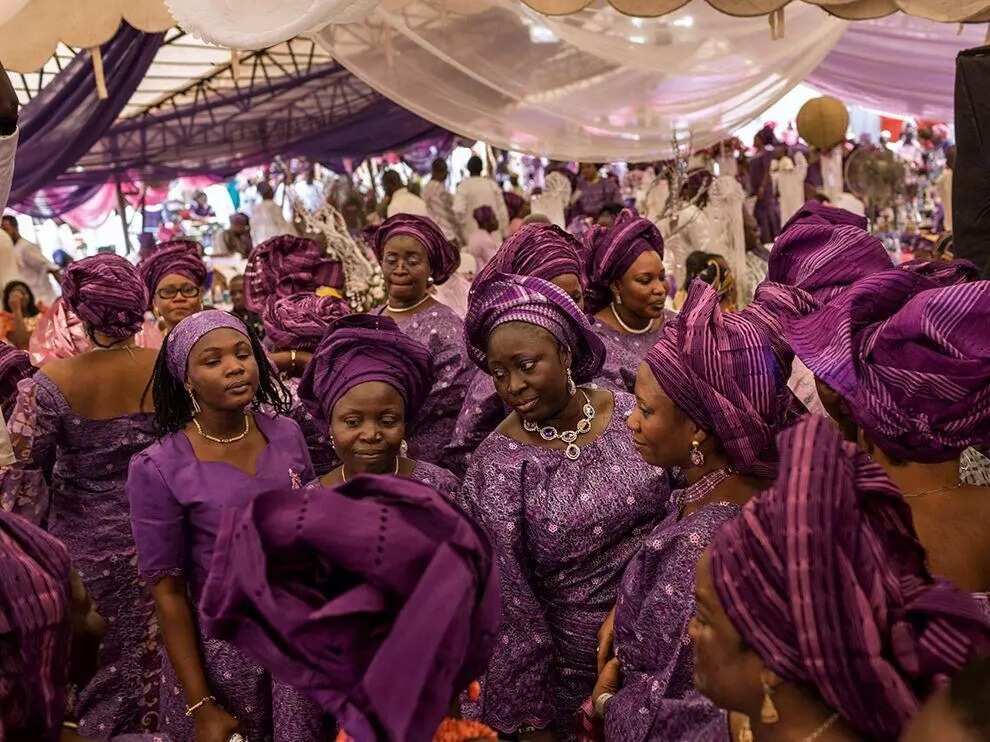 Colours that go with purple
Purple is a neutral color, and it's not considered to be either female or male. It's formed due to a combination of two colors: blue and red. Blue symbolizes the masculine, and red denotes feminine. This moment can be beautifully beaten in the wedding. By the way, in warm purple tones red color predominates, and in cold tones, blue color prevails.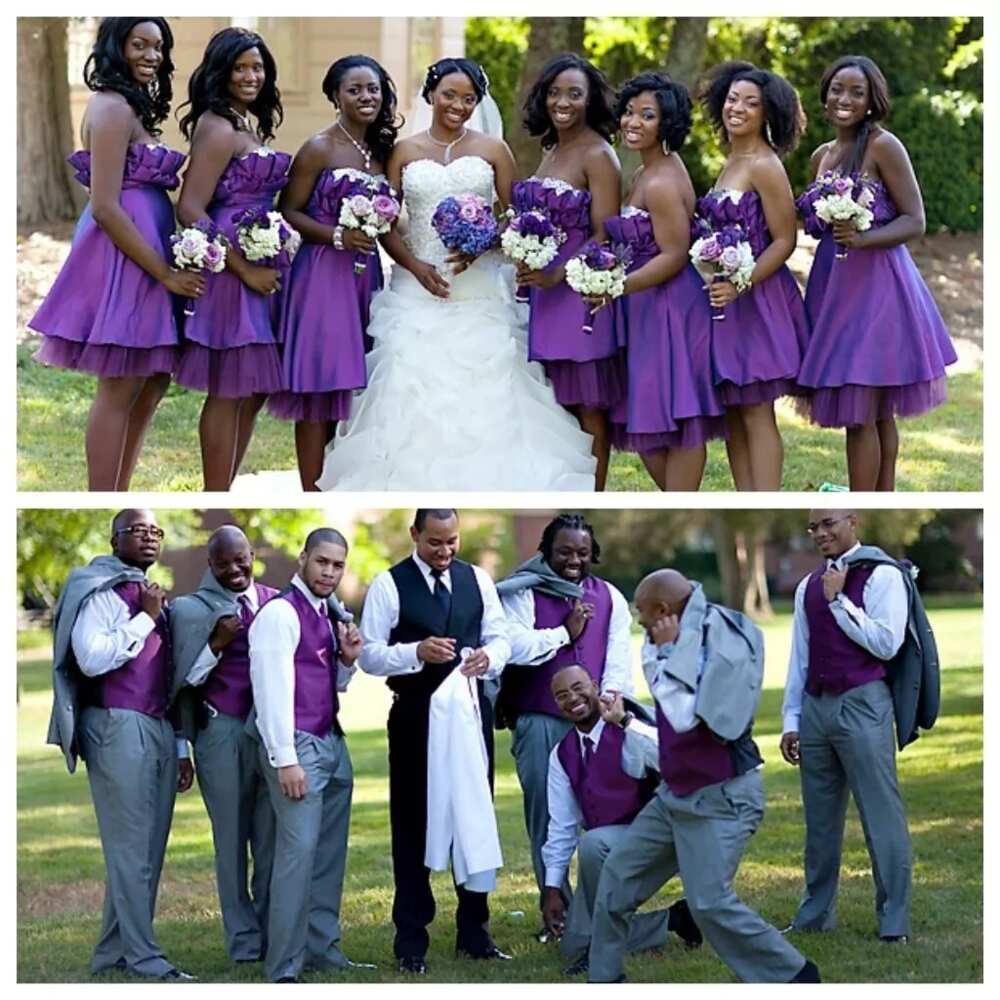 Purple can serve as the primary color, and make bright accents in the overall design of the wedding. It's nicely combined with white tone. Cream, champagne, and beige make violet softer and tender.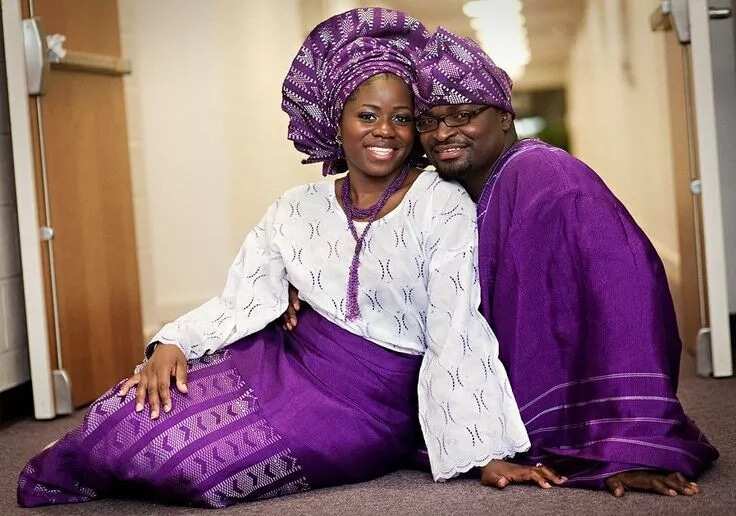 Interesting combinations are violet with green, blue, orange, and yellow. Noble and luxurious tandem is purple with silver. Purple and gold are a gorgeous mix.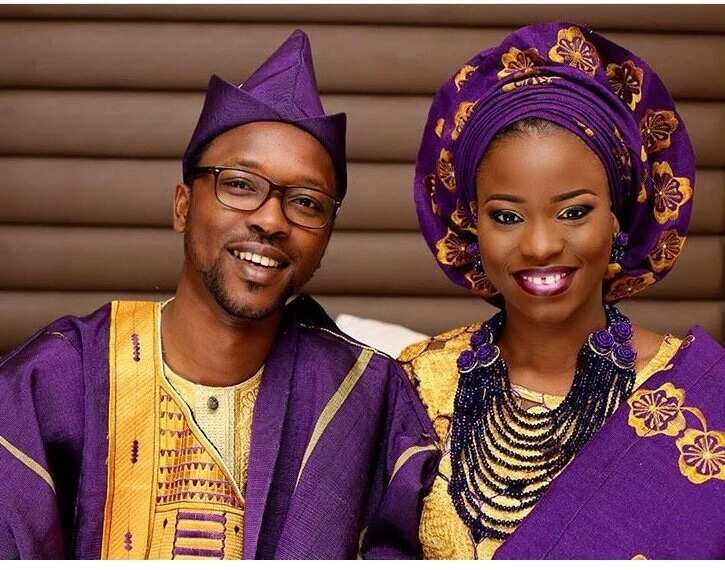 When you come up with a design for invitation cards, remember what flowers do you associate with purple? Perhaps it's lavender, violet, lilac or iris that will become the "trump" of your celebration. Flowers can be used not only for the decor of the banquet hall but also for bonbonnieres and invitations. Such messages are especially gentle and beautiful.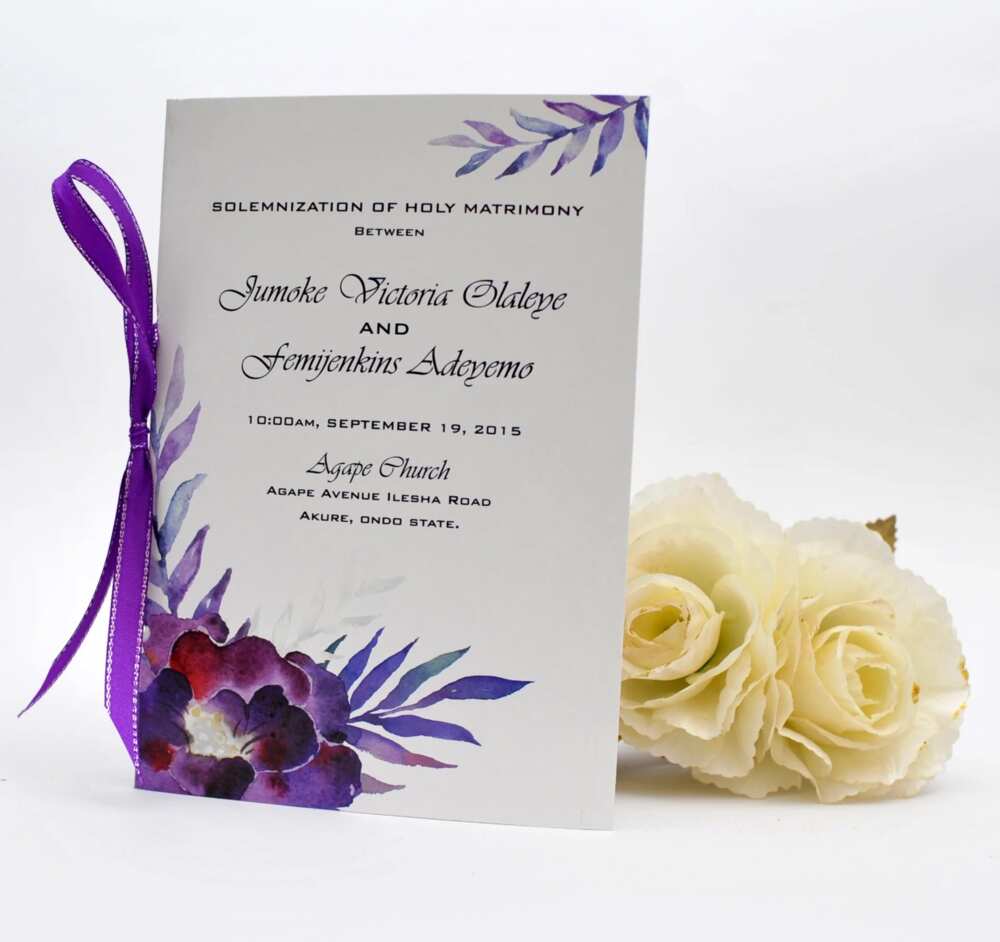 If there is no possibility to decorate a postcard with fresh flowers, bright floral print, saturated purple tapes, and original colored fonts suit well. You can make an original appliqué or decorate an invitation with beads, brooches, and colored feathers. It depends on your preferences.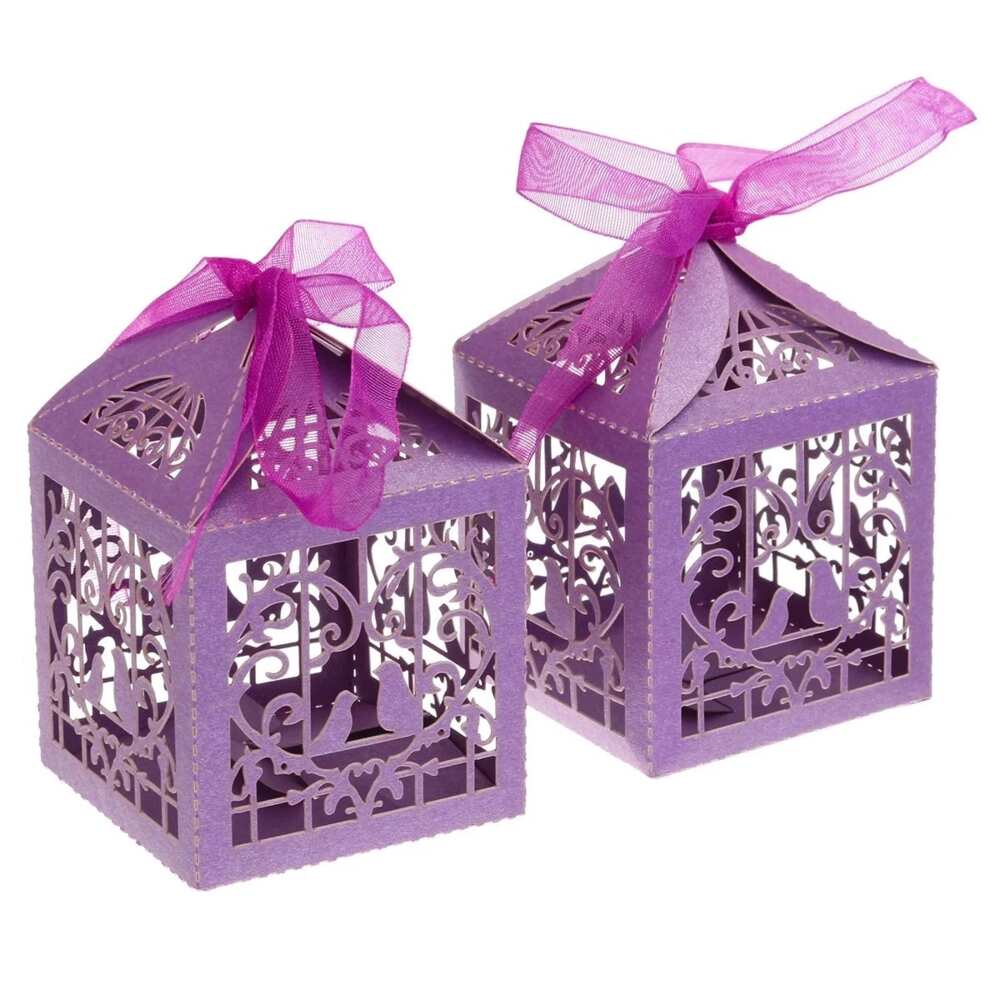 Bonbonniere is not just a pleasant surprise for guests but also a reminder of your wedding. The present doesn't have to be expensive, just symbolic, but lovingly chosen. Aroma candles with the scent of lavender, essential oils, a pot of violets, lavender soap and others appeal to the guests.
READ ALSO: Nigerian wedding colours 2017-2018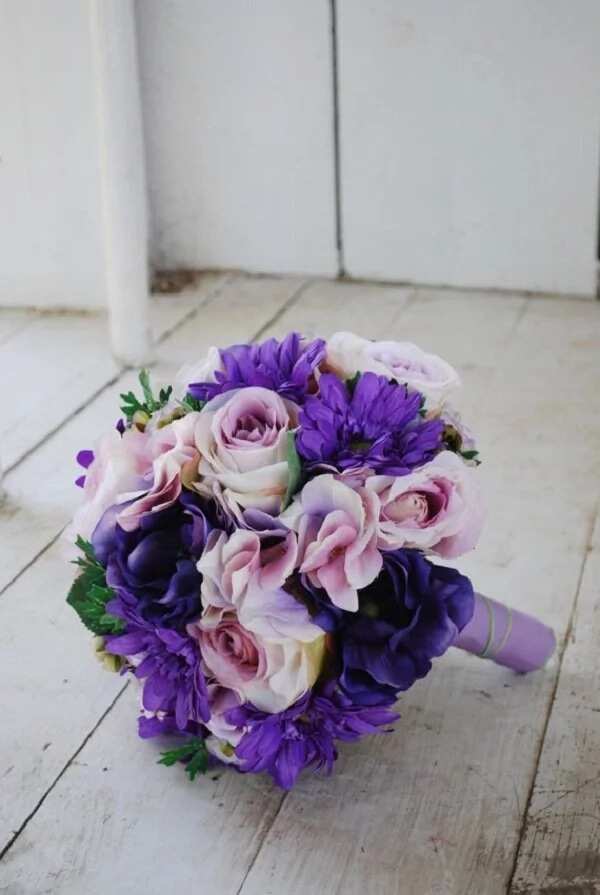 Bridal bouquet at a wedding in purple tones
A bridal bouquet on a purple wedding doesn't necessarily have to be monotone. You can take traditional white roses as a basis and complement them with purple dahlias or asarines. Also, irises, violets, lilac twigs, tulips, violet callas look great.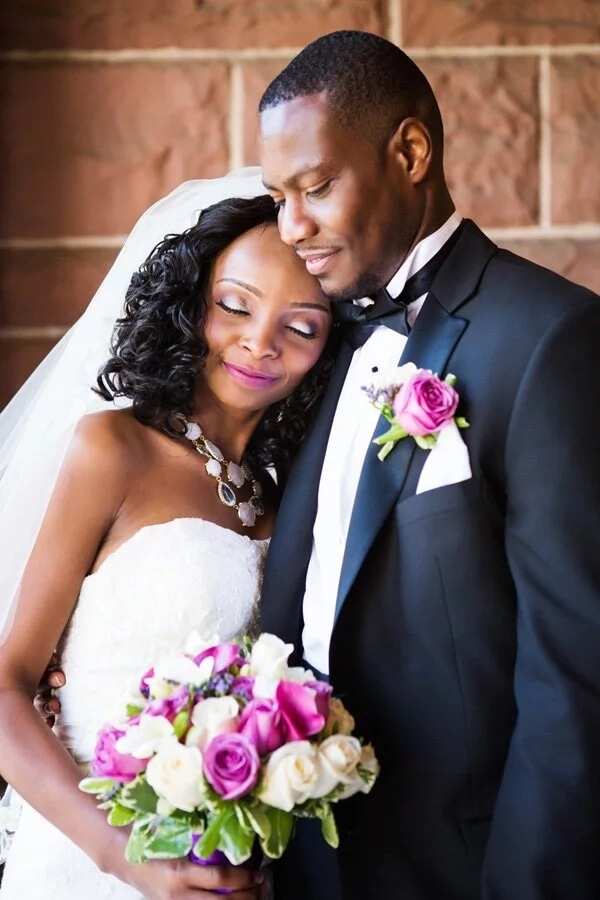 The bride and groom outfits on the purple wedding: best colour combinations
Everyone's attention is riveted to groom and bride, so the choice of attire should be approached thoroughly. In modern designers' collections wedding dresses of lilac, purple, smoky-violet, and other tones are offered.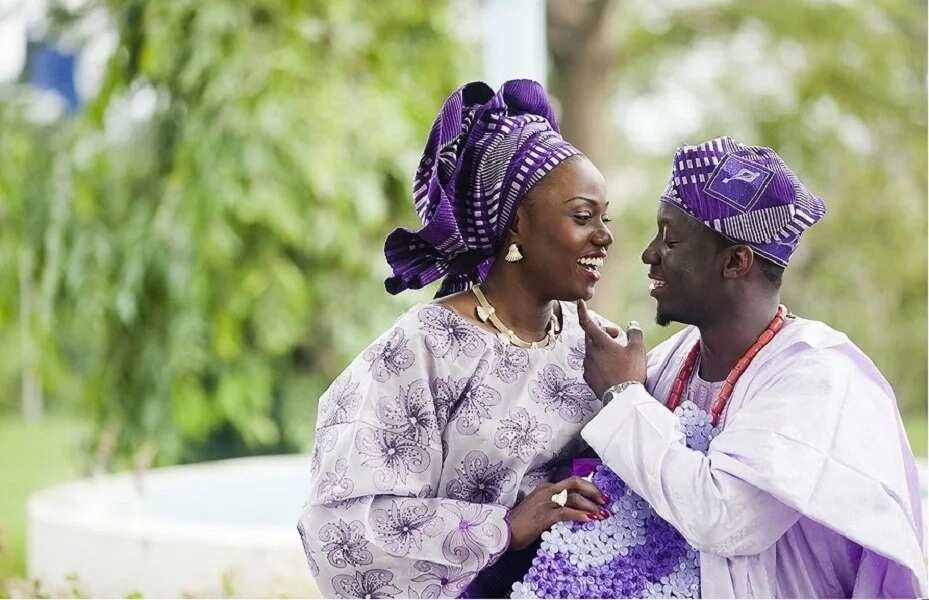 It's worth remembering that this color is quite capricious. In a purple dress, the bride looks majestic, but at the same time, it makes her visually younger. The trendiest purple tone of the coming season is ultraviolet.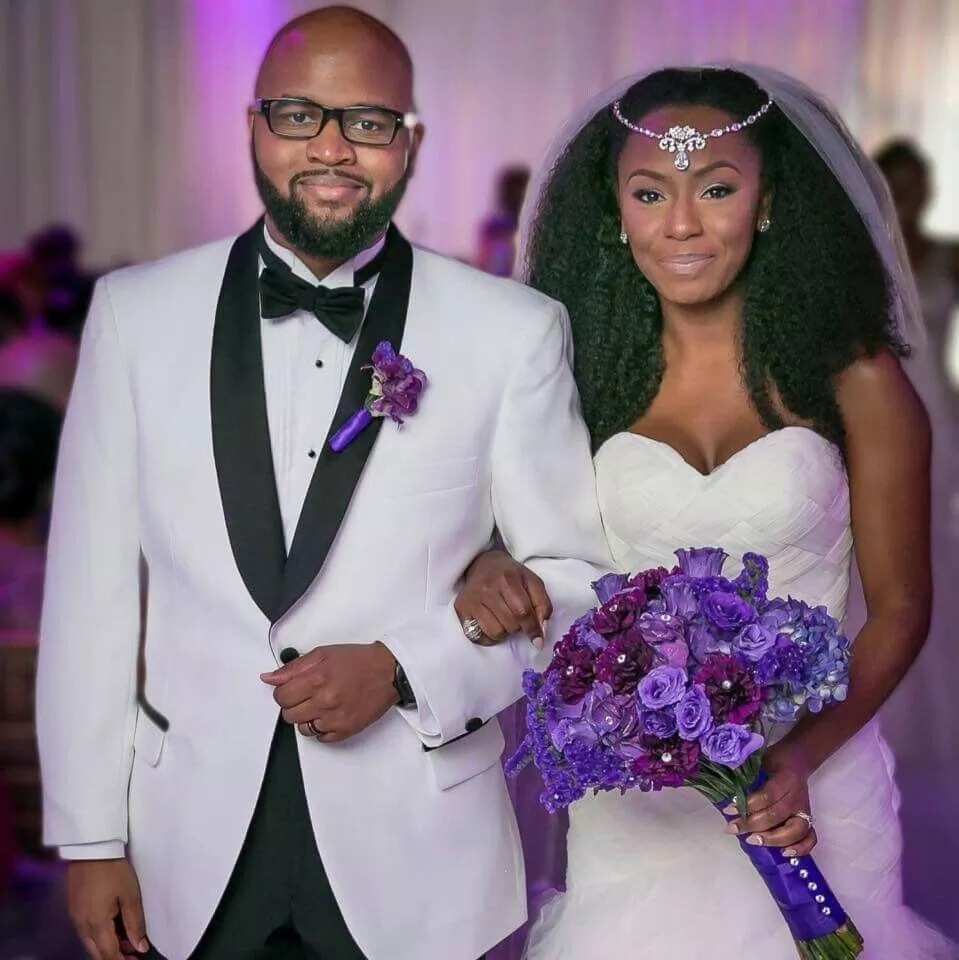 If you decide not to change traditions and choose a white dress, you should carefully pick the accents. You can buy a lilac veil, a purple belt, bright shoes and, of course, a bright wedding bouquet.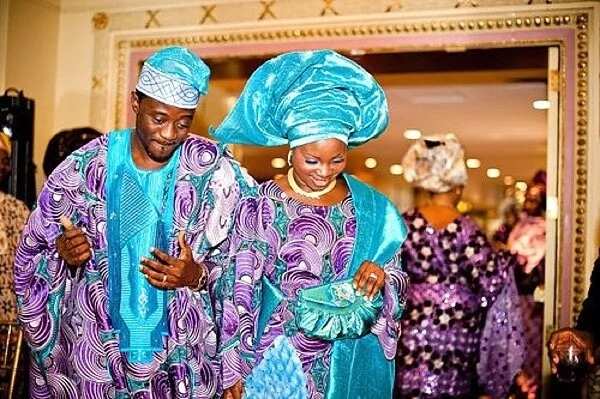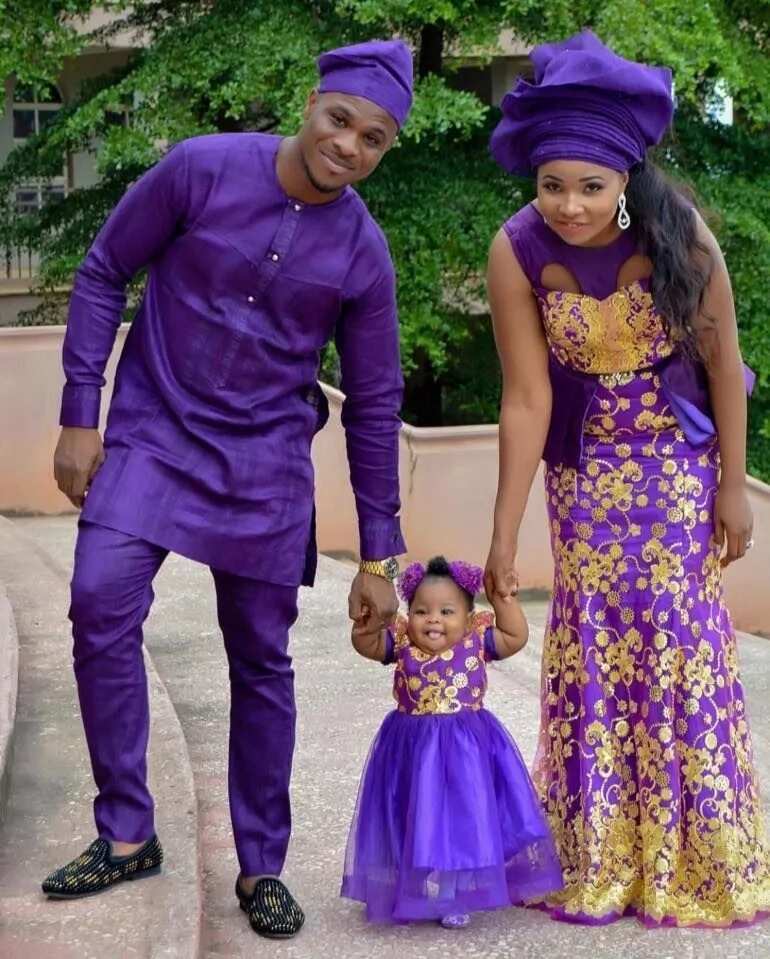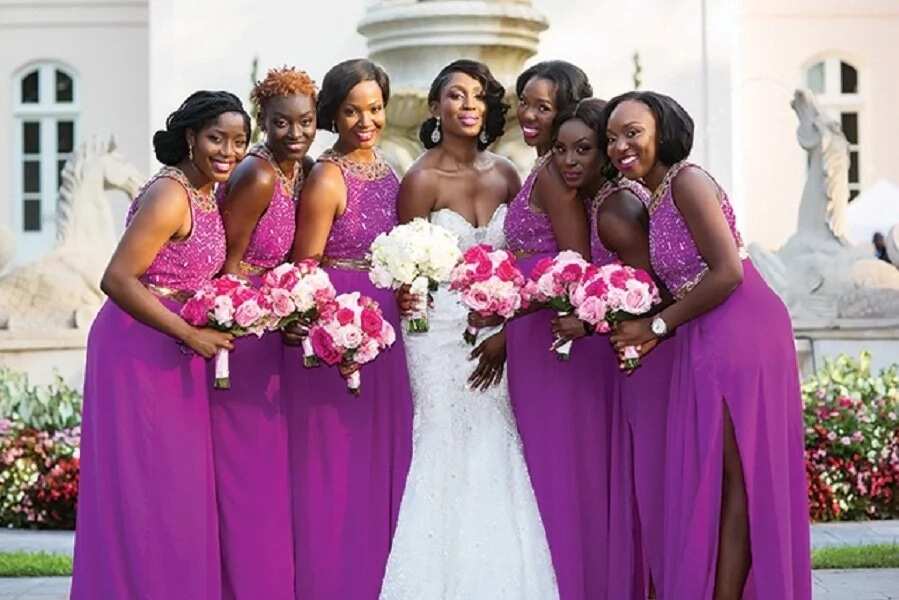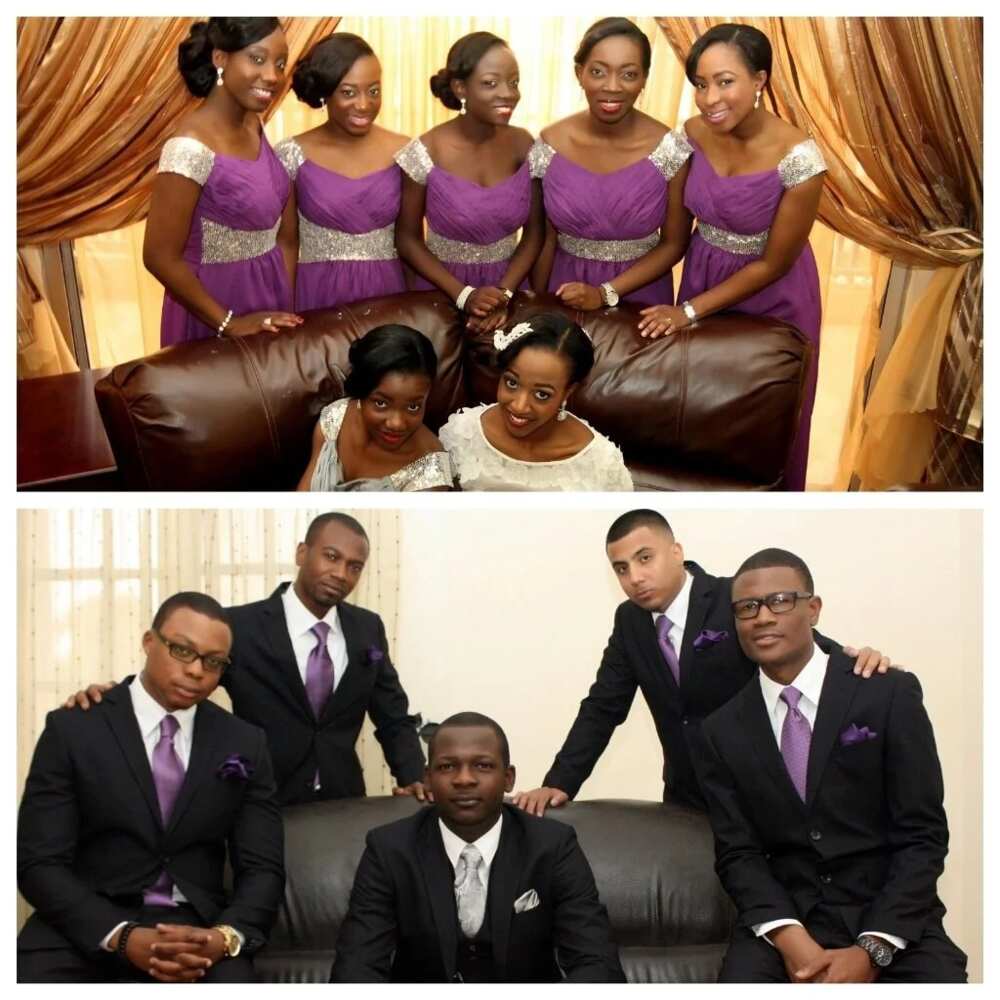 Dresses for guests and bridesmaids: colour combination
In advance, warn the guests that your wedding is non-standard. Ask at least for some purple elements in their attires. As for the bridesmaids, they can be dressed in purple or violet dresses, if the bride is in a white gown. If your dress is made in one of the purple shades, it's better if the girlfriends are dressed in pastel colors. And the bright accents should be bouquets, bracelets, belts, and shoes.
Groom's friends can wear contrasting costumes. For example, if the girls are in purple, the guys can be in gray, and if the girls are in beige, the guys are in gentle-lilac.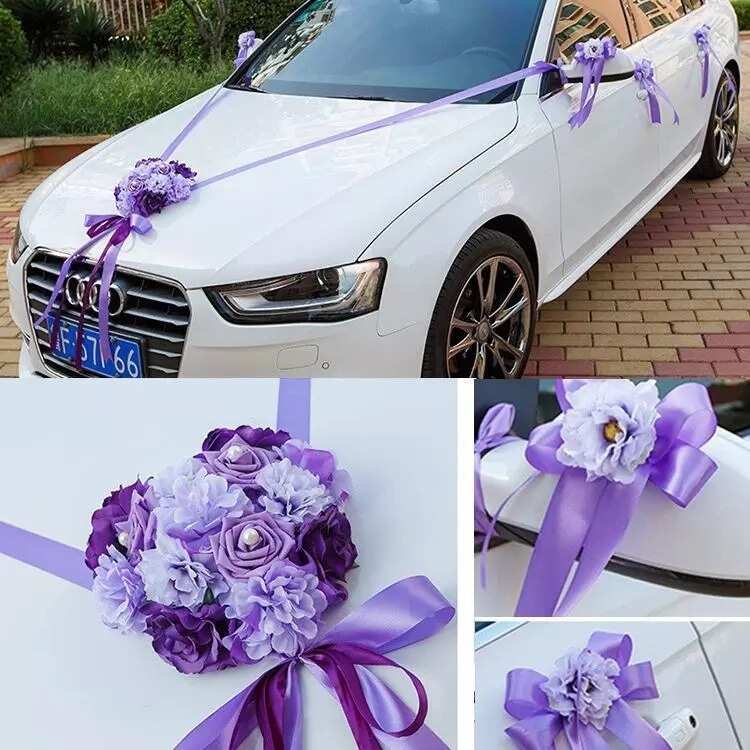 Wedding cortege on a purple wedding
The purple color is very rare for a car so that you can opt for white or black cars. As an ornament, you can choose violet and purple ribbons, balloons, and floral compositions. On the car doors, you can hook lavender or lilac bouquets. If the wedding takes place in a retro style, then the machine should also fit the theme.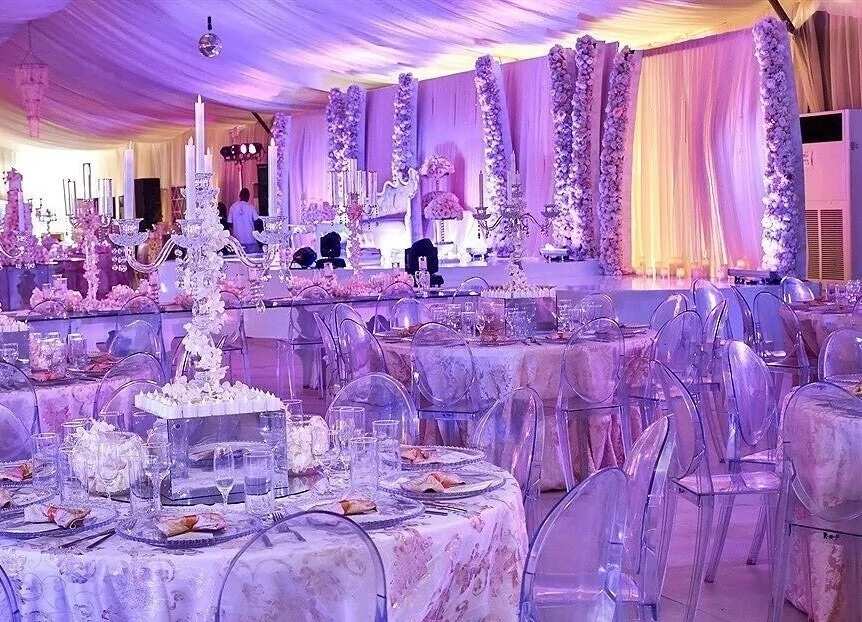 Banquet hall decoration: the colour combination for a wedding
The location of a purple wedding depends on the preferences of the newlyweds and, of course, the season. If the weather permits, you can organize an exit ceremony. A gentle-lilac carpet, an arch topped with purple flowers, tables, and chairs for guests in cozy tents is perfect. What is a better way?
If you want to celebrate indoors, the hall should be decorated with royal luxury. The best option for a purple wedding is a restaurant in a classical style with the prevailing color of the hall is combined with purple.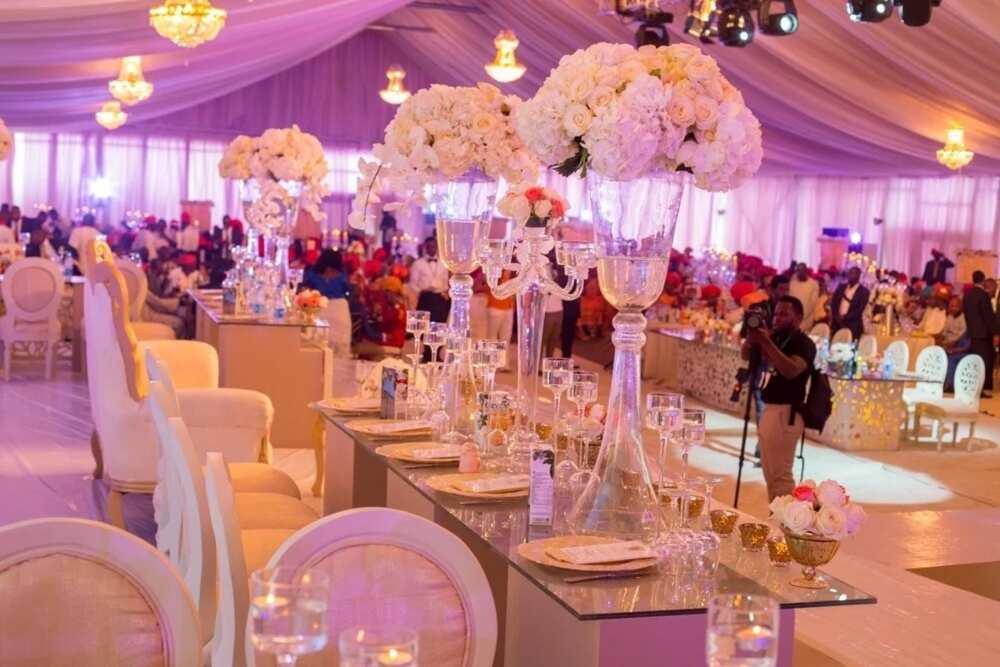 For a typical wedding, the following design is suitable: bright balloons, floral compositions, ribbons, bows, and bright chair covers. Try not to overload the room with purple. Let it be accentuated and take pastel color as a basis. Otherwise, the guests can have the impression of a pressing atmosphere. The wall behind the newlyweds should be decorated with silvery or white tulle with bright purple bows or ribbons.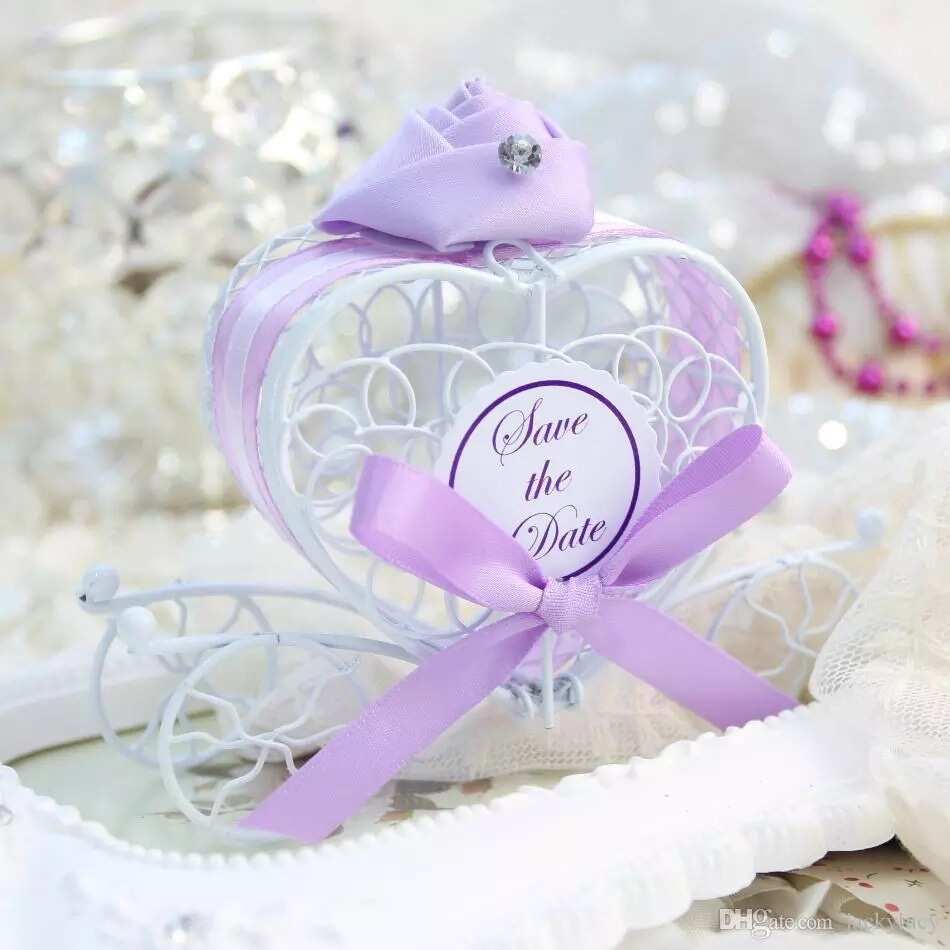 Don't forget about accessories: tablecloths, napkins, and glasses, decorated with purple ribbons, lilac candlesticks. By the way, candles at such wedding are an excellent decision. They give the hall mystery and romance. An aero design and color effects are also suitable.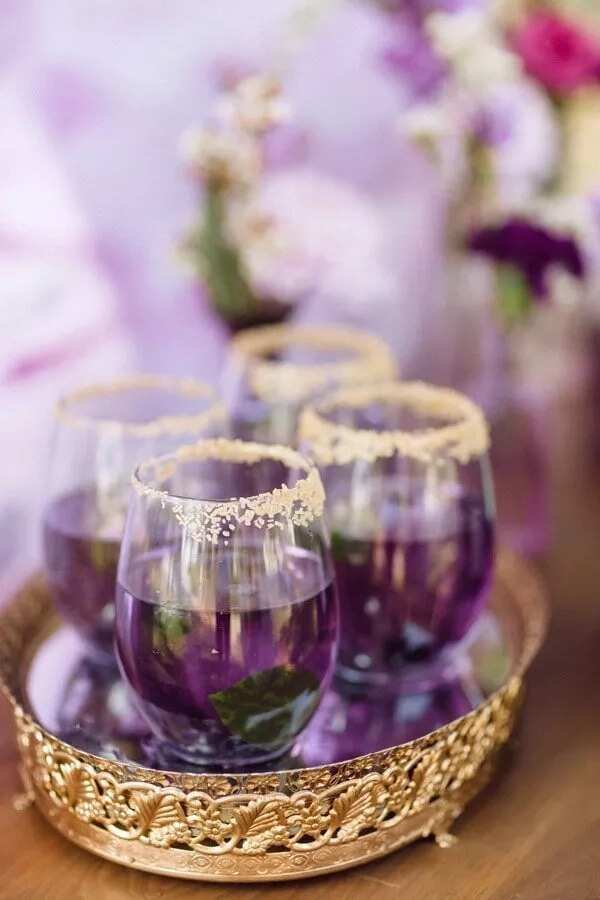 Take a closer look at the menu. Let the berry compote be on the table. Purple cocktails and liqueurs, sweet dishes, sprinkled with blueberry or blackberry syrup should also be on the table. You can beautifully layout dark grapes, plums, and other fruits in vases.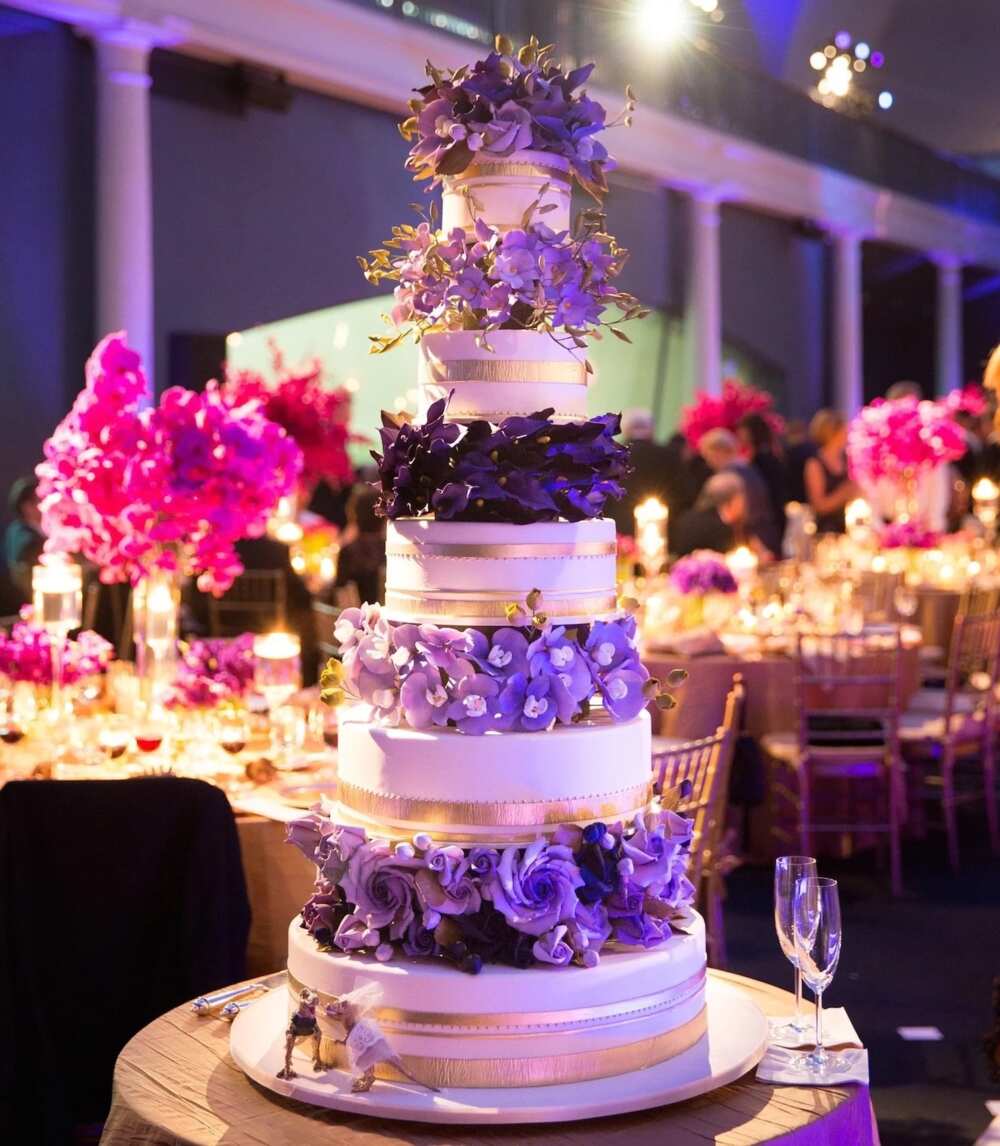 The cake decorated with purple mastic or cream, as well as original cupcakes can be the pride of newlyweds. Don't give preference to the confectionery product in purple tones, since there are practically no natural dyes in violet color. It's not desirable to spoil the taste with artificial flavors, let be purple only the elements of the decor.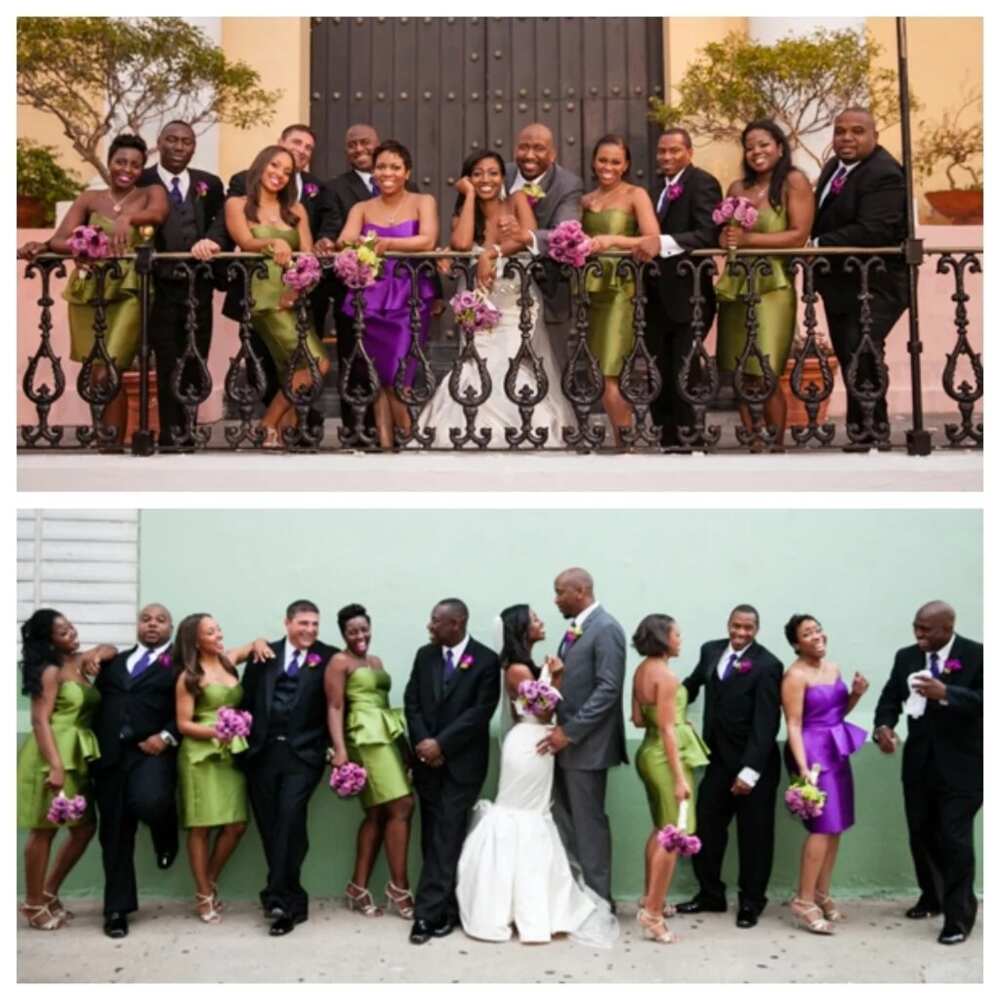 Be original, prepare with all excitement and your purple wedding will be unforgettable!
READ ALSO: Latest wedding gowns in Nigeria 2017-2018
Source: Legit.ng