- The permutations ahead of the 2019 presidential elections makes every move of a notable politician in the country suspect
- The visit of the Sokoto state governor, Aminu Tambuwal, to Delta state has raised eyebrows in some quarters
- A discreet meeting was held between Tambuwal, Governor Ifeanyi Okowa, Governor Wike and former governor Ibori
A report by Daily Trust has given details of how Governor Ifeanyi Okowa of Delta state, played host to Governors Aminu Tambuwal and Nyesom Wike of Sokoto and Rivers state respectively in Asaba, barely three days after the national convention of the Peoples' Democratic Party (PDP).
According to the report, former governor of Delta state, Chief James Ibori who was not present at the PDP convention was also at the discreet meeting.
Chief Ibori had earlier made a surprise showing at the products exhibition by beneficiaries of a skills acquisition programme of Governor Ifeanyi Okowa's administration.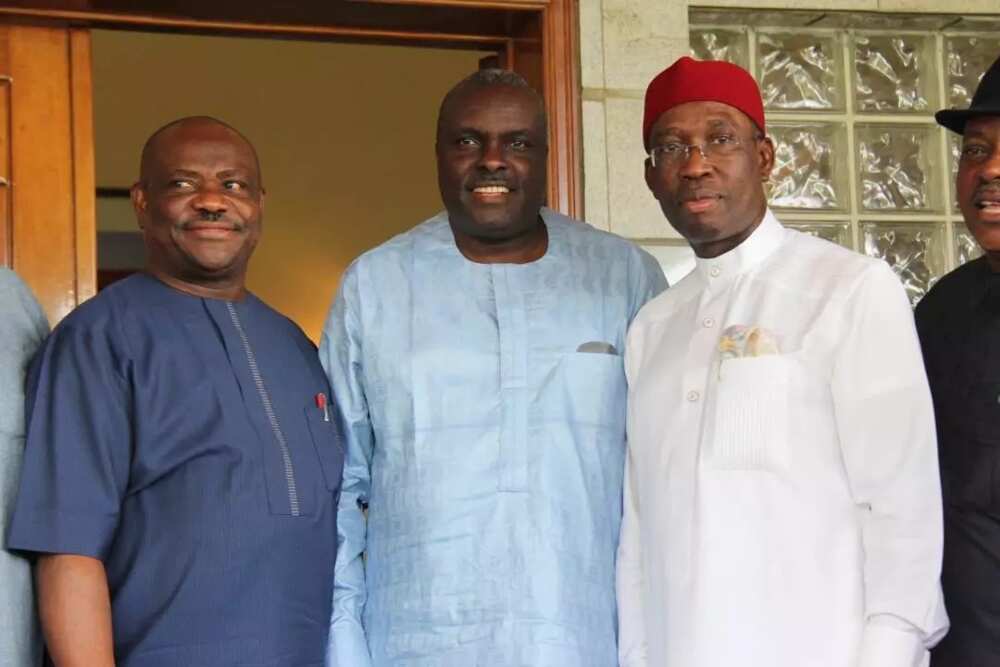 READ ALSO: PDP woos Tambuwal, Kwankwanso as it searches for presidential candidate ahead of 2019
Unnamed government sources quoted in the report believe that the governors coming together in Asaba cannot be unconnected to discreet political permutations in the build up to 2019.
Earlier in the day, the governor of Rivers state, Barr. Nyesom Wike, had commissioned a road constructed by Okowa administration.
Tambuwal has always been described as a 'presidential material' by his admirers in Sokoto state and beyond, given the matured way he presided over the House of Representatives as its speaker from 2011 to 2015.
However, the friendship between Governors Wike and Tambuwal, dates back to their days as young lawyers and they have sustained despite being on different political divides. Both governors are in their 50s and are generally seen as politicians with a bright future.
Ibori on his part, is regarded as the indisputable godfather of Delta state. Wike was in his country home in Oghara, Delta state three months ago to pay homage to him.
READ ALSO: PDP begins search for credible candidate against Buhari in 2019
During the visit, Ibori, urged governors in the south-south part of the country to unite and work together to ensure massive development of the region.
Nigerians want PDP back in 2019 - Goodluck Jonathan declares at PDP Caucus Meeting on Legit.ng TV