Problems of road transportation in Nigeria
Transportation in Nigeria is one of the decaying infrastructures that needs serious attention. This is especially true when it comes to the road transport. The poor state of roads in Nigeria hasn't seen much change or improvement, if any, over the past few years despite government efforts and promises. This post highlights the major problems of road transportation in Nigeria.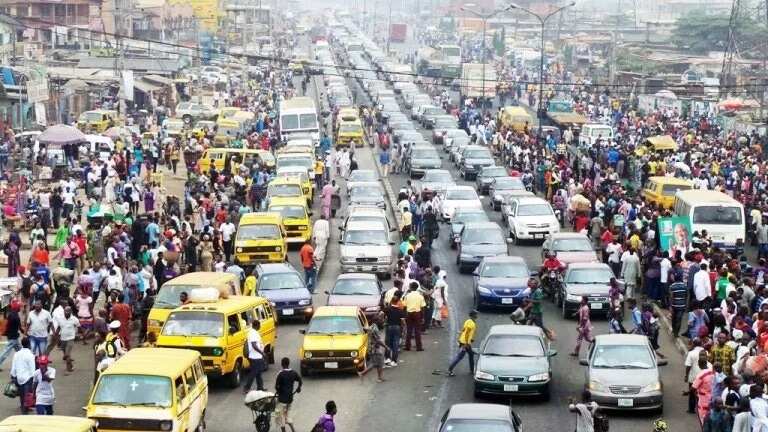 Transportation is one of the important keys to the economic development and growth of any country. This is because transportation connects people and places. It enhances cultural, economic, and social interactions.
In Nigeria today, the transportation system includes road transport, railway, air, and sea. Of all the modes of transportation, the most used by Nigerians is road transport which is a fact in most countries.
Road transportation in any society is meant to be the most easily accessible. People need road transportation for their day to day activities, to commute to their places of work or study, to transport their products, for inter-city and intra-city travel, etc. In Africa today, Nigeria has the largest highway and road network. However, the state of road transportation in the country is very poor. Below are some of the problems of road transportation in Nigeria.
READ ALSO: New report lists worst roads in Nigeria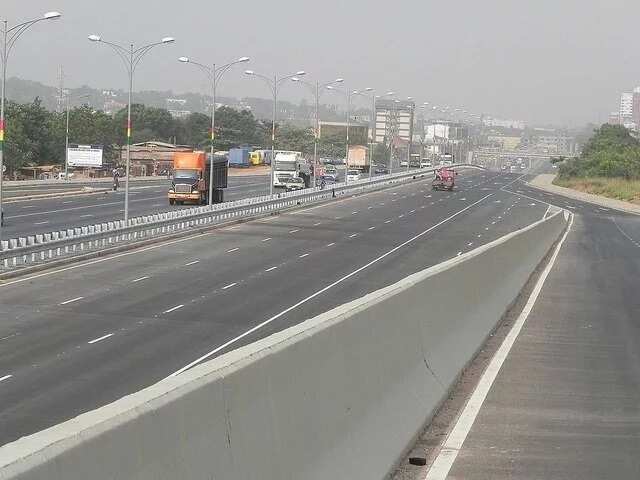 Problems of road transportation in Nigeria
1. Poor road infrastructure or poor state of the roads
One of the major problems of road transport in Nigeria today is the state of most of the road networks. Some of the recently constructed road infrastructures are poorly built with low-quality materials. This is majorly is a result of corruption from both the people awarding the road contracts and the construction companies.
Most of the paved roads networks have lost their asphalt surface and are in very bad shape. Some of these roads are almost becoming gravel surfaces. Travelling is very difficult and sometimes almost impossible especially during the raining season due to lots of uneven surfaces, potholes, and eroded areas. Some of the roads are covered by water during the raining season because of lack of proper drainage. The poor state of a lot of Nigerian road networks has most areas dead zones due to the number of accidents that are recorded daily on these roads.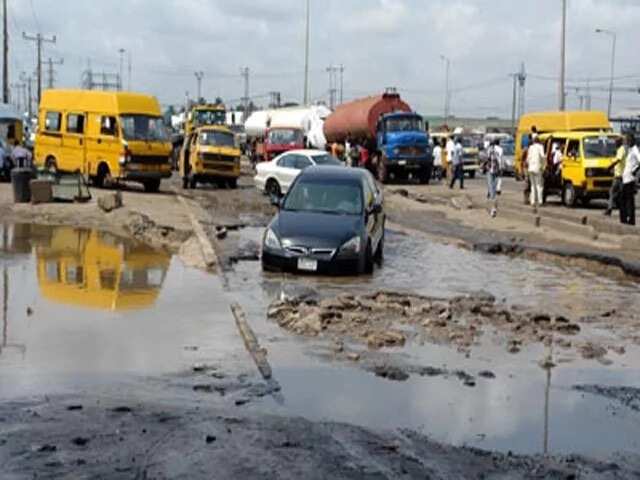 2. Poorly maintained roads
Poor road maintenance is a major problem contributing to the poor state of road transport infrastructure in Nigeria today. Most of the major roads networks were constructed in the 80s and early 90s, so they are old and are already wearing out. The government fails to attend to them on-time. Due to poor maintenance and low-quality materials, which have been used for repairs, over time the condition of such roads keeps getting worse.
In most cases, repairs are not started until a major damage has occurred and then it becomes more difficult and expensive to maintain the road surface. When the repairs are eventually carried out, they are done poorly. So, poor maintenance is one of the major problems of road transportation in Nigeria.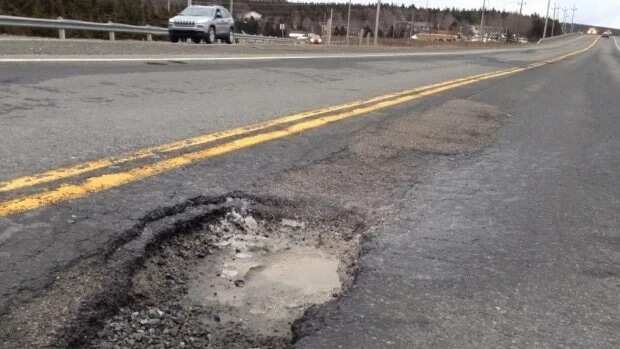 3. Road congestion due to rapid urbanisation and overpopulation
This is a big problem in Nigeria today, especially in the major cities. In our country, road transport accounts for ninety percent of both passenger and freight transport. Due to rapid urbanisation and overpopulation in major cities, the transport demands has exceeded the supply and capacity of the road networks available. Rapid urbanisation and overpopulation mean more vehicles on the road. And this has led to constant and daily congestion of most of the major networks in Nigeria. The heavy use of these roads is also part of the problems causing damage to many of the networks.
One of the cities with extremely high level of road congestion in Nigeria today is Lagos. And this causes more problems like pollution and accidents.
4. Accidents
In Nigeria today, the rate of road fatalities is high. This is a consequence of other problems we have listed above. Most vehicular accidents in Nigeria are caused by two main factors: road and human. Road factors include things like bad roads, abandoned sites or ongoing sites of repairs, traffic jam or road congestion. The human factors include reckless driving, disobeying of traffic light and signs, ill-tempered and impatience drivers. The rate of accidents on Nigerian roads is a major problem which the government needs to tackle heads on.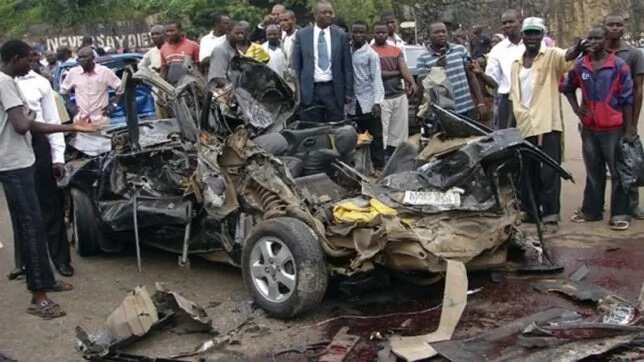 5. Poor state or inadequacy of other means of transport especially railway transport
I put this here because it is both a cause and also one of the problems of poor road infrastructure in Nigeria. In most developing countries, rail transport is one of the major intercity transport system used. Also, underground rail transport known as subways are common in major cities in developed countries. This reduces the demand for road transport. In addition, heavy loads are transported using railway transports in all developed countries. This also reduces the load on the roads and the danger posed by lots of heavy trucks and lorries that can be seen on most Nigerian roads.
If there is adequate rail transport, at least intercity rail transport system, it will reduce the congestion, demand and also fatalities that we see daily on the roads in Nigeria.
6. Environmental pollution
The two main environmental pollution problem of road transport in Nigeria are air and noise pollutions. Air pollution is caused by carbon monoxide, hydrocarbons, lead, and nitrogen emission from the exhausted pipes of automobiles. These pose a serious threat to the health and quality of life of motorist and people living in the area. Also, noise from automobiles and their horns is a major problem of road transportation in Nigeria.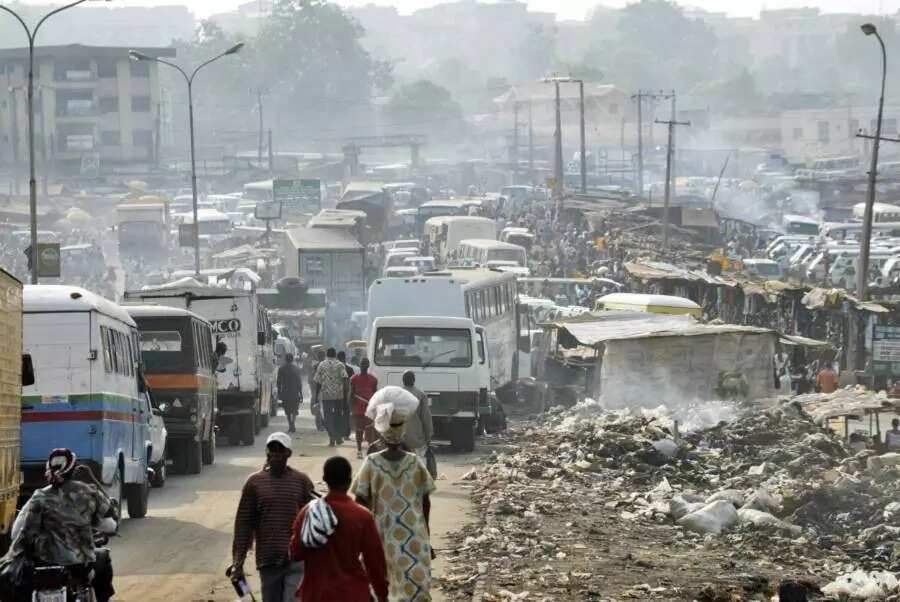 How can these problems be solved?
Although, it not the focus of this post, we will highlight some of the solutions to these problems because there are no pointing listing problems without solutions.
The government needs to make rehabilitation of road transport system a priority and should properly fund and monitor the rehabilitation.
Road maintenance and repair should be done on regular and at appropriate time intervals.
Proper drainage facilities along road networks should be available
Traffic lights should be established at major junctions including the provision of proper education for traffic users and also punishment for offenders to make sure people follow them over time.
Also, the government should invest in other forms of transport that will reduce the demands on road transport.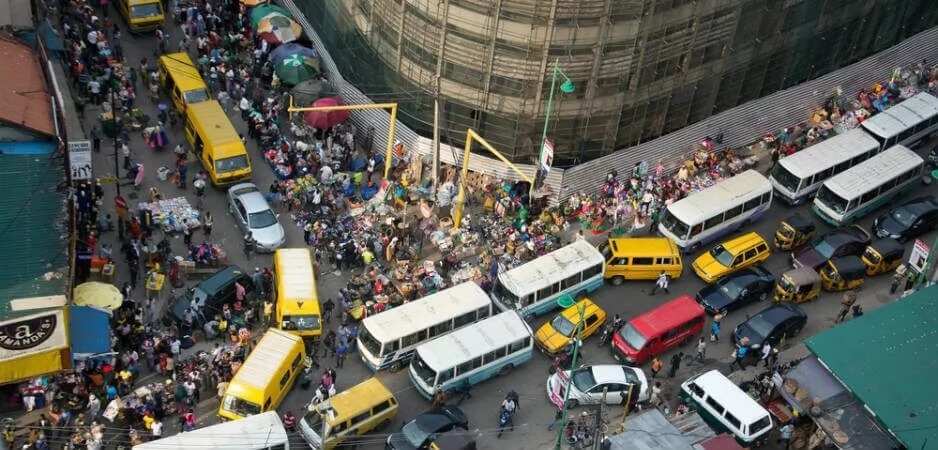 In conclusion, the state of road transportation in Nigeria is a reflection of how far Nigeria has come as a country. If the country is going to move forward and experience growth in every aspect, then the problems of road transportation in Nigeria must be taken seriously and tackled both by the government and the private sector. As it is often said, Nigeria has all the potential needed to overcome all these challenges, it is just the willingness and readiness that is required of us.
READ ALSO: Reps call for state of emergency over dilapidated federal roads
Source: Legit.ng