LIVE UPDATES: President Buhari addresses the world at United Nations General Assembly
The 72nd session of the United Nations General Assembly is currently ongoing with world leaders addressing their counterparts and other participants.
President Muhammadu Buhari is at the event alongside other world leaders.
"More than 100 world leaders, thousands of diplomats and advocates will convene in New York City from 19-25 September 2017. This year's theme is Focusing on people — striving for peace and a decent life for all on a sustainable planet," the UN says.
4.55pm: Buhari ends his speech. The chairman and the deputy UN Secretary General Amina J Mohammed greet President Buhari
4.54pm: Buhari reminds the world that Nigeria has been participating in peace keeping mission and United Nations programme. He says Nigeria will continue to support the UN for sustenance of growth across the world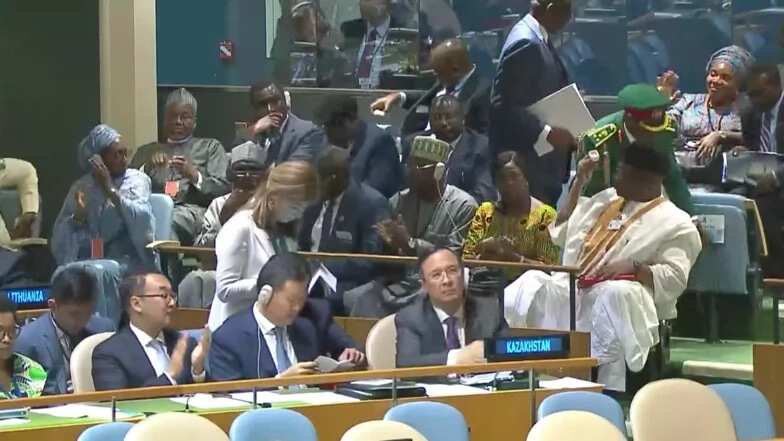 4.53pm: Buhari speaks about the threat of nuclear war (North Korean missile program), says it's a crisis equal to the Cuban (1962), when the world was close to a war. "All necessary pressure and diplomatic efforts must be brought to bear on North Korea to accept peaceful resolution of the crisis."
4.50pm: Buhari also reminds about suffering population of Yemen and Myanmar. "As Hiroshima and Nagasaki painfully remind us, if we fail, the catastrophic human loss and environmental degradation cannot be imagined"
4.50pm: He urged the United Nations to continue to take primary leadership and assist in regional relationships. "New conflicts should not make us lose focus on old conflicts," he says
4.49pm: President Buhari proposes strong UN delegation to urgently engage North Korean Leader. Delegation should include members from all regions.
4.48pm: He says Nigeria's hope in democracy remains strong and explains the role Nigeria played in Cote d'Ivoire. Applause to Buhari, as he mentioned the role of Nigeria in solving the political crisis in The Gambia earlier this year
4.45pm: President Buhari commended the role of the UN in crises recorded in some countries. He said the international community assisted in the area of the threats from Boko Haram and al-Qaeda in parts of Africa
4.43pm: President Muhammadu Buhari of Nigeria now speaks
4.42pm: He ends his address and leaves for his seat
4.41pm: He wants the very core of the UN to be respected by the participants being responsible leaders, to be honest with each other by keeping promises and delivering results
4.34pm: He says today, North Korea is threatening the peace of some parts of the world. He wants UN to be firm in its resolve. "There is no room for geo-political games...it is million of human lives that is at stake."
4.31pm: He says over 60 million people across the world are facing the crisis of where to lay their heads. According to him, the least that can be done for them is to make them comfortable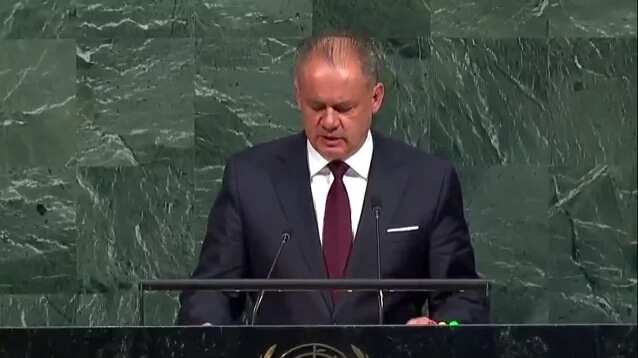 4.28pm: He says respect for the principle of peace is needed to end violence and the enormous human tragedies which affect social and human developments.
4.27pm: Andrej Kiska, president of the Slovak Republic now speaks. He talks about how people die every minute due to poverty, strife and unsustainable conditions
4.24pm: She ends her presentation and is greeted. She heads to her seat
4.22pm: She pleads for the implementation of the Paris agreement on climate change saying that the recent hurricanes in parts of the world shows that nothing much had been done
4.19pm: At the end of 2016, the number of people displaced around the world is more than that witnessed in the Second World War. She advocated for all countries to play a major role to end such crisis
4.17: She advocates for the protection of human rights saying when conflicts break, the price in terms of economy and other areas is very high. She says Swiss is committed to negotiation as a solution posed by nuclear crises in some places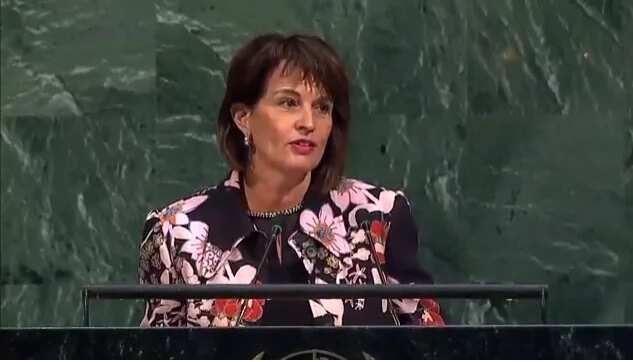 4.13: President Doris Leuthard of the Swiss Confederation is currently addressing the world
4.10pm: Conde ends his speech, heads to his seat
4.07pm: He said the AU condemns terrorism acts in some parts of the African continent
READ ALSO: BREAKING: President Buhari arrives US for UNGA (photos)
4.05pm: He says in terms of managing crises in Africa, the AU takes special approaches. The AU will spare no efforts in the area of financing
4.03pm: Conde says Africa is determined to focus on hot spots like Libya and Congo.
4.01pm: He wants the international community to assist Africa in the area of training experts to handle health issues to help the continent end pandemics.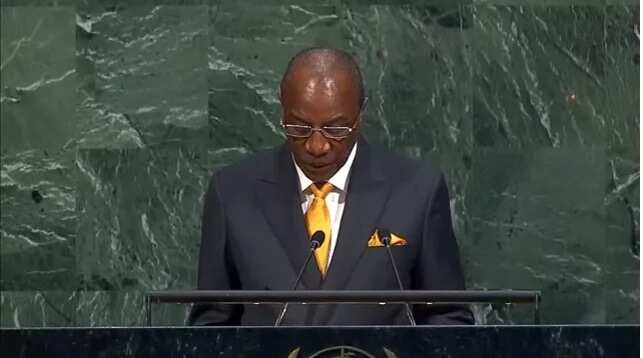 3.56pm: President Alpha Conde of Guinea and African Union chairman, now speaking. Says Africa is fully determined to take its destiny in its own hand and take its role in managing its affairs. He adds that Africa is extending its hands to partnership from across the world.
READ ALSO: Fake Buhari's UN speech circulating about, Presidency warns
3.52pm: The meeting resumes.
3.47pm: Session goes on five-minute break
3.46pm: Trump ends his speech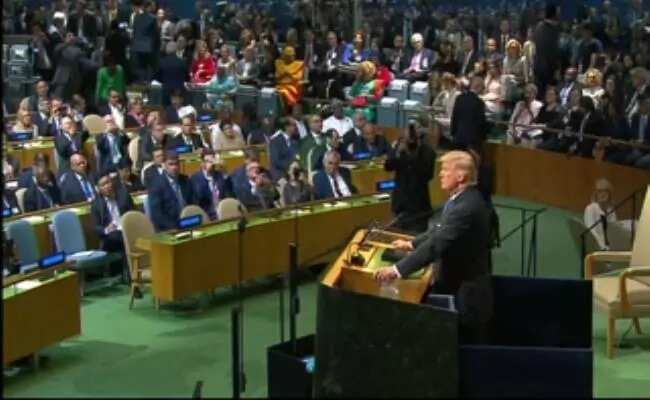 3.44pm: Trump said from the very first moment, every American thinks of what is possible. "Now we are calling for a great revival of nations. We need to defeat the enemies of humanity," he said.
3.32pm: President of the United States of America, Donald Trump, is presently addressing the United Nations General Assembly
READ ALSO: Buhari signs proclamation proscribing IPOB
Source: Legit.ng