Catholic priest blasts Nnamdi Kanu and IPOB
- The reverend father of the Catholic Institute of West Africa has condemned the agitation for Biafra
- The priest claimed that the agitation by Nnamdi Kanu is unnecessary
- According to him, a person like Kanu with no antecedent and pedigree cannot represent Igbos
The priest of the Catholic Institute of West Africa (CIWA) Portharcourt, Rev.fr Pius, has condemned the agitation for Biafra by Nnamdi Kanu and the Indigenous People of Biafra (IPOB).
The priest, during a Sunday service, said Kanu came from nowhere to lure young people into a senseless agitation.
He said: "Before 2013, I have never heard of this boy called Nnamdi Kanu. Nobody knows his address in UK. Nobody knows where he works. Nobody knows the business he does.
READ ALSO: Buhari departs Abuja for US to participate in the 72nd session of UN general assembly (photos)
"Nobody knows his qualifications. Such persona non grata who has no antecedent and pedigree cannot represent or lead Igbos.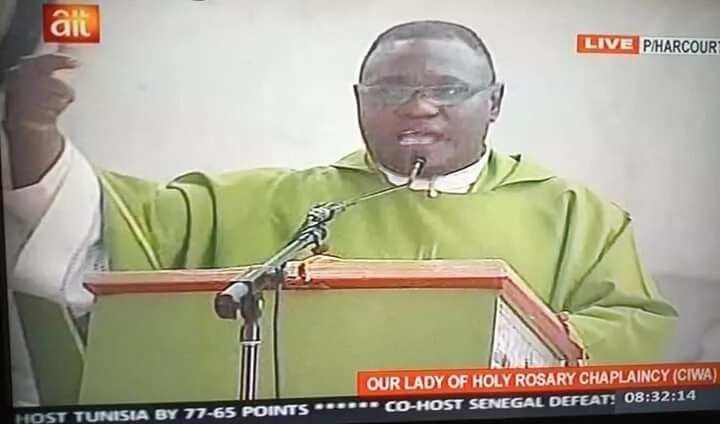 "He is not qualified to speak for the Igbos. He came from nowhere and lured pure-water sellers, mechanics, bus-conductors, Ikoku spare-parts traders, bricklayers, commercial bus and taxi drivers, hawkers, GSM repairers and other petty traders and artisans out of their source of livelihood into senseless activity called 'Biafra Agitation'.
"Now, lives had been lost. Some people have been killed. What have they now gained?!
"Those who are calling for crisis, fanning the embers of war with the belief that USA, UK and UN will come to their rescue/support should go and ask Libya, Sudan, Eritrea, Rwanda etc what UN did for them in their times of crises?"
PAY ATTENTION: Read the news on Nigeria's #1 news app
Meanwhile, Legit.ng previously reported that Nnamdi Kanu, and top leaders of his group have gone into hiding following Friday, September 15 declaration by the Nigerian Army that IPOB and other Pro-Biafran groups were terrorists organisations.
Investigations by Punch on Saturday September 16 revealed that Kanu and his top lieutenants had 'disappeared' from his country home in Afaraukwu near Umuahia and other places he frequently visited.
some IPOB members, who spoke on conditions of anonymity with Punch explained that Kanu and others were advised to go underground following the declaration by the Army and the decision of the southeast governors to proscribe activities of pro-Biafra agitators in the region.
Watch this Legit.ng's exclusive chat with Nnamdi Kanu below:
Source: Legit.ng