US Congressional delegation meets Bukola Saraki
- Senator Christopher leads an eight-member US congressional delegation visit to Nigeria
- The members of the US Congressional delegation are to meet with members of the National Assembly and religious and civil society leaders
An eight-member US congressional delegation has visited Senate President Bukola Saraki as part of its visit to assess the destruction caused by the Boko Haram terrorists as well as strengthen US Nigeria relations.
READ ALSO: Anyone who tries to arrest me in Biafra land will die here - Nnamdi Kanu
The delegation is led by Senator Christopher who is a member of the appropriations, foreign relations, judiciary, small business and entrepreneurship, and ethics committees.
The delegation also includes Sen. Gary Peters (Democrat-Michigan); Sen. Michael Bennet (Democrat-Colorado); and Rep. Lisa Rochester (Democrat-Delaware).
The others are Rep Terri Sewell (Democrat-Alabama); Rep. Charlie Dent (Republican-Pennsylvania); Rep. Barbara Lee (Democrat-California); and Rep. Frederica Wilson (Democrat-Florida).
The News Agency of Nigeria (NAN), citing a statement by the US Department of State reports that members of the US delegation will also meet with other members of the National Assembly, and religious and civil society leaders.
PAY ATTENTION: Read the news on Nigeria's #1 news app
"Among the issues of particular interest to the U.S. officials will be the fight against Boko Haram and the humanitarian situation in the northeast of Nigeria," the statement read.
See photos of the US congressional delegation meeting with Bukola Saraki below: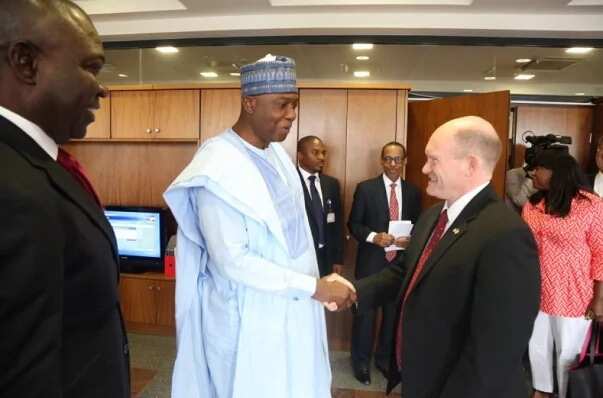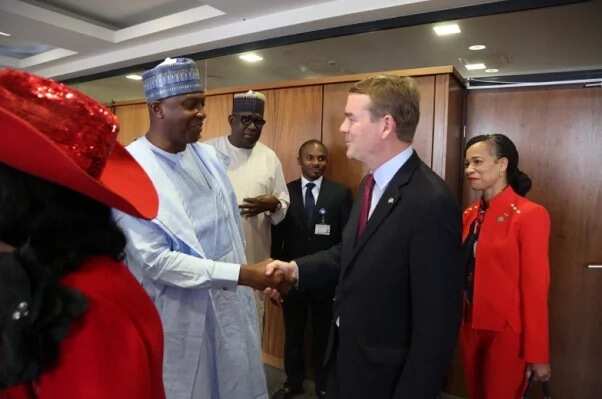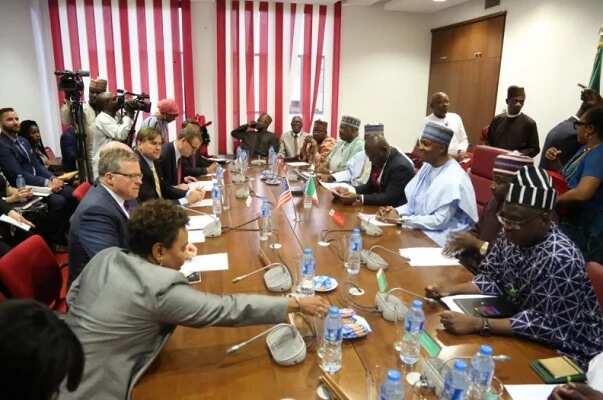 Meanwhile, Senator Isa Hamman Misau representing Bauchi central senatorial district in the National Assembly has been declared wanted for questioning by the Nigeria Police Force.
Reports say the police want to speak with Misau over alleged forgery and desertion from the force among other things.
Misau's trouble began after he told National Assembly Correspondents on Friday, August 25 that there is huge corruption in the police involving payments for special security services to corporate bodies, oil firms and highly placed citizens in the country.
The lawmaker also accused Inspector General of Police Ibrahim Idris of being involved in high-level extortion.
But police spokesman Jimoh Moshood says Misau's accusations are all false.
In the video below, Legit.ng TV asked some Nigerians if they support the scrapping of the Senate.
Source: Legit.ng