Bobrisky goes premium on Snapchat, deletes his over 600k account
Popularly known as Bobrisky, real name Okuneye Idris Olarenwaju is in the news again.
The bleaching expert has suddenly deleted his Snapchat account. The said account has grown to have a daily view of 600k.
He posted on Instagram to confirm this in a post saying he deleted the account because of haters and switched to premium which means followers would have to pay to view his videos.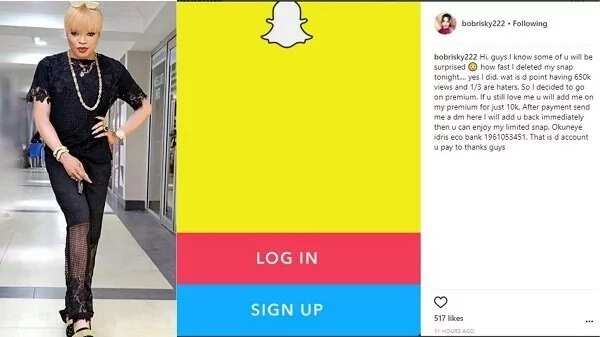 He put words out that he believes his lovers would pay the sum of 10k to view his snapchat videos.
READ ALSO: Bobrisky receives his first endorsement deal, features in a Nollywood movie
In his words on the post:
"Hi, guys I know some of u will be surprised how fast I deleted my snap tonight…. yes I did. wat is d point having 650k views and 1/3 are haters. So I decided to go on premium. If u still love me u will add me on my premium for just 10k. After payment send me a dm here I will add u back immediately then u can enjoy my limited snap.
"Some people think am kidding when I said am deleting my old snap. No am not kidding I got so pissed tonight and I took it down. My love can still add me on my premium"
PAY ATTENTION: Install our latest app for Android for the best news
Find out all you need to know about Bobrisky on Legit.ng Tv
Source: Legit.ng