Newspaper Review: ASUU under fire as parents and students express outrage over indefinite strike
Headlines from mainstream Nigerian newspapers today, Tuesday August 15, are focused on the commencement of an indefinite strike by the Academic Staff Union of Universities (ASUU), the war of words between the presidency and former President Goodluck Jonathan over the state of the economy and the stance of the presidency about Muhammadu Buhari's chances to re-contest in 2019.
The Punch reports that against the backdrop of the federal government's failure to implement the terms of the agreement reached in 2009, the Academic Staff Union of Universities (ASUU), has commenced a nationwide indefinite strike.
READ ALSO: Angry mob kills soldier in Nasarawa for hitting a street hawker
Prof. Biodun Ogunyemi, the president of the association, stated that the strike will be a comprehensive one, with lecturers across the country withdrawing all services including teaching and attending of meetings.
According to the publication, the Nigeria Labour Congress (NLC) has come out in support of the strike; even as the labor union urged the government to honor its agreement.
Vanguard reports that following the strike action declared by ASUU, academic activities have grounded to a halt in all public universities in the country.
The strike which began on Monday, August 14, is expected to affect about 40 federal and 44 state universities in the country.
Parents and students have expressed outrage and dismay over the development.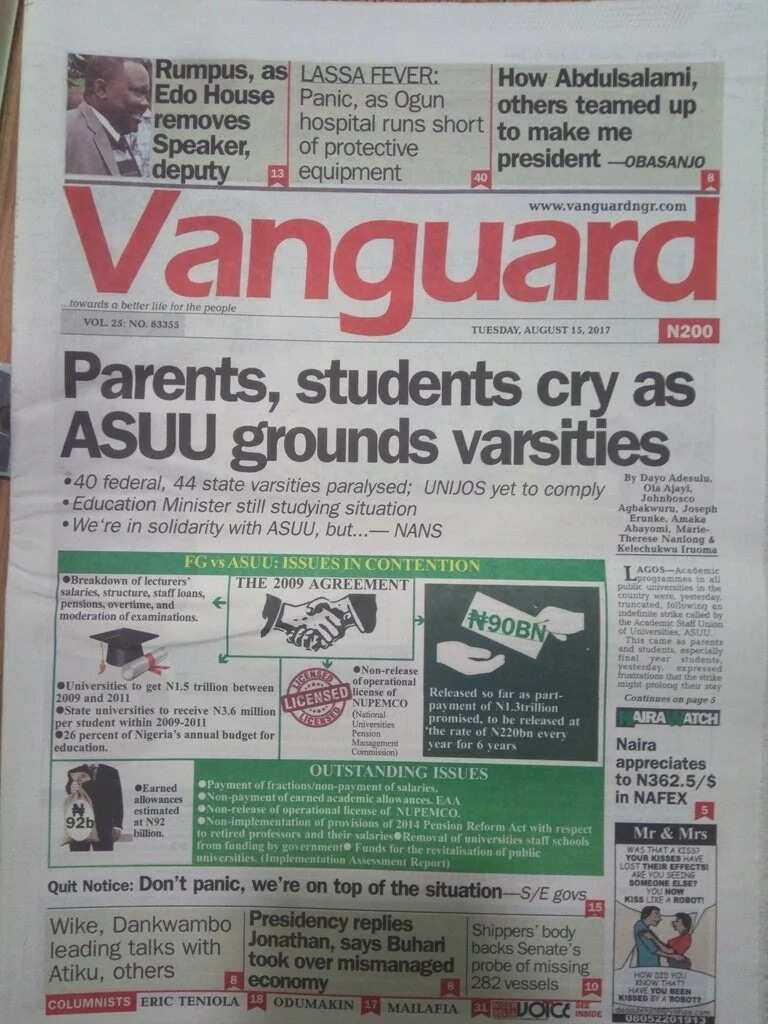 Still on the issue of the ASUU strike, The Guardian reports that the leadership of the association has threatened to sanction any university which goes against its orders and holds any academic activity during the duration of the strike.
According to ASUU's leadership, the strike is total and indefinite.
However, the paper reports that a faction of the National Association of Nigerian Students (NANS) has appealed to the association, to resolve its dispute with the Federal Government, via alternative avenues.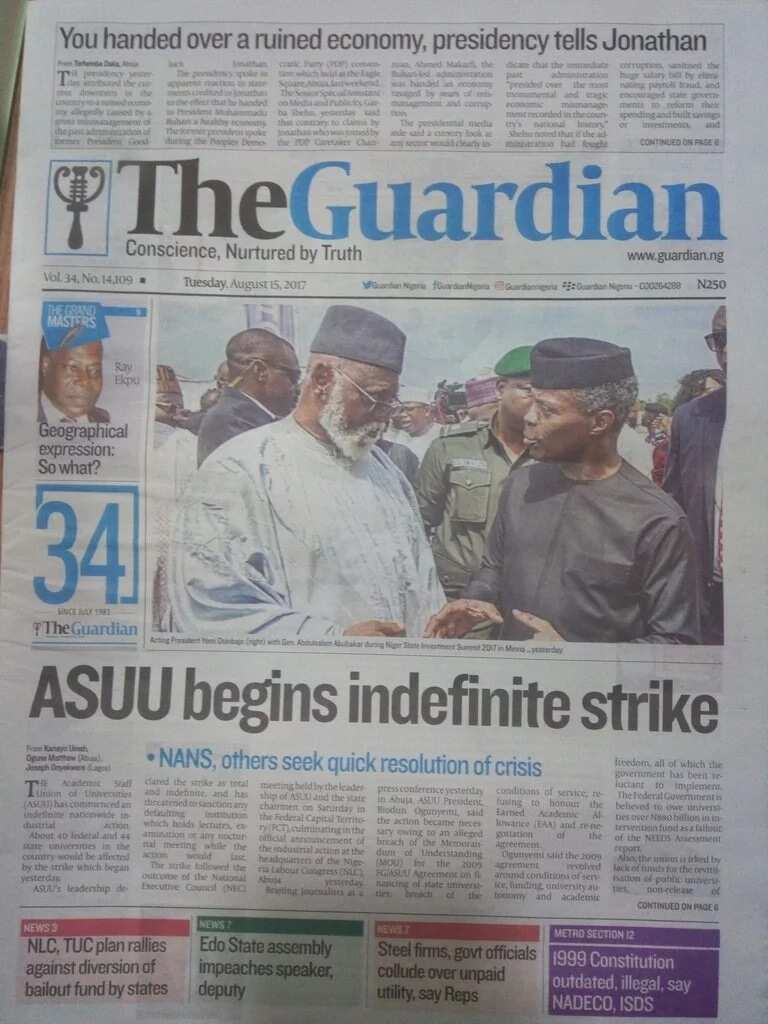 The Nation reports that the presidency has countered the claims made by former President Goodluck Jonathan at the PDP Non-Elective Convention which held over the weekend, that he had handed over a healthy economy to Muhammadu Buhari.
In a statement released by Garba Shehu, the Buhari administration declared that it was handed an economy ravaged by years of mismanagement and corruption, by the Jonathan regime.
Shehu proceeded to outline a list of failures which he attributed to the former president.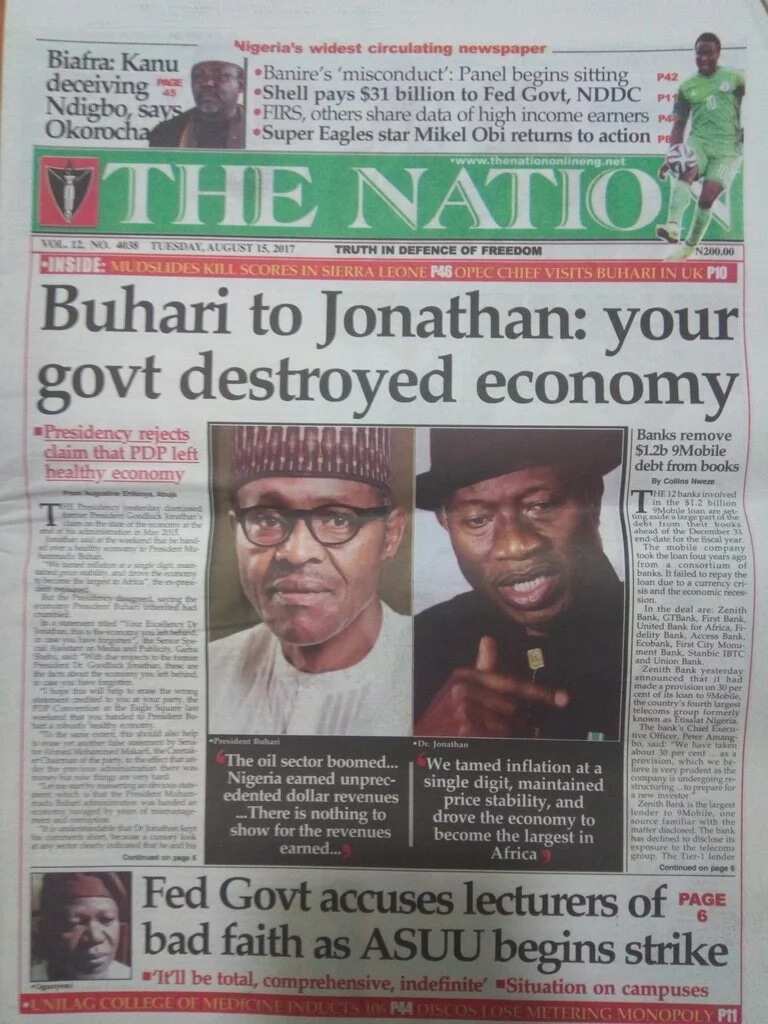 PAY ATTENTION: Install our latest app for Android, read best news on Nigeria's #1 news app
ThisDay reports that aide to the president, Garba Shehu, has also stated that if given the opportunity, Muhammadu Buhari is fit enough to contest the 2019 presidential election.
This comes against the backdrop of protests about the President's health.
Garba stated that upon his arrival from his medical vacation, the President would speak to Nigerians.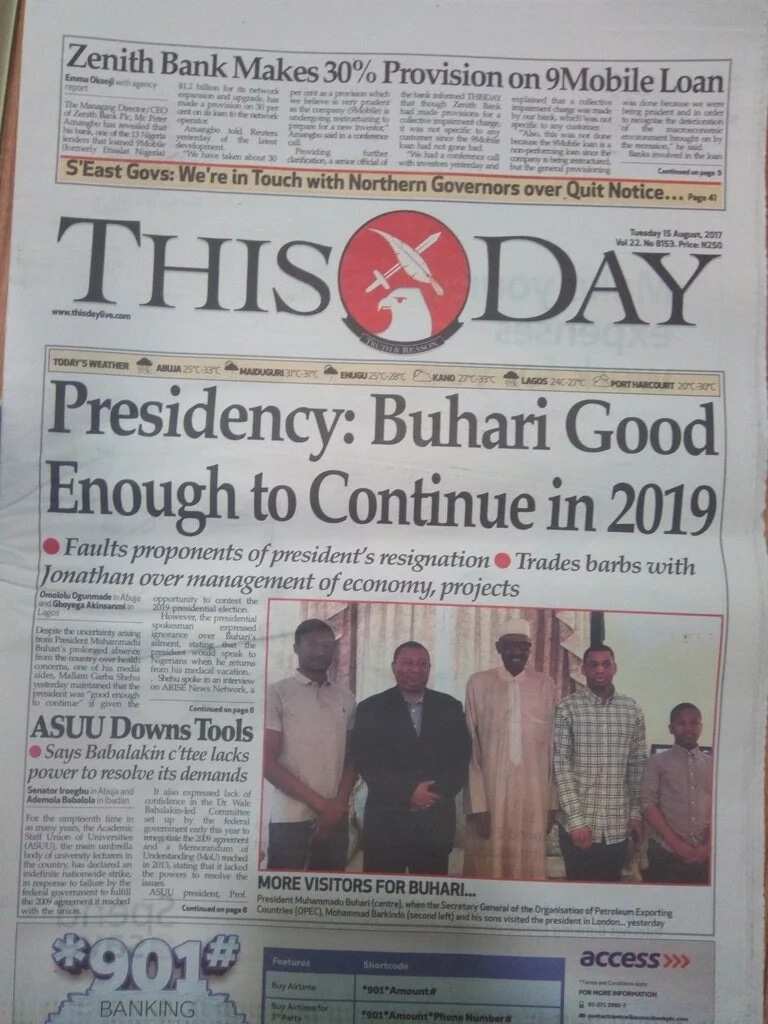 Watch this Legit.ng TV video asking Nigerians what Buhari should tackle when he returns.
Source: Legit.ng