Nnamdi Kanu drives made-in-Nigeria car, made from local raw materials in Imo state (photos)
On Tuesday, July 25, the pictures of Indigenous People of Biafra (IPOB) leader Nnamdi Kanu went viral on social media as he was spotted driving a locally made car in Imo state.
It appears that Nigerians in the east have devised their own means of transportation in the East. The IPOB leader after taking a ride in this car has promised to sponsor more production of the car across Biafra land.
The pictures were shared by one Obiwest Utchaychukwu via his Facebook profile. He posted the pictures with the caption: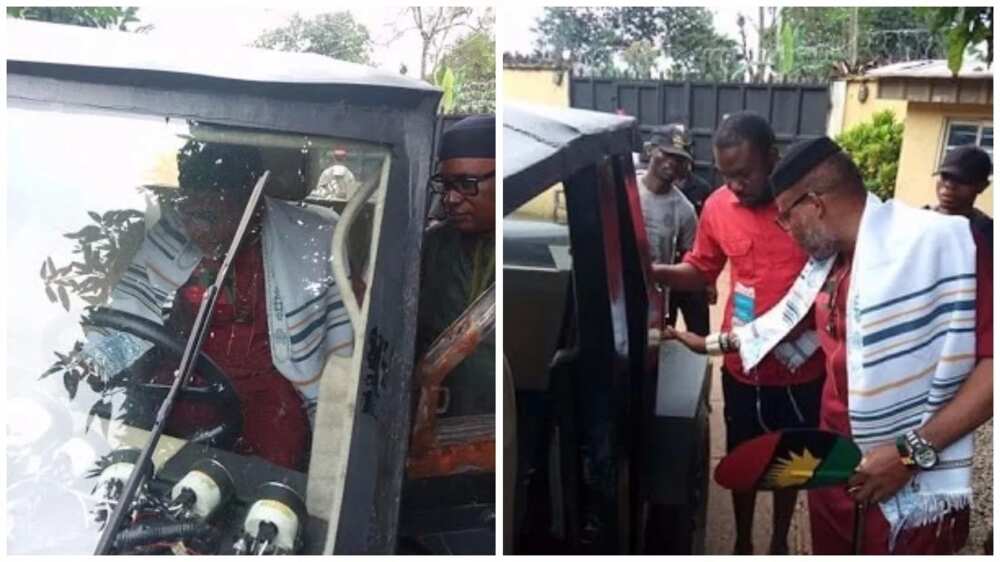 "Nnamdi Kanu Drives A Combatant Car Manufactured By A Biafran. The combatant car below was manufactured by Ephraim Alex Akwaiwu from Imo state. He said the 2017 model will be specially made for the Ipob leader. IPOB leader, Nnamdi Kanu was pictured driving and inspecting the car. IPOB leadership also agreed to sponsor and finance such huge and enormous projects across Biafra land."
PAY ATTENTION: Get all the latest gossips on NAIJ Gossip App
See post below:
Another Facebook user Prisca Abel also posted the picture of the vehicle with the caption: "A COMBATANT Vehicle on display in IPOB leader Mazi Nnamdi Kanu Residence, this is to show you how capable we Biafrans are. If we can manufacture this under this current hardship what will happen if our freedom is achieved. Indeed Biafrans are great and talented people."
See post below:
It could be recalled that few weeks back a Facebook user took to his profile to unveil the special automobile manufactured by a Nigerian auto engineer. The vehicle was named Biafrakwezuonu 2017 model.
Nice one!
Watch Legit.ng video below:
Source: Legit.ng