Saraki debunks allegations that Senators are working against President Buhari
- Bukola Saraki, the senate president has said that his relationship with Buhari remained cordial, despite false claims in some social media
- Saraki has also assured Nigerians a good cooperation between the legislative arm and executive led by President Muhammudu Buhari
- The leader of JIBWS prayed that may President Buhari, who is currently on medical vacation in London get well on time
Bukola Saraki, the Senate president has debunked allegations leveled against him that he and the Senate are opposing President Muhammadu Buhari's administration.
Saraki made this known on Tuesday, May 30, when Jamaatu Izalatul Bidiah Wa Ikamatus Sunnali, the national executive of the Islamic group, (JIBWS) led by its president, Mohammed Jingiri visited him at the National Assembly.
The Senate president said that his relationship with Buhari remained cordial, despite false claims in some social media, News Agency of Nigeria reports.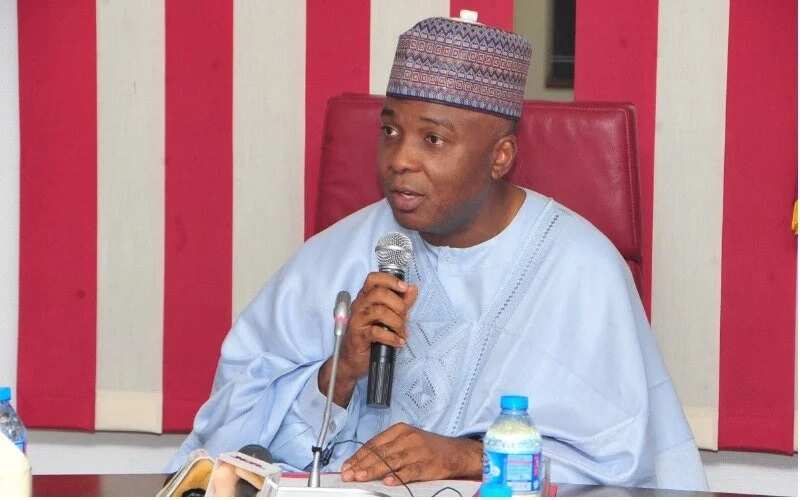 READ ALSO: Coroner finally reveals real CAUSE of Isiaka Adeleke's death
Saraki said: ''I want to assure you of the good cooperation between the legislative arm and executive led by President Muhammudu Buhari.
''Since the commencement of this Senate, I think we had about 196 requests from President Buhari for confirmation of his nominees and we have confirmed 185."I think, we have only rejected 11. By Mathematics, that is over 90 per cent.
''I want to assure you there is a lot of noise, you will see in the newspapers, radio and social media, please, be assured that the two arms of government are working closely together, more than in past sessions of the Senate.
''In January, I went to see him and assured him of our cooperation and we have continued to work closely.
''I want to assure you as we always say, let us be judged by our actions and not by talk"I want you to convey the same message to your followers, who because of social media and the fake news they hear over radio, they get wrong impression that we in the Senate are working against the President.
''I assure you that we have a very cordial relationship with the Executive," he said.
Saraki promised to ensure the passage of all bills by the Senate and also that religious sentiments of Nigerians will be taken into consideration.
PAY ATTENTION: Install our latest app for Android, read best news on Nigeria's #1 news app
The Senate President told the group that the Gender Bill currently before the National Assembly would be fair to all religious groups.
''I want to reassure you on our greatest concern, particularly in the issue of Gender Bill.
''Here in the National Assembly, we pass laws and whatever law we pass, we take into consideration the religious aspects.There is no law that can disregard the religious sentiments of the citizens.
''So, we have discussed that whatever final version of the law that will come for discussion, because it is still for discussion, it is just a proposal, it should not be one that would have conflict with religion,'' he said.
The leader of JIBWS prayed for the quick recovery of President Buhari, who is currently on medical vacation in London.
Legit.ng reported earlier that the Nigerian Senate on Tuesday, May 30, had passed an executive bill seeking mutual assistance in criminal matters between Nigeria and foreign countries.
The proposed bill, Mutual Legal Assistance in Criminal Matters Between Nigeria and Other Foreign Countries, SB 224, 2017, was read for the third time and subsequently passed by the Senate.
Watch this Legit.ng TV Video of what some Nigerians are saying over senators's allowances and humongous salaries:
Source: Legit.ng