Anyone who can afford N30,000 will be able to own a house - Osinbajo
- Acting President Yemi Osinbajo has said the government will make available, cheaper houses to Nigerians
- Osinbajo said under the N100 billion housing scheme, those who have N30, 000 can now own houses in Nigeria
Acting President Yemi Osinbajo said his administration has provided cheaper houses for Nigerians under the N100 billion social housing scheme.
Osinbajo made this statement at the Banquet Hall of Presidential Villa in Abuja on Monday at an event tagged "A Smile for Every Nigerian" organised to commemorate the administration's second anniversary.
The acting president explained that the housing scheme was part of the administration's social intervention prpgramme that had not been mentioned.
He said: "This is 100bn set aside for the Family Home Fund our Social Housing Project. The N100b is a yearly contribution to our N1trn Social Housing Fund, the largest in the history of the country. The World Bank and the African Development Bank are contributors to the Fund. From this Fund, developers will borrow 80% of the cost of project and counter fund with their own 20%.
READ ALSO: Biafra protest: Police release statement of readiness against IPOB/MASSOB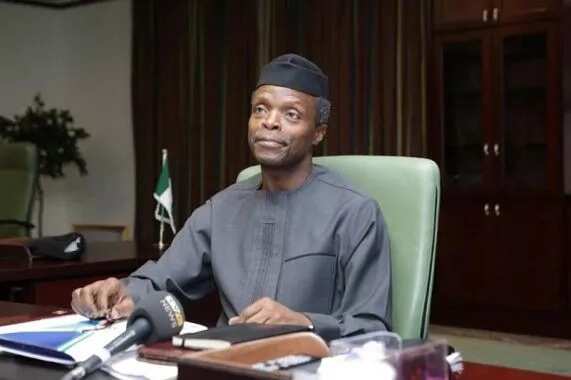 "The same fund will enable us to provide inexpensive mortgages for hundreds of thousands across the country who want to own homes. Anyone who can afford N30,000 will be able to buy a home under our new social housing fund scheme. Already, the project has started in 11 states. We expect that this family housing fund will jump start and expand construction exponentially across the country."
Speaking further, the acting president maintained that the Gross Domestic Product (GDP) growth should translate to jobs.
He said: "First the trickle down model has proved far too slow to stem the tide of poverty in one of the fastest growing populations in the world. Secondly, most of the growth was on account of the oil sector which is capital intensive but not labour intensive.
PAY ATTENTION: Read the news on Nigeria's #1 news app
"So, while we were recording growth levels of 7% because of the high oil prices, unemployment figures grew, the acting president stated."
He sad in developing the APC manifesto and the economic development plans, the administration knew it had to directly intervene with a massive social investment programme that would tackle poverty and exclusion across the various spectra.
Meanwhile, Lai Mohammed, Nigeria's minister of Information and Culture, has said that President Muhammadu Buhari's administration has fulfilled its campaign promises to Nigerians despite dwindling revenue.
Legit.ng learnt that Alhaji Mohammed made the pronouncement at the Presentation of National Social Investment Programmes (N-SIP) Report Card event to mark the second anniversary of President Buhari's administration in Abuja on Monday, May 29.
The theme of the report card presentation, according to the News Agency of Nigeria, was 'Showcasing the Achievements of National Social Investment Programmes: A Smile for Every Nigerian'.
Watch video of Acting President Osinbajo delivering a speech:
Source: Legit.ng