"I will dump the PDP if Sheriff becomes chairman" Fayose
- Governor Ayodele Fayose has promised to leave the PDP if Modu Sheriff becomes chairman of the party
- The governor said he would not work with Sheriff if he wins at the Supreme Court
- He has removed the PDP logo from from the party secretariat
Governor Ayodele Fayose has revealed that he will leave the Peoples Democratic Party (PDP) if Senator Ali Modu Sheriff wins at the Supreme Court as chairman of the party.
The party has been involved in leadership tussle with Senator Sheriff and Ahmed Makarfi taking the case to the Apex Court to determine who deserves to be the true chairman of the party.
READ ALSO: Igbos will blame themselves if Nigeria break-up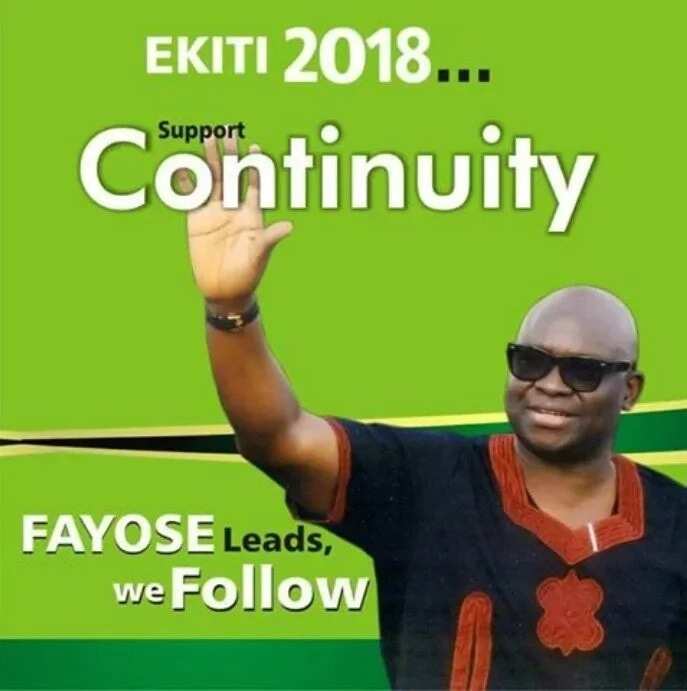 According to Channels TV, Fayose who belongs to the Makarfi-led faction has declared that he would leave the PDP if Sheriff ultimately wins.
Fayose insisted that although at the moment he remains a core PDP member, he would not hesitate to dump the party if Makarfi does not win at the Supreme Court.
Legit.ng had earlier reported that Fayose removed the logo and name of PDP from his campaign office at Olora junction, Adebayo, Ado-Ekiti..
The one storey building was repainted white, with every insignia of PDP removed.
Before repainting, the building had Fayose's picture embossed on PDP logo with the inscription: "Fayose Our Leader, Architect of Modern Ekiti."
The billboard, with Fayose's portrait, reads: "Ekiti 2018: Support Continuity, Fayose Leads, We Follow. Again, It's Going To Be 16-0."
In the Legit.ng video below, Femi Fani-Kayode reveals details of his talk with President Muhammadu Buhari.
Source: Legit.ng