Nigerian police officers help a lady in distress, fix her car in Abuja (photo)
- Some Nigerian police officers have taken protecting the citizens to the next level
- They went out of their way to help a stranded woman with her car
Ever since the picture of some police officers helping a stranded young woman with her car in Abuja went viral, words of praises have been sung in honor of the unidentified security operatives.
The picture of the police officers was taken by Sodiq Adelakun, a Legit.ng photojournalist. The young lady who was presumed to have been stranded when her car developed a fault was aided by the police officers.
The incident happened at Ademola Adetokunbo junction, Wuse II in Abuja. Legit.ng gathered that police officers usually hide around the corner to arrest traffic offenders. Seeing that the officers came to the rescue of the woman surprised a lot of people who were around.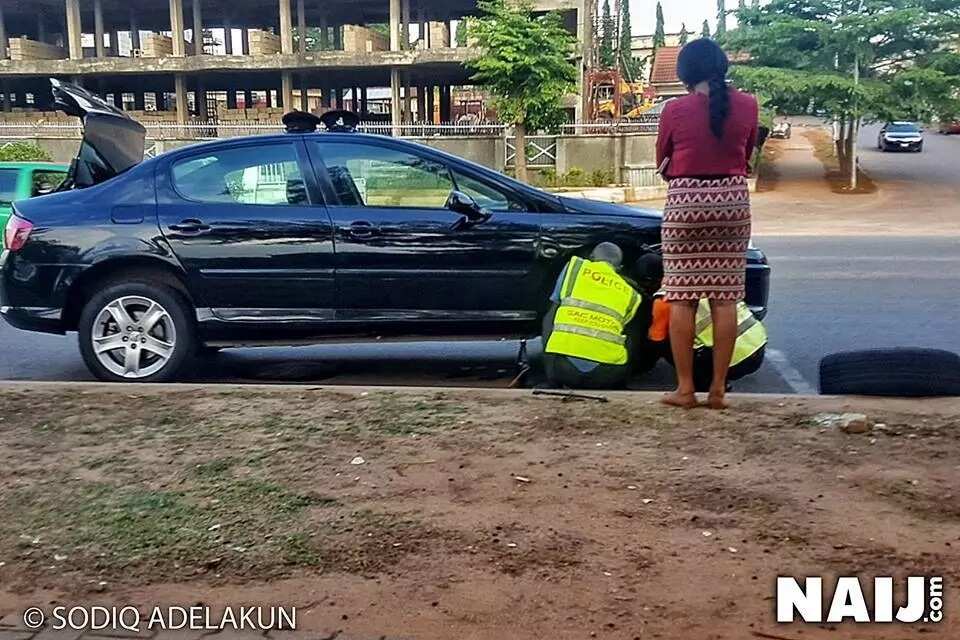 READ ALSO: Nigerian mother cries out after surgery leaves her daughter with large facial scars (photo)
This is a proof that police officers are your friends as they would do anything humanly possible to protect the lives and properties of those around them.
Check out some of the reactions this picture got on Facebook:
Hopefully, this would erase the doubts many people have towards the Nigerian police as some people do not have faith in them.
READ ALSO: Explicit pictures of Rwanda's 35-year-old female presidential candidate exposed (photos)
With the 2019 presidential election fast approaching, who would you be voting for? The Legit.ng video below shows the epic responses given by some Nigerians on their choice of president in 2019:
Source: Legit.ng