Irrigation farming in Nigeria
If you want to know everything about irrigation farming in Nigeria and its peculiarities, then this article is written exactly for you.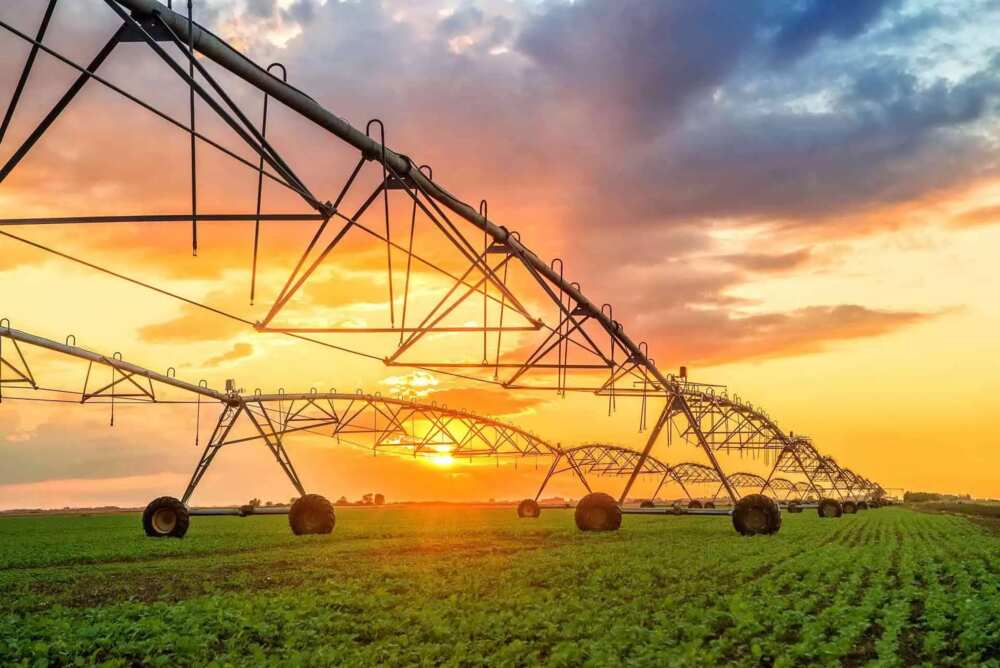 Irrigation is a process of water supply to fields lacking moisture. It increases water content in the root layer of soil in order to increase soil fertility. Though it is necessary to bear in mind the fact that some plants prefer dry soil and some need moisture. Before applying an irrigation farming system in Nigeria, you have to study the peculiarities of plants you are going to produce.
Irrigation farming in Nigeria
Irrigation, as well as drainage, is the main form of land melioration. Irrigation improves the supply of plant roots with moisture and nutrients, reduces the temperature of the surface and increases its humidity. Water in the fields can be distributed in different ways. Let's consider the best irrigation systems used in Nigerian agriculture.
Surface irrigation
This method has three varieties: border strip, furrow, and flooding.
Border/bay strip method
When using bay or border strip method, the water moves along parallel thin ridges on the surface that are aligned in long strips and in the process of moving the water is absorbed into the soil.
Furrow method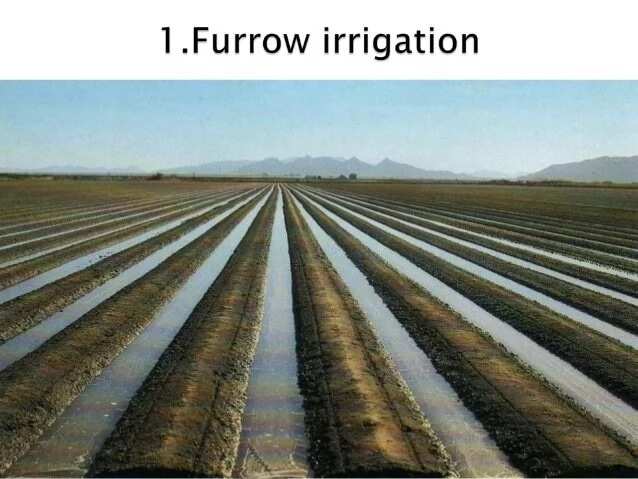 When watering fields by furrows, running water soaks into the soil through the bottom and sides of furrows in the process of moving. Such method is mainly used for growing maize and vegetables.
Flood irrigation
If you have chosen flooding method, a small area is surrounded by soil ridges from all the sides, it is filled with a layer of water, which then seeps into the soil. The water comes from lakes and rivers, wells and boreholes.
Surface irrigation is characterized by the following features: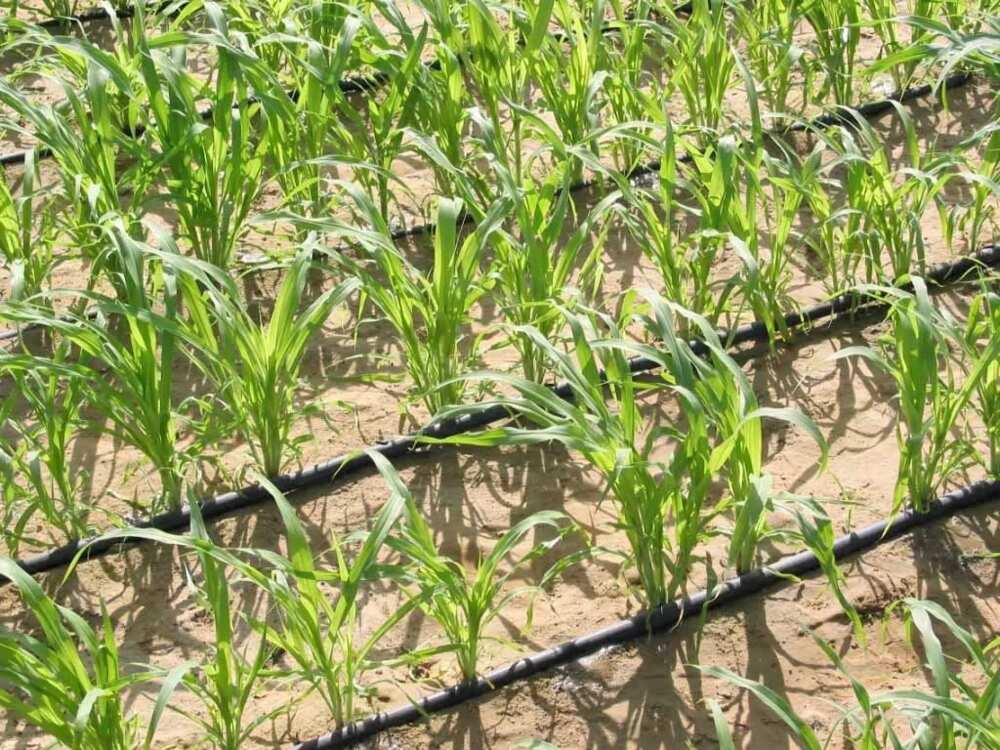 watering is carried out periodically, water reserves are accumulated in the upper soil layers and are consumed in irrigation intervals;
it is possible to reach different depths;
large fluctuations in soil moisture between waterings;
after watering the soil crust is formed on the entire wetted surface, which reduces aeration, nitrification and increases evaporation from the soil surface;
crisp crust prevents the appearance of weeds.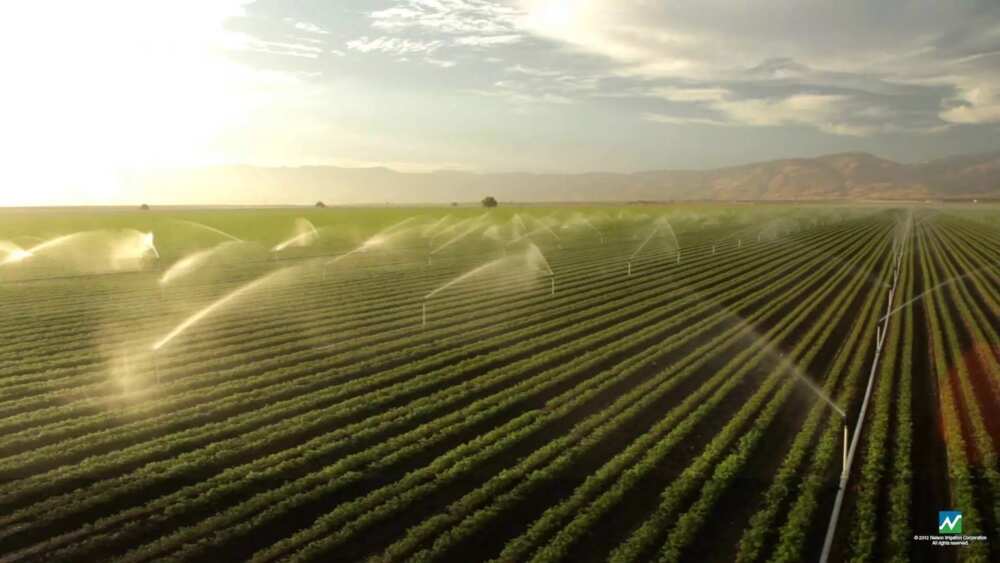 READ ALSO: Rice producing states in Nigeria
Important to remember!
Such irrigation network system can negatively affect working conditions of agricultural machinery.
Sprinkler irrigation
In comparison with surface irrigation, this type of irrigation is more expensive to implement, as the required equipment costs more. Despite this, applying sprinkler irrigation, you may get better harvest.
Centre-Pivot

Plants are watered with the help of mechanically rotating pivot, it functions as a sprayer of water on a large circular field territory. A possible area of water delivery by Centre-Pivot hoses varies from 20 to 40 hectares.
Traveling gun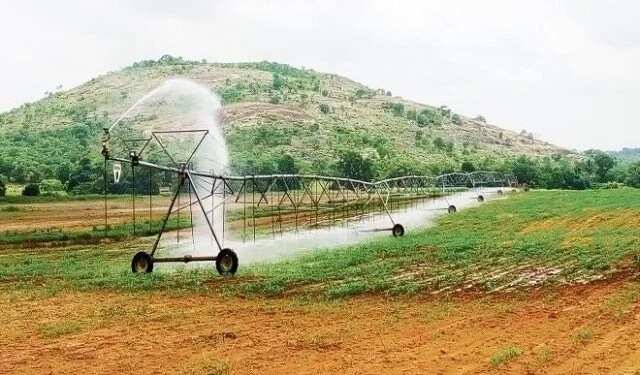 Such kind of a sprinkler moves along crops grown in a line or a row. Traveling gun delivers water on the top of plants. It is applied for watering of various types of fruits and vegetables, apart from tomatoes.
Using sprinkler irrigation, you get the following advantages: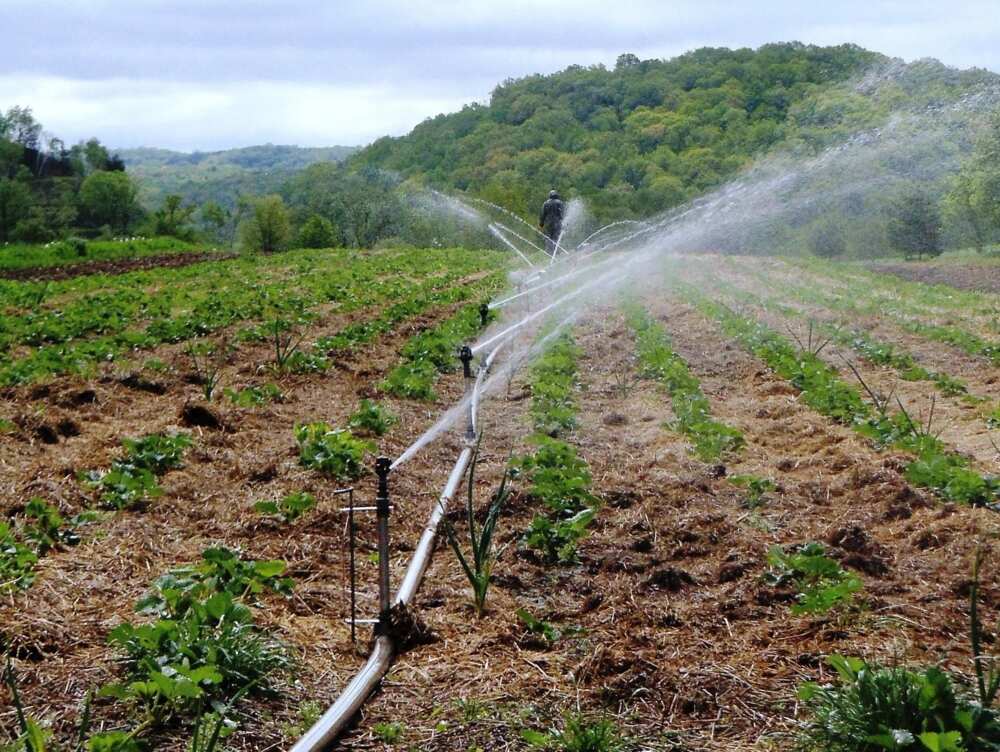 irrigation is provided intermittently, the water accumulates in the upper soil layers;
it moistens not only the soil but the plant itself, that activates its physiological processes;
the depth of soil moisture is generally less than in a case of surface irrigation;
you can apply frequent watering and small irrigation norms and thereby create more uniform soil moisture regime.
Important to remember!
Lack of irrigation network improves working conditions for agricultural machinery.
Subsurface irrigation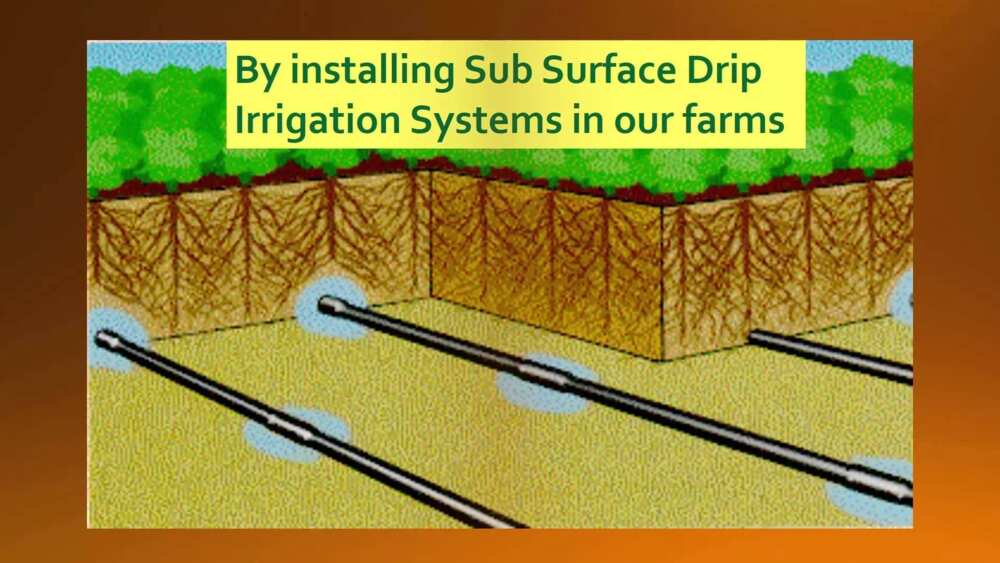 This type of irrigation allows you to:
get the only capillary hydration of the upper layers of soil;
maintain a certain depth of moisture;
greatly reduce water evaporation from the soil surface;
provide a continuous supply of plants with water;
does not restrict the work of agricultural machinery.
Drip-drip irrigation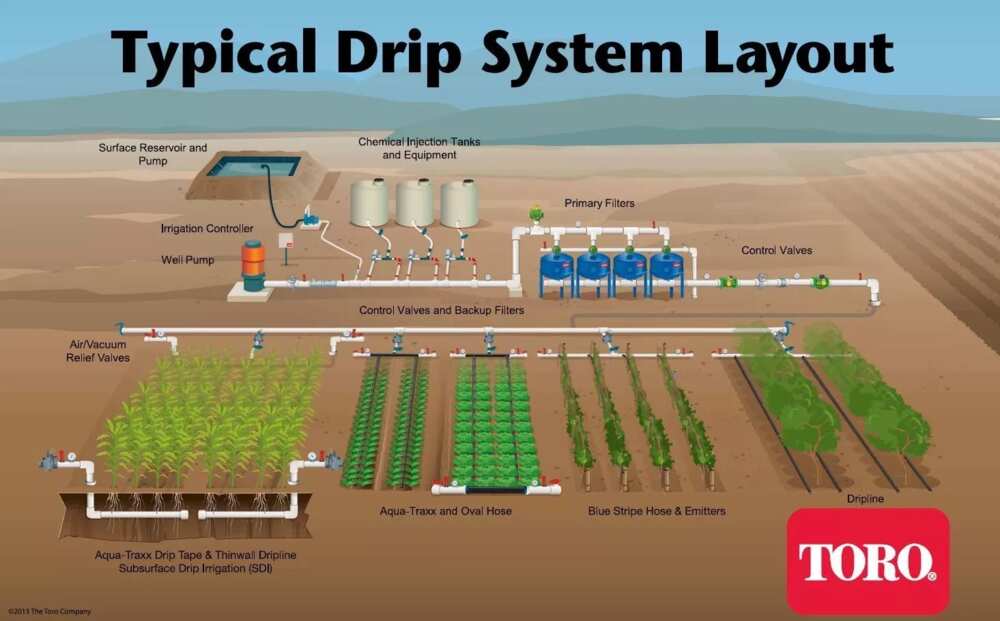 Its main benefit is in saving up to 50% of water and increasing the amount of harvest up to 40%.
Other advantages of drip irrigation:
- significant reduction in labor costs for irrigation and processing;
- improving the quality of products;
- effective consumption of fertilizers by plants (80%);
- ability to water plants at any time without risks to bring sunburns.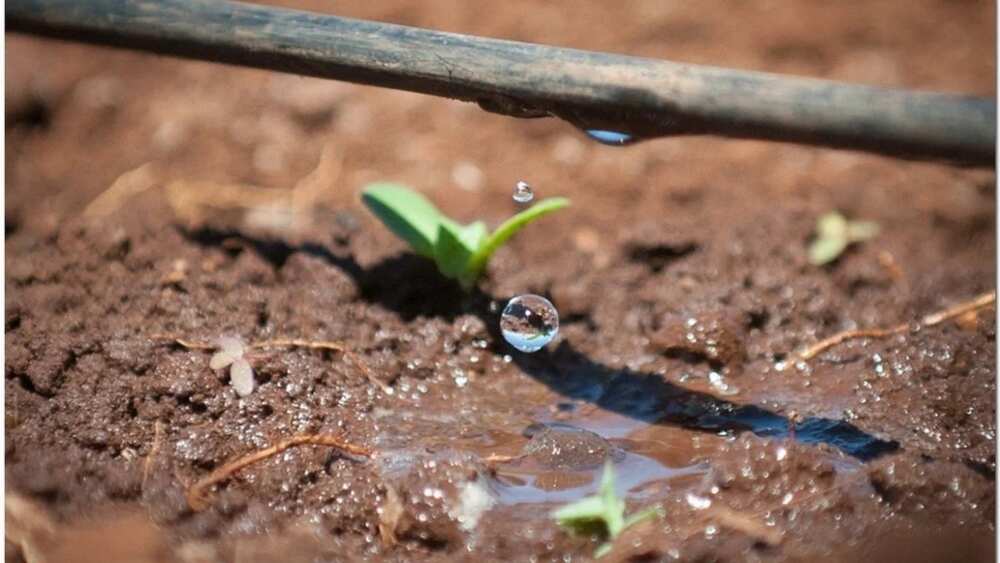 With drip irrigation water is continuously delivered to the soil and to the plant roots with the help of small drops. It was created with the aim of providing plants with constant moisturizing and nutritional supply. Drawback: drip-drip irrigation is supposed to be quite expensive for installing, but its benefits may overweight this disadvantage.
Aerosol irrigation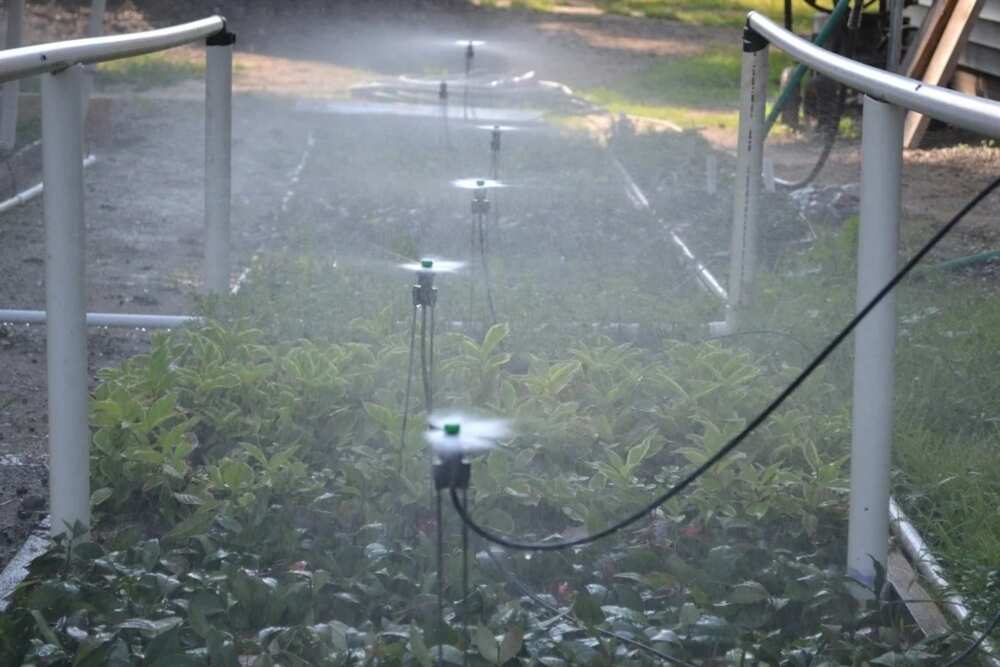 In a case of aerosol irrigation water is supplied to the field periodically in small doses in the form of very fine particles. It moistens plant leaves and stems while reducing the temperature of the air. In hot weather, it increases photosynthesis of plants. This method of irrigation is usually used in combination with other irrigation methods.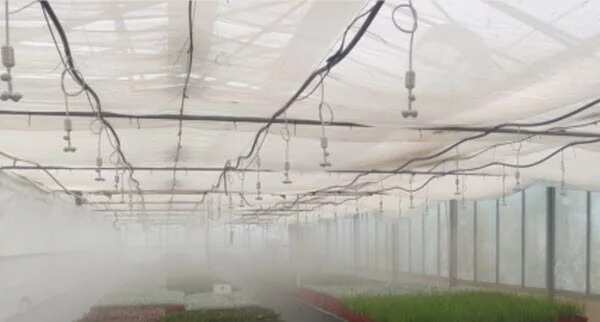 Negative consequences of irrigation system
The most common and unpleasant phenomenon caused by irrigation is soil salinity. Soil and underlying soil contain many readily soluble salts. In a case of water excess on the fields, groundwater level begins to rise. Owing to this fact, people can themselves create a certain saline desert. So, bear in mind this information in order to turn your irrigation system into beneficial one.
READ ALSO: Problems of agricultural development in Nigeria
Source: Legit.ng