Are you looking for ideas for a traditional Yoruba wedding gown? Do you want to wear something special and unique? Then this article is exactly what you need! Read on to find numerous ideas!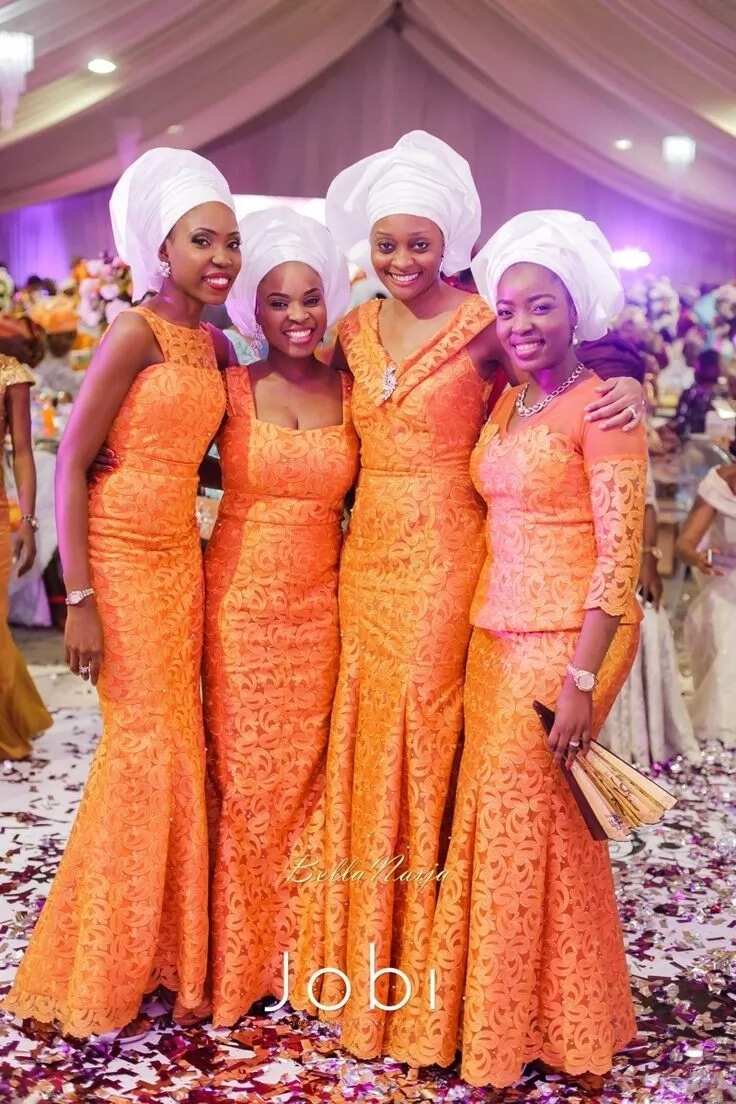 It's not a secret that Yoruba people like having festivities. So, a wedding day for them is another chance to have a great party. For this occasion, women dress up beautifully, men put on their bets clothes and get ready to party. Yoruba traditional wedding attire
However, of course, the primary focus is still on the newly-weds: everything from tip to toe matters when they celebrate the most important day of their lives. Thus, for those of you who are not familiar with the Yoruba traditional wedding attires and other interesting customs, we have crafted an excellent article with all the details you will find exciting. So, read on and enjoy the process of diving into the culture.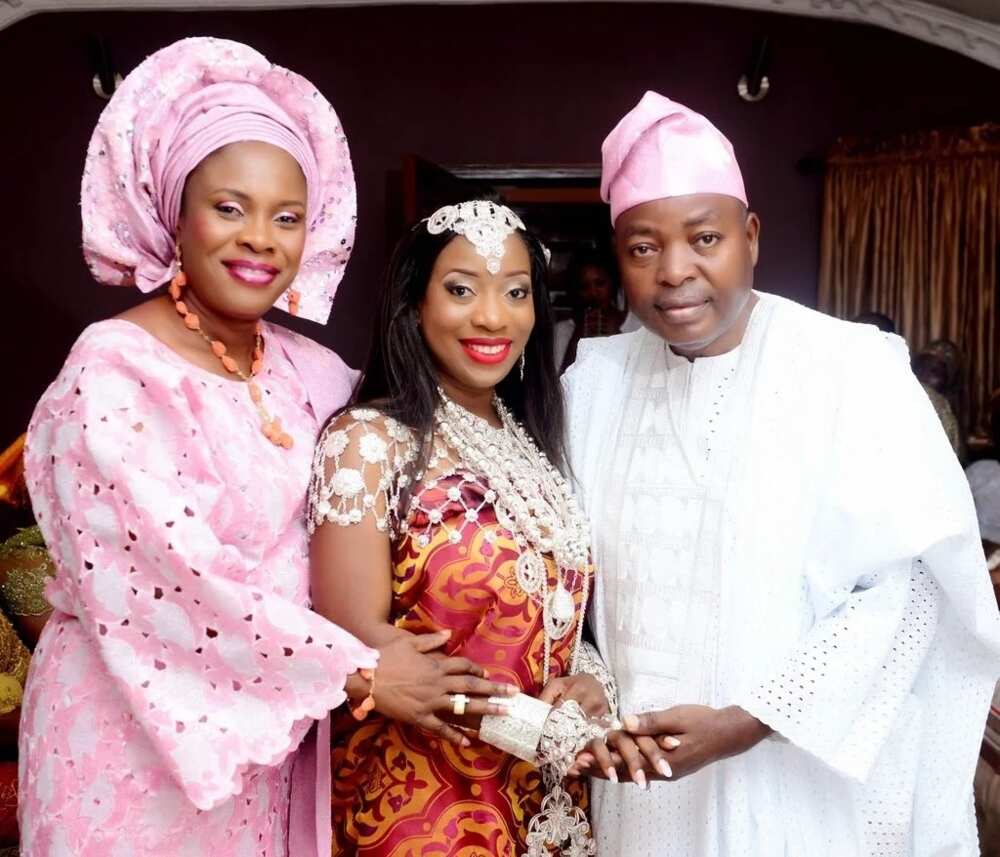 Yoruba traditional wedding outfit
We will begin with describing the general tradition as well as all the layers the bride and groom wear on this day. The wedding is a huge deal for people of this culture. The thing is that these people are rather family-oriented. Everything they do centers on the family values and so the wedding, as the first step to starting a family is taken very seriously.
The families of the bride and groom are completely involved in the process, as their lives are focused on their children.
Now, as you understand the background a little bit better, let's move on to the traditional wedding attire in Yorubaland. We'll begin with the groom and his festive clothes.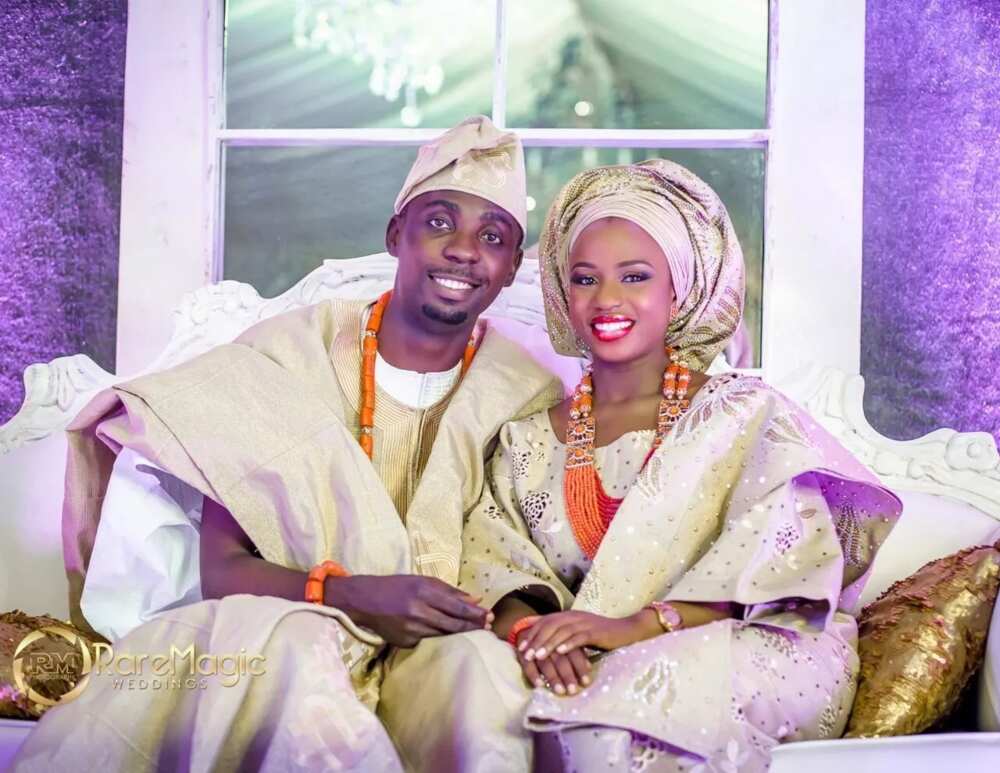 The groom's first of all is wearing the Agbada which translates into a long wide-sleeved piece of clothing. It is often decorated with different beads or even special embroidery styles typical for the people living in this region. The color of this piece might different depending on the chosen wedding color and the shade of bride's dress. However, the specialists explain that since this fabric is completely hand-made and is produced by specially trained masters from Yoruba tribe, there are three primary colors they choose for the material:
Deep claret red
Deep blue or sapphire
Cream.
Moreover, this layer is often tailored for him specifically. The most frequent choice of fabric for this layer is aso oke textile. It is quite dense and used for the upper layers only.
The fabric is quite expensive, so even though there are four official pieces of the groom's attire for the Nigerian Yoruba traditional wedding, some either opt for cheaper fabrics or cut the number of these gown parts.
The next part of the men's wedding clothes is called "buba." Some of you might not know that this piece is not as big and massive as the first one on our list. It is normally twice as shorter and only reaches one's knees. However, its sleeves are longer than those of agbada.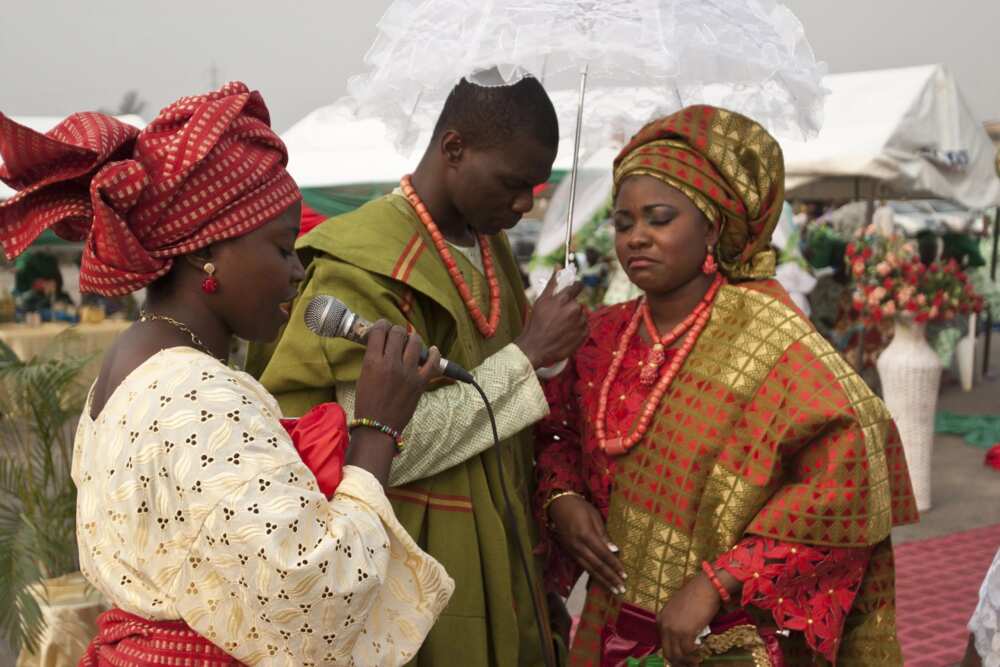 Now, the nether garments are called "sokoto." They are not the regular trousers we are used to seeing on men, as they are freer and have a special wrap over belt on top or also some laces which put them all together.
Finally, they wear special head cover typical only for the men of the West of Africa.
And then come to the shoes grooms wear, but they are merely a question of taste and style of each man individually.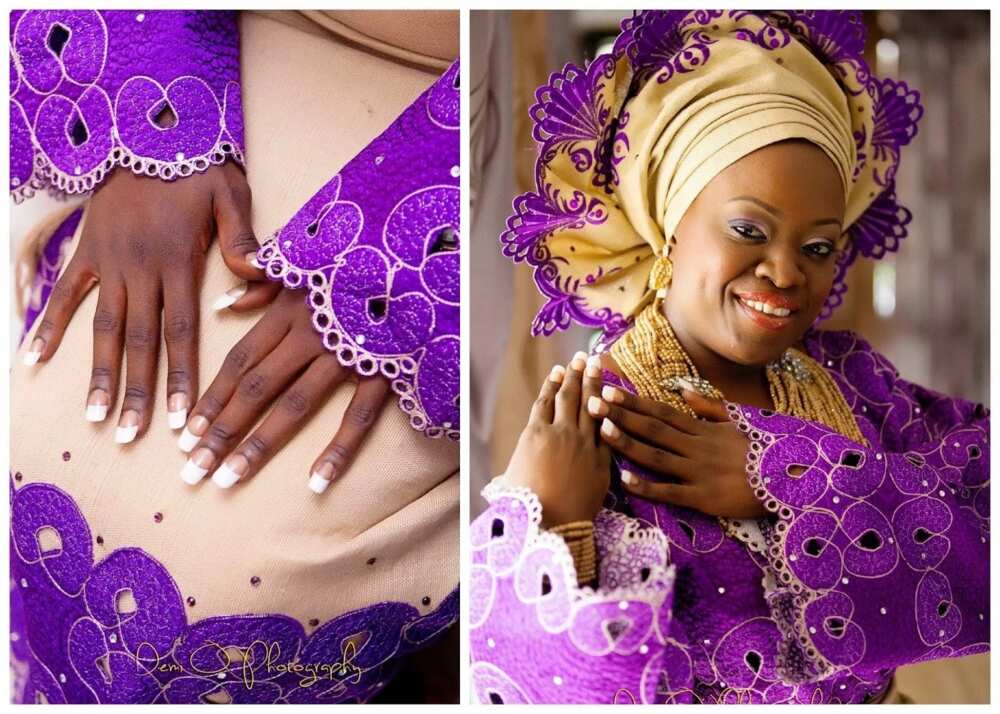 Yorba traditional wedding dress
The bride who is also the main focus of the whole ceremony has a special set of clothes she is to wear on her Big Day. There are several layers the bride is wearing on this day too. Yoruba people have special traditions and explanations of why they wear what they wear, but since we lack space and time, we won't go into all the details.
READ ALSO: 5 Reasons You Should Marry A Yoruba Lady
So, first things the wife-to-be is wearing is Iro or as we would translate it into English – a wrapper. It should be long enough to cover all the length of her length right to the floor. It should be tailored in such a way that I underline the slim waist and serves as a thing to attract attention.
Like the men, women also wear bubas which go down to their knees. The fabrics they choose for these two pieces of wedding attire differ. They might depend on the wealth of the family going off of the family can afford to get as well as the general preferences of the bride.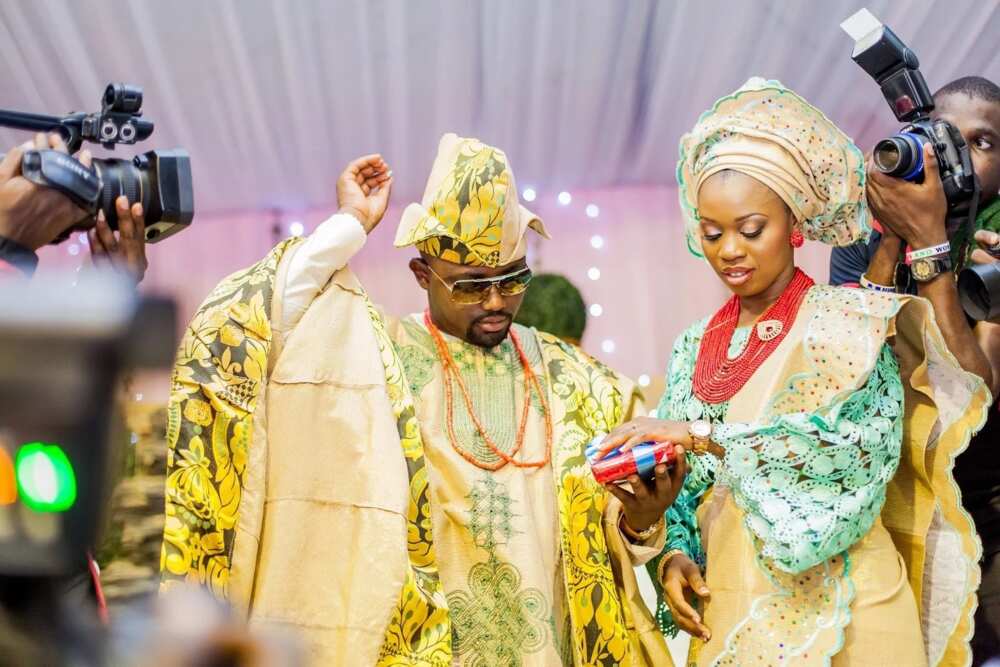 Some brides choose cotton fabrics, given their density and practicality. Meanwhile, others choose lace materials to increase the general femininity of her image. Besides, there is also a chance of opting for ankara fabrics which are the wax prints of Africa. It is also made out of natural cotton; however, unlike regular cotton, this fabric has bright patterns typical for people living in this area.
Nigerian Yoruba brides often wear bridal veiling, as they are a part of all the unveiling the bride tradition. It is a beautiful ceremony which illustrates how the groom and a bride become one whole now.
Finally, Nigerian ladies love being bright, so it is common for them to wear massive amount of accessories. They wear gold and special beads for such occasions. Everything goes here: bracelets, necklaces, rings, earrings, etc. he accessories are often chosen in such a way to fit in the general picture of the wedding attire of the bride. So, earrings can be designed specifically to emphasize the patterns on her wrappers, for instance.
All in all, there is a whole package of things men and women wear on this day in Yoruba land. However, let's also see what specific colors they prefer.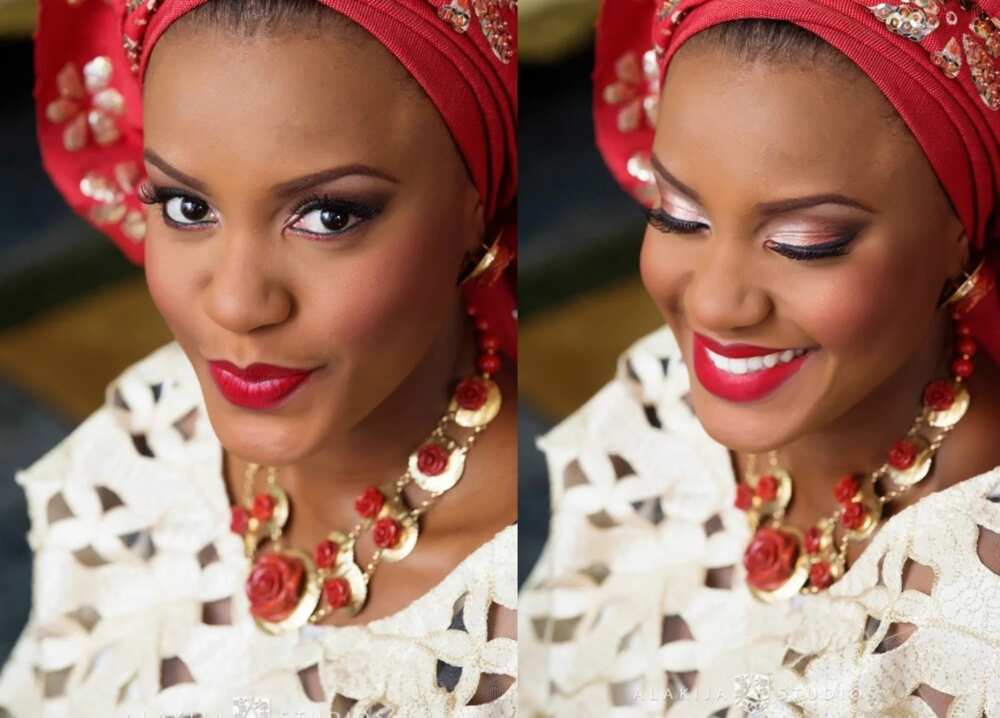 Yoruba traditional wedding colors
Since weddings become more and more westernized, the colors accents were changed a lot. However, there are still the most popular choices, and we're about to introduce you to them here.
Just one thing before we proceed to Yoruba traditional wedding color combinations. The color a bride selects for her dress defines what color the rest of the guests will be wearing. It is a sort of a given here: all the wedding guests should match the general style and color of a bride. That is why Nigerian traditional weddings look incredibly stylish and harmonious.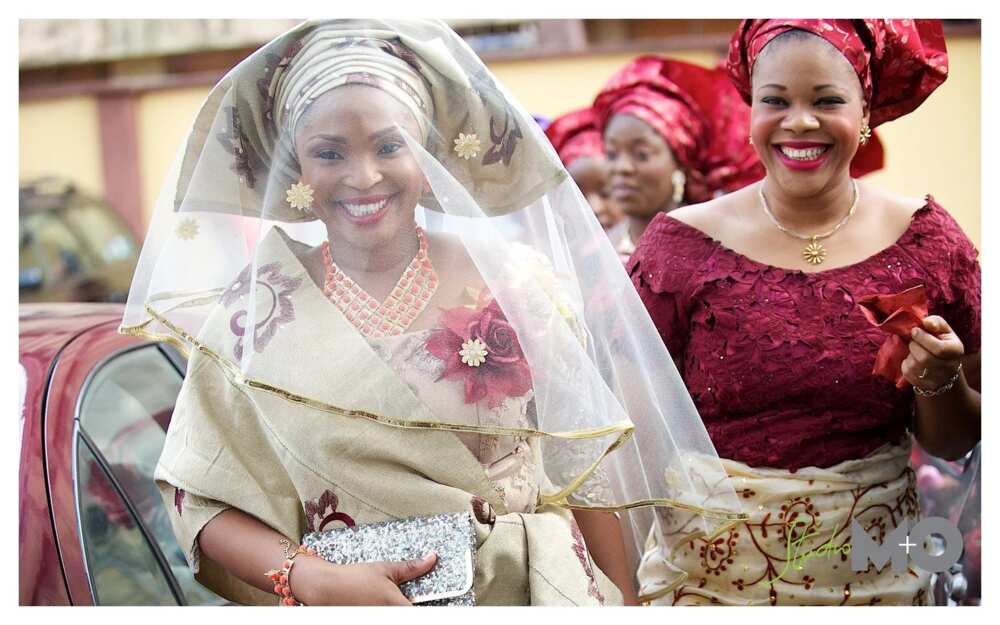 Red and white
This is a classic combination of colors which goes with different patterns. Besides, it is easy to find, that is why so many couples opt for this combination. And also, these colors make the wedding theme slightly closer to the Westernized weddings.
Orange and Gold
These two colors are also quite popular. The thing is that the accessories made of gold are a common choice, as the families want to emphasize their wealth as well as look festive for the occasion.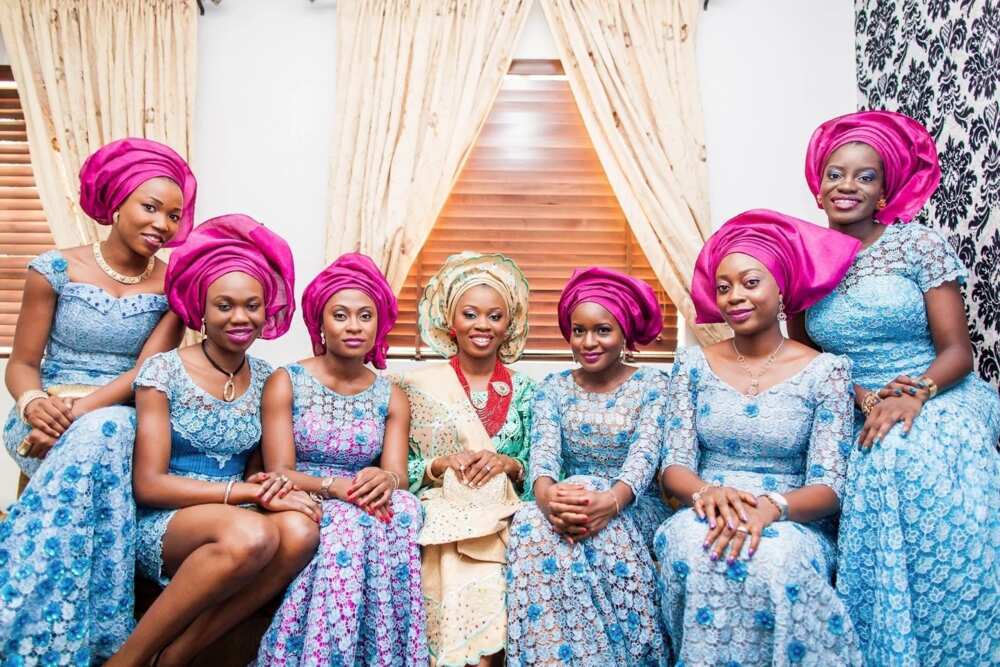 Blue and gray
It is a rather new trend, but it has already become quite popular. Nigerian couples tend to choose these colors, as they look simple but very stylish. Besides, it is easy to combine with different sparkles and other design ideas.
Burgundy and white
This might sound similar to our first combination, but it is different. The burgundy color is deeper and gives a different look to the whole wedding ceremony and reception.
Navy blue and gold
Golden is always at the peak of its popularity. That is why we highly recommend you getting some details of these colors. The men will feel good wearing blue with golden accessories, while ladies enjoy the luxurious look this color combination creates.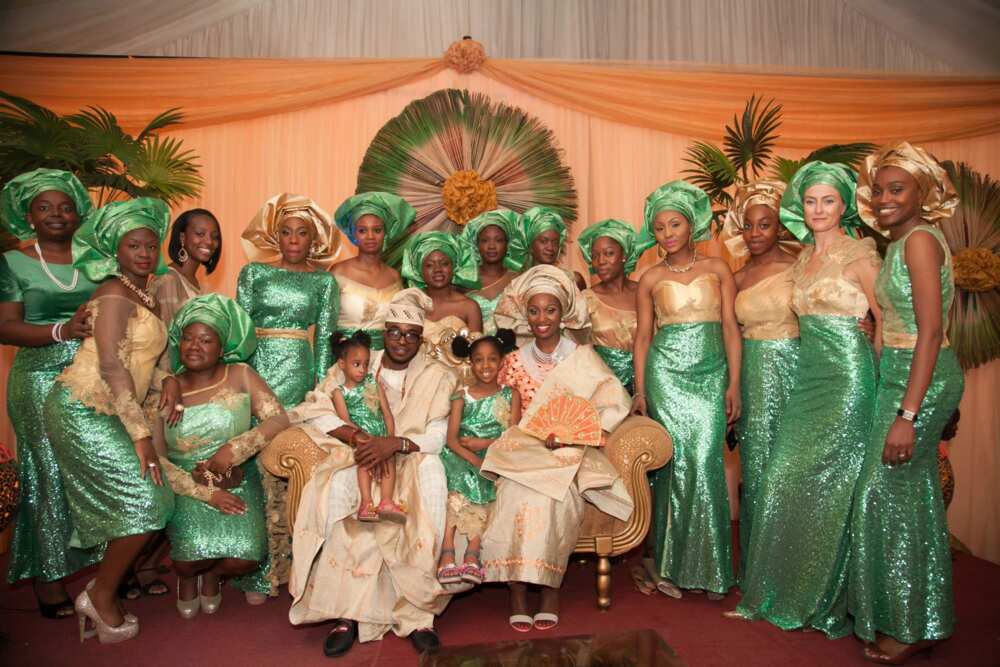 Green and cream
This color combination is also among the most loved ones, as it is unisex, and goes with any complexion (we know hoe important it is for a bride to pick a color which would not shade your complexion).
Pink and gold
If you always wanted to have a very gentle and sweet wedding, then this combination of colors is exactly what you need. It is every girl's dream, so do not hesitate to consider this Yoruba traditional wedding color combination for your Big Day!
Wrapping it all up, we will only mention that this day is truly magnificent in Yoruba culture. The newly-weds, as well as their relatives, outdo themselves trying to organize an excellent day to remember. So, use our ideas and tips and have an outstanding wedding!