AkwaIbon native attire is worn by many nations. Among them are Ibibio, Annang, Oron, Eket, and Obolo. Each ethnic group has aunique and prominent culture, and of course, attire is an important part of it. And today we are going to explore Efik and Ibibio traditional dressing.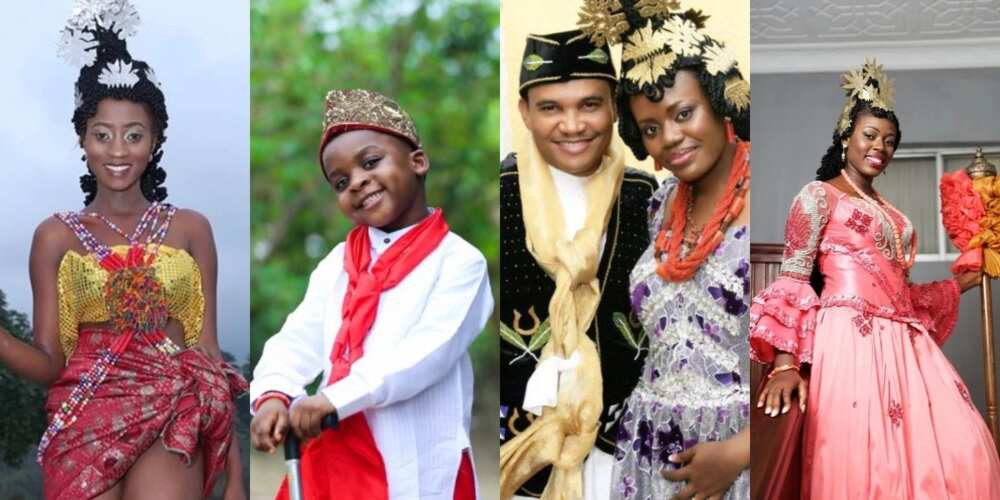 Akwa Ibom traditional attire
Efik native attire
The national attire of Efik ethnic group is made up of two prominent components for both genders. For men, this component is a traditional loose shirt and chieftaincy shirt. When it comes to women, it is also wrapper and cropped sleeveless shirt. The wrappers are of ankle length traditionally. They can be worn like a skirt, and also they are usually decorated with traditional embroideries on it.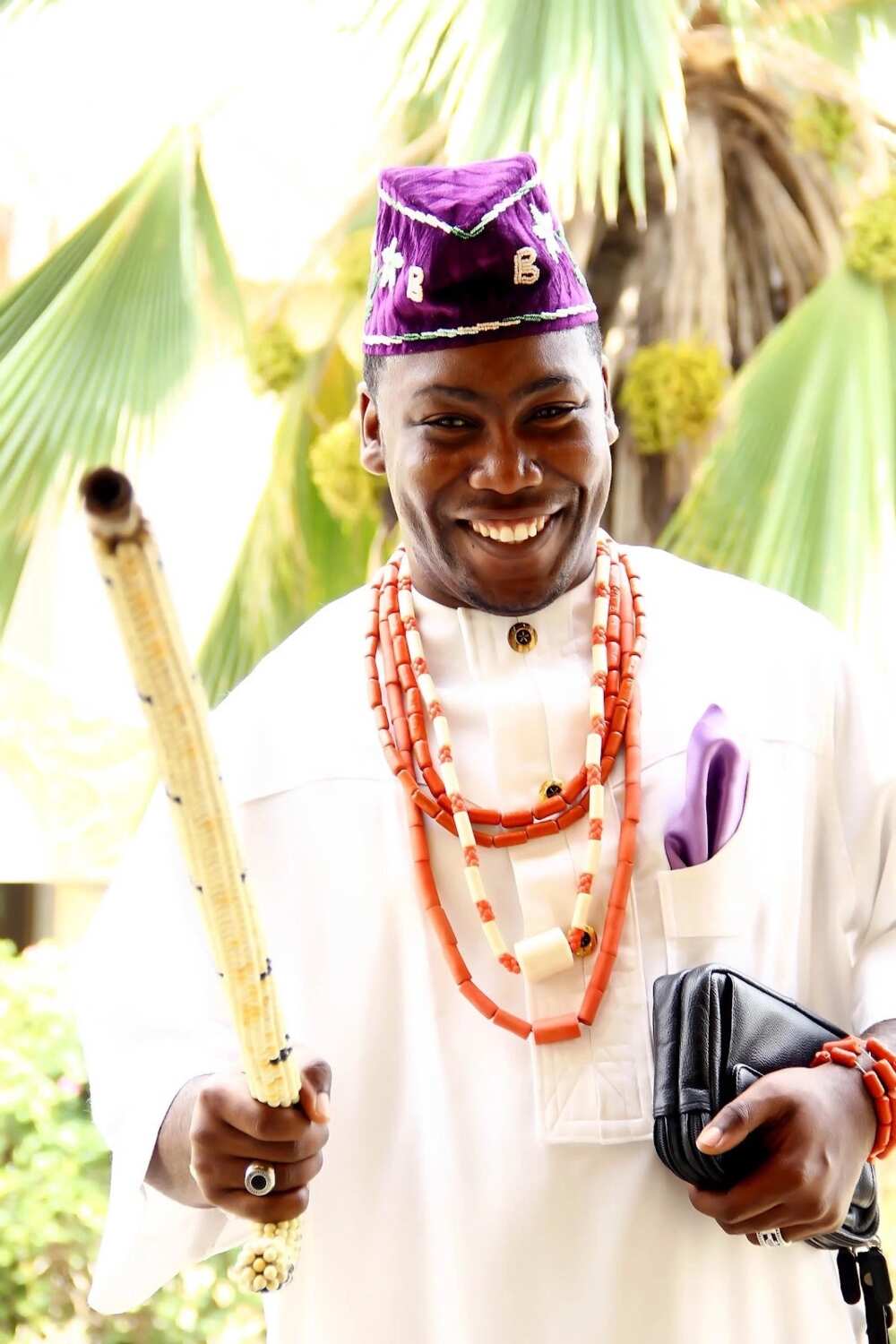 Photo: wetinhappen.org.ng
READ ALSO: Nigerian native attire styles 2017-2018
The men's dressing is generally made of plain materials. The length of it is longer than the regular shirts. It usually reaches the midpoint of the hip, and have cuts on both sides. Walking cane is a traditional item to complete the outfit, as well as wearing a special type of hat or cap. Another essential element of a traditional look is a beaded necklace.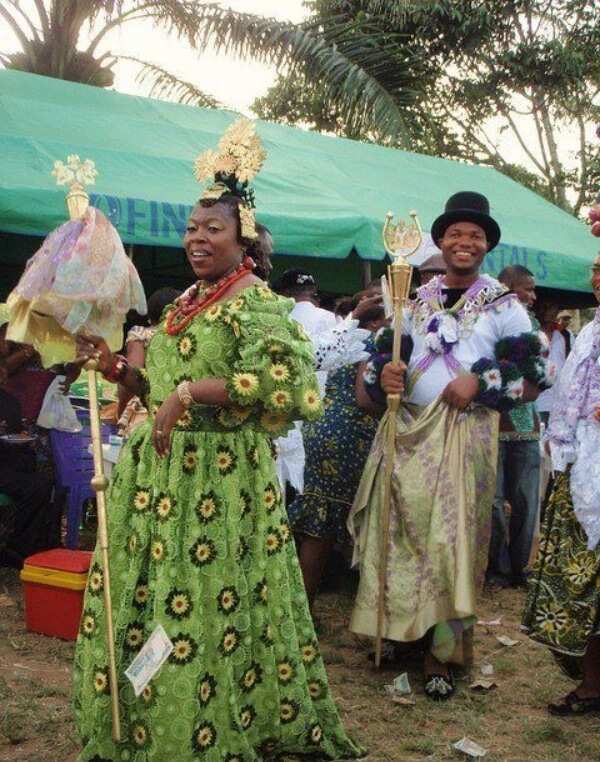 Photo: pinterest.com
As for the women, the range of material that can be used is much more extensive. The color of their shirts is customarily chosen to match the wrapper. And the cutting is also fitted according to the style of the whole outfit. The eventual result is always looking classy and gorgeous. As well as men, women might complete their look with a beaded necklace and other accessories.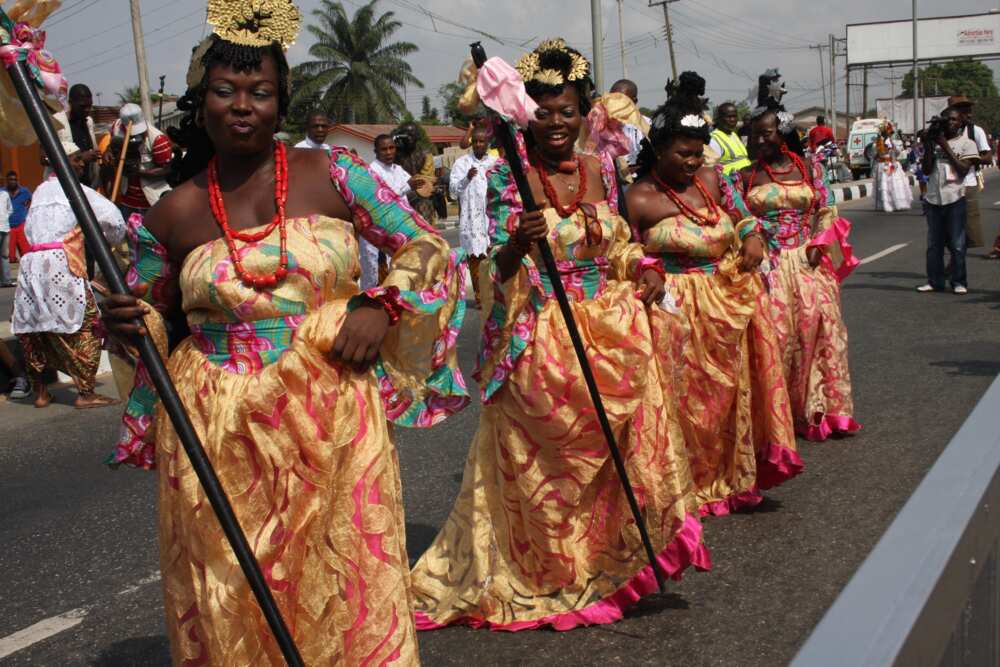 Photo: kwekudee-tripdownmemorylane.blogpost.com
Ibibio native attire
Ibibio native attire has some comparisons with Efik one, but there are a lot of distinguishing features.
Talking of men traditional attire, Usobo is the most common component of native Akwa Ibom dressing. A wrapper usually worn for wedding celebrations. It can be compared to a woman variant of this clothing item. It is a skirt-like dressing with ankle length and usually has some traditional embellishments on it. We can meet similar clothing in the related Akwa Ibom ethnic group called Oron.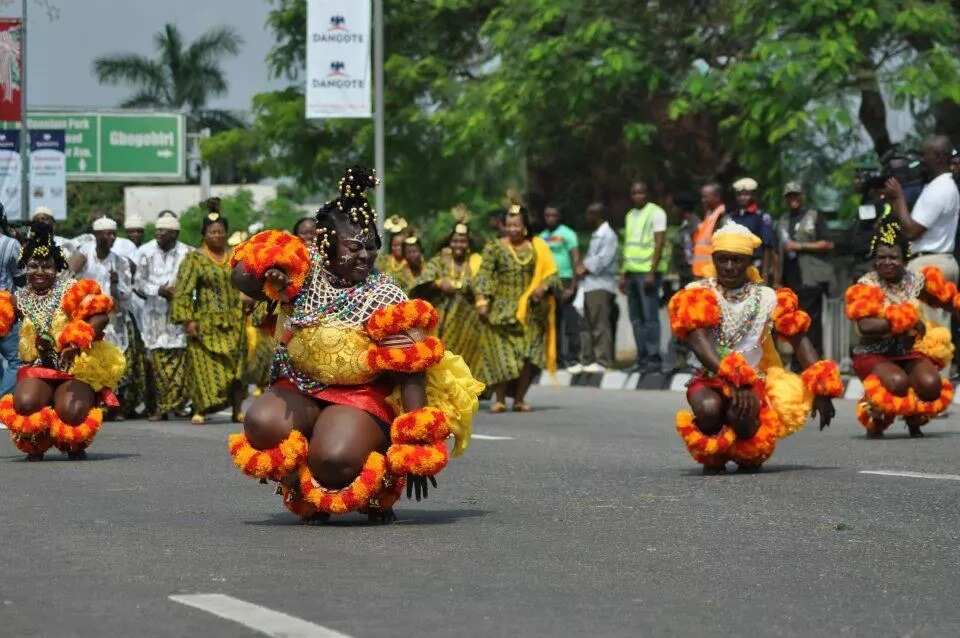 Photo: hotels.ng
READ ALSO: Best Bellanaija chief bridesmaid dresses
Another common variant of Ibibio wrapper is a chieftaincy shirt. It is also made of simple material and has some embroideries on a chest. Also, this piece of clothes can have elbow-length sleeves.
Ibibio native dressing for women is genuinely original, bright, beautiful and elegant. The outfit can be modified in various ways to complete it. The common item of women native clothing is a cropped shirt without sleeves. Also, there are a lot of colors and cuts to choose from. Embroideries are also characteristic of women's native attire.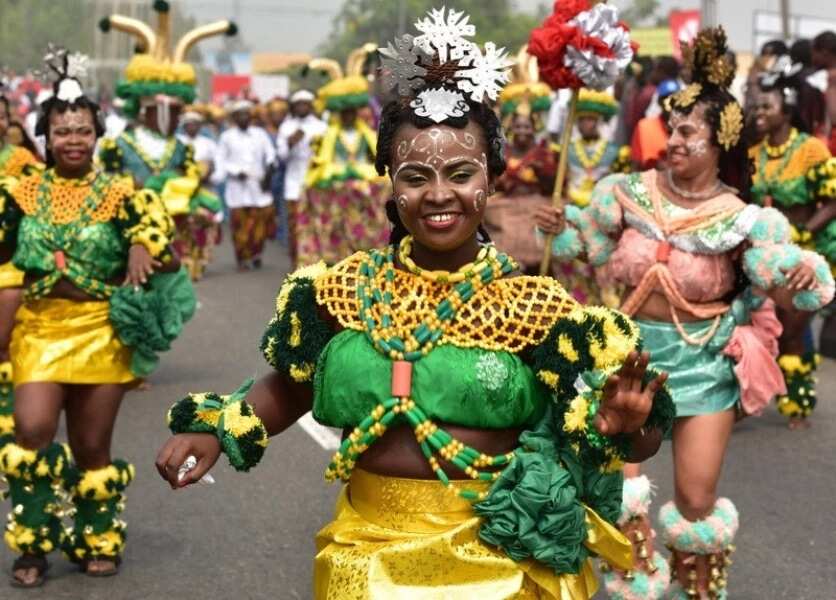 Photo: enroute.ng
Ibibio women usually wears several items of clothes like traditional shirt and a wrapper, using it as a skirt. Also, they can choose a one-piece item.
Women's accessories are very prominent and original. A common type of native women head accessories is a gele hat. If this item is missing, Ibibio women wear their another head supplement. And it is their righteous hairdos. Women also wear beaded necklaces and their variations.
Akwa Ibom traditional marriage attire
What is more attractive and brighter than Akwa Ibom native attire? Akwa Ibom native wedding dressing! Ibibo native marriage attire is also carrying the spirit of Akwa Ibom culture. Both men and women have beautiful outfits and accessories.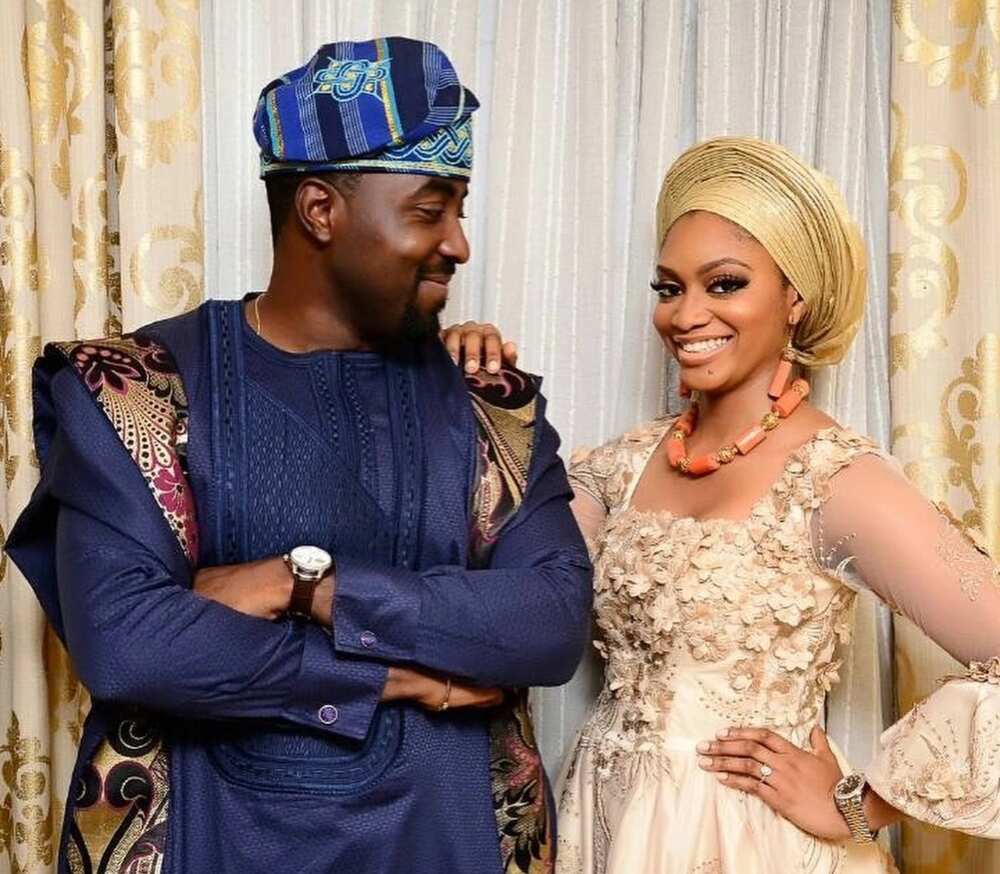 Photo: blog.jiji.com
Every native wedding attire of Efik people makes them look like royalties. Although Akwa Ibom wedding is a truly family event, everyone has such gorgeous attires. Ibibio native wedding dressing equals Efik one in fairness and delicacy.
READ ALSO: Lace wedding gowns with sleeves in Nigeria