How to make liquid soap: A step-by-step guide with visuals
Liquid soap is popular all over the world. It is preferably used to wash clothes and kitchen utensils, but it is also widely used to wash hands and the body. Would you like to learn how to make liquid soap at home? Have you been looking for homemade soap recipes with no success? You have landed on the right page. This helpful guide on how to make homemade soap will help you in your soap making endeavour.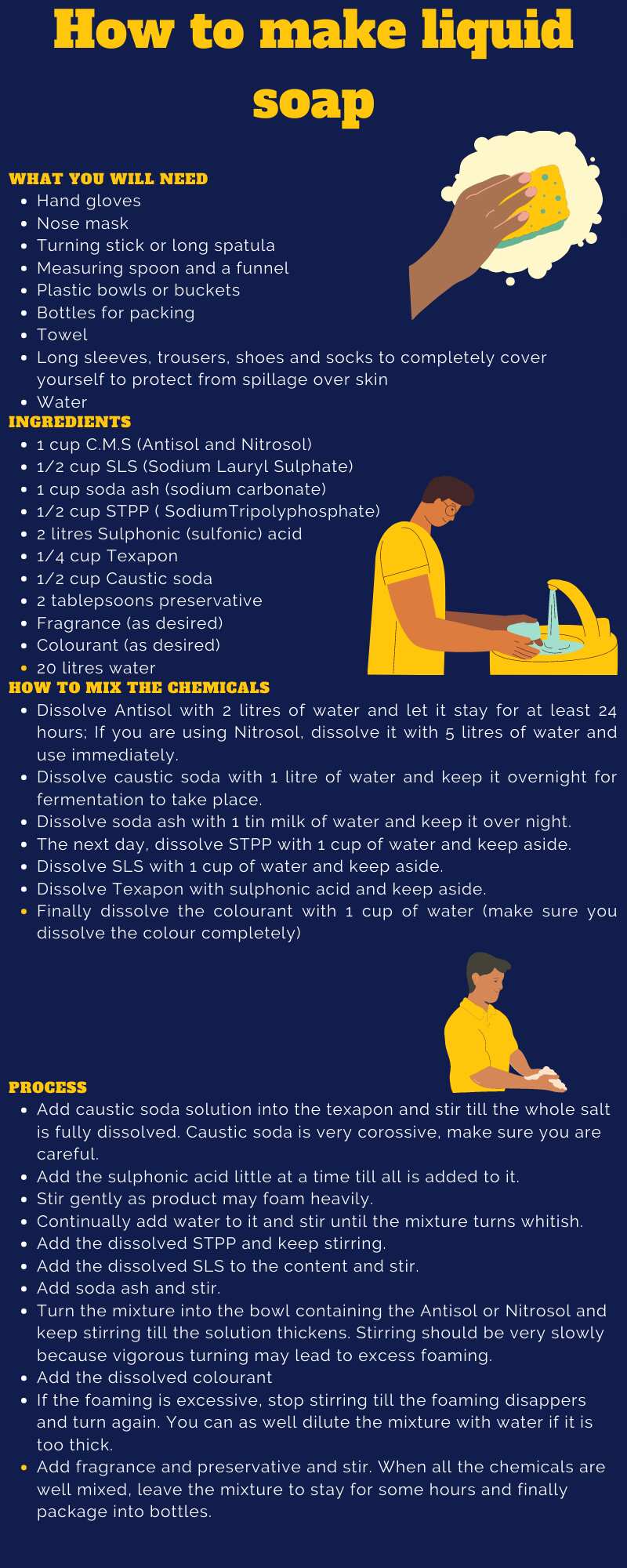 Here is a step-by-step guide on how to make your own soap.
How to make liquid soap for dishwashing and home cleaning
How do you make soap? Use any of these two methods to make liquid soap for dishwashing and household cleaning.
Liquid soap recipe 1
Here is a simple guide on how to make soap from scratch.
Equipment
Hand gloves to protect your hands. Touching the soap directly with your hands can cause crack skin
Nose mask: to protect you from inhaling the concentrated chemicals
Turning stick or long spatula
Measuring spoon and a funnel (to add it to the bottles)
Plastic bowls or buckets
Bottles for packing
Towel for wiping bottles dry and cleaning of hands when done
Long sleeves, trousers, shoes, and socks to completely cover yourself to protect from spillage over the skin
Water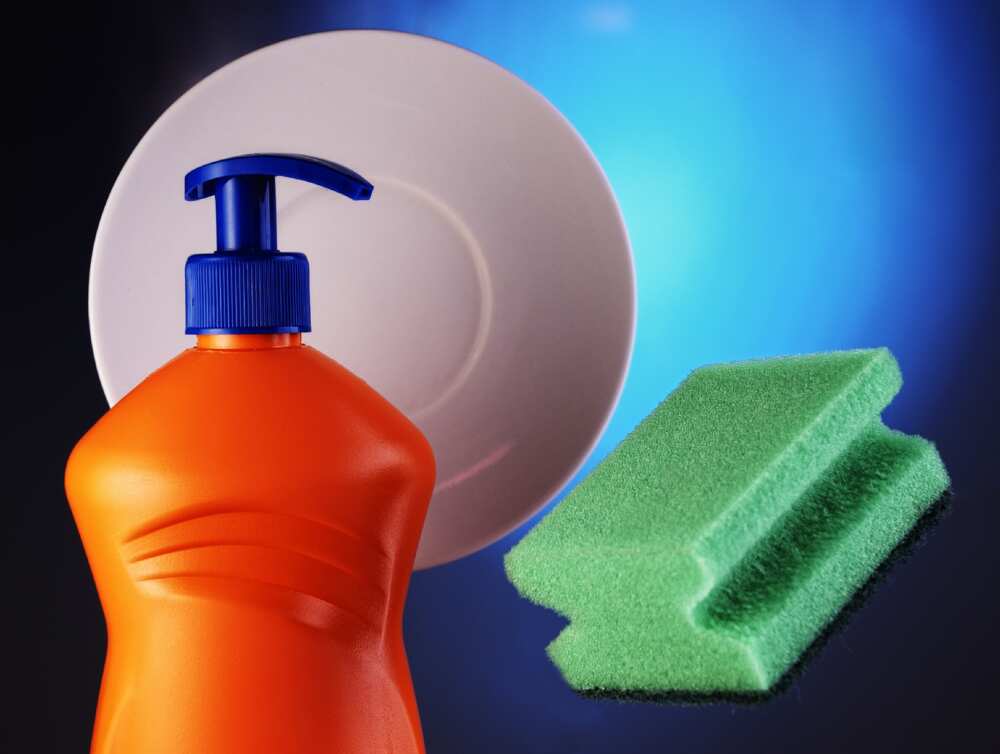 Ingredients
1 cup C.M.S (Antisol and Nitrosol)– These agents serve as a thickener in liquid soap
1/2 cup SLS (Sodium Lauryl Sulphate)– This agent helps to break surface tension (surfactant) to allow better interaction with other chemicals, it also produces foams
1 cup soda ash (sodium carbonate) – This serves as a stain remover, it helps to soften hard water.
1/2 cup STPP ( SodiumTripolyphosphate)– This acts as a foam booster
2 litres Sulphonic (sulfonic) acid– This is the agent that helps to produce foam in liquid soap
1/4 cup Texapon – This is a foaming agent which forms micelles that allow non-polar materials like oil to be dissolved in water
1/2 cup Caustic soda – This is an agent that removes dirt in clothes
2 tablespoons preservative
Fragrance (as desired)
Colorant (as desired)
20 litres water– This serves as the solvent.
How to mix the chemicals
Dissolve Antisol with 2 litres of water and let it stay for at least 24 hours; If you are using Nitrosol, dissolve it with 5 litres of water and use immediately.
Dissolve caustic soda with 1 litre of water and keep it overnight for fermentation to take place.
Dissolve soda ash with 1 tin milk of water and keep it overnight.
The next day, dissolve STPP with 1 cup of water and keep aside
Dissolve SLS with 1 cup of water and keep aside
Dissolve Texapon with sulphonic acid and keep aside
Finally, dissolve the colourant with 1 cup of water (make sure you dissolve the colour completely).
Process
Add caustic soda solution into the texapon and stir till the whole salt is fully dissolved. Caustic soda is very corrosive, make sure you are careful.
Add the sulphonic acid little at a time till all is added to it. Stir gently as the product may foam heavily.
Continually add water to it and stir until the mixture turns whitish
Add the dissolved STPP and keep stirring
Add the dissolved SLS to the content and stir
Add soda ash and stir
Turn the mixture into the bowl containing the Antisol or Nitrosol and keep stirring till the solution thickens. Stirring should be very slowly because vigorous turning may lead to excess foaming
Add the dissolved colourant.
If the foaming is excessive, stop stirring till the foaming disappears and turn again. You can as well dilute the mixture with water if it is too thick.
Add fragrance and preservative and stir. When all the chemicals are well mixed, leave the mixture to stay for some hours, and finally package into bottles.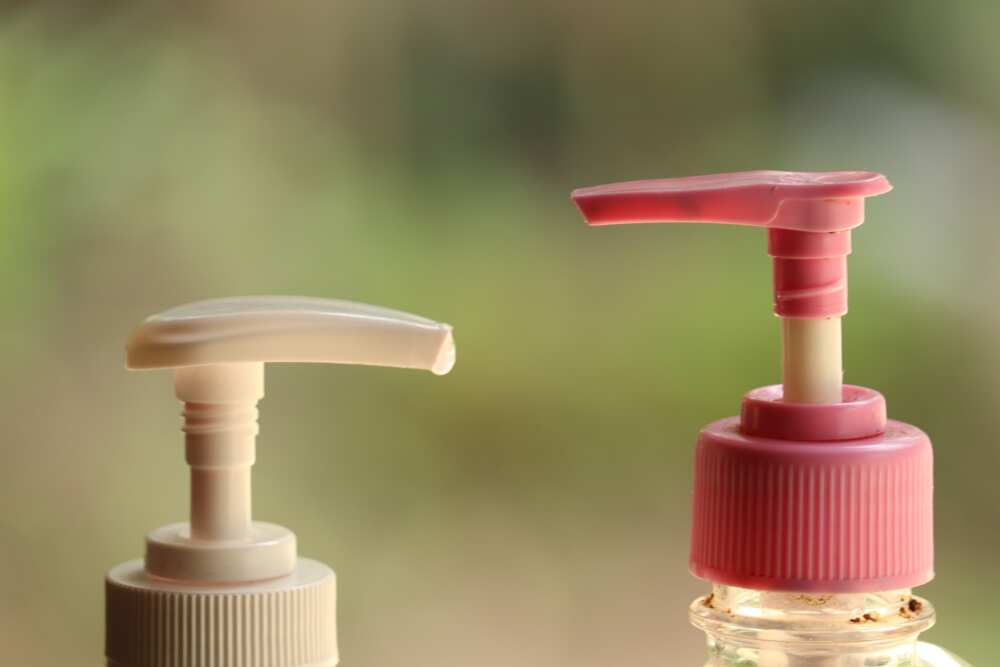 Liquid soap recipe 2
This is a simpler method that will teach you how to make soap at home:
Ingredients
1 1/4 cups boiling water
1/4 cup castile soap bar ( (grated, and tightly packed)
1 tablespoon washing soda (use a little more for thicker soap)
1/4 cup liquid castile soap
10-30 drops of essential oil (optional)
Process
Add grated castile soap to boiling water and stir until dissolved.
Add washing soda and stir.
Add liquid castile soap and stir.
Let mixture cool, then add essential oils.
Transfer to a repurposed soap dispenser.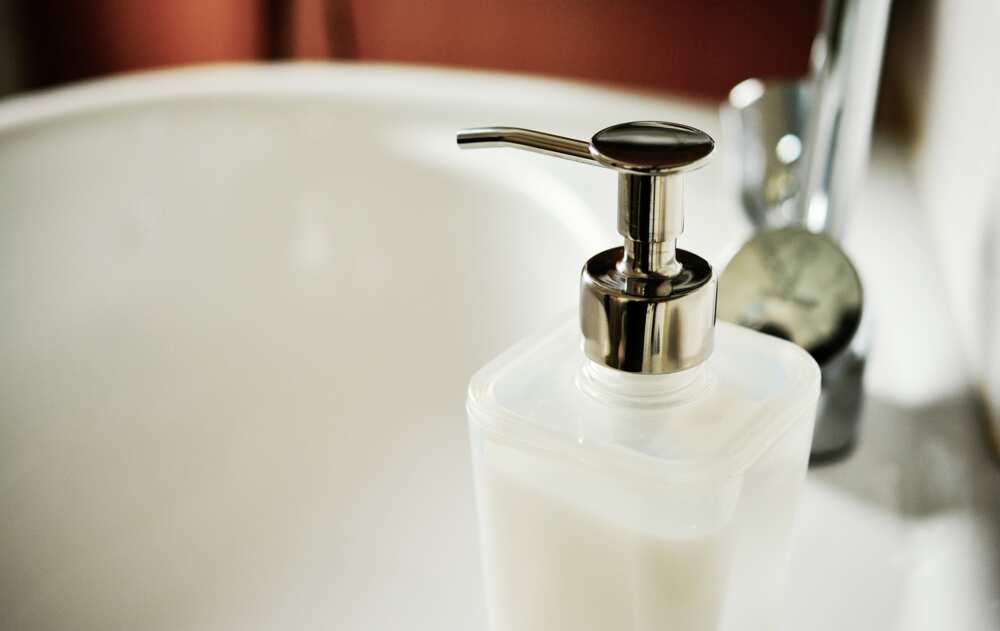 How to make DIY foaming hand soap
To make homemade hand soap, follow this simple liquid soap recipe:
Ingredients
You will need these ingredients:
1/2 cup castile soap liquid
1/2 cup distilled water
1 tablespoon vitamin E oil (optional)
1 tablespoon sweet almond oil or olive oil or jojoba oil (optional)
15 drops tea tree essential oil (optional)
5-10 drops lavender essential oil (optional)
Process
Follow this simple process to learn how to make hand soap:
In a mason jar or recycled soap dispenser, add the water first (to prevent bubbles) then the liquid castile soap, followed by the oils. Shake the ingredients together.
Always shake the soap dispenser before using, then pour a small amount on your hands as needed, rinsing with water.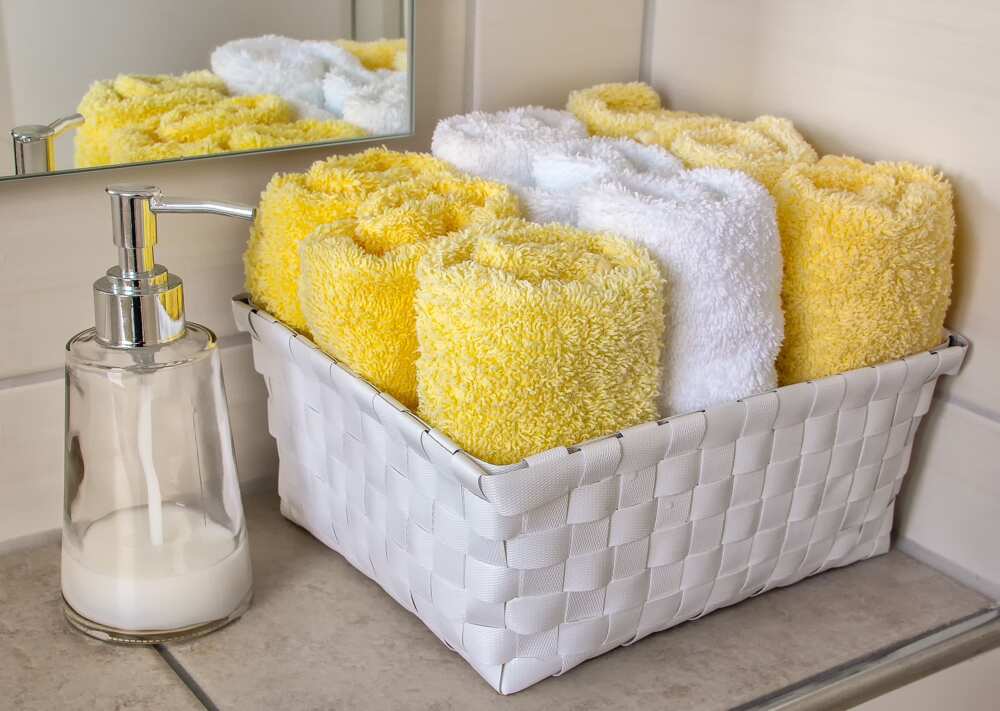 As you can see, learning how to make liquid soap is not a difficult task. Provided you have the ingredients needed and follow these recipes well, then you will succeed in making high-quality liquid soap.
READ ALSO: How to make money online without paying anything: 7 workable ideas
Legit.ng recently reported about 7 legit ways to make money online without paying anything. As per the report, a lot of people today are interested in learning how to make money online.
From freelancing to blogging to content writing, there are numerous ways of earning a decent income from working online.
Source: Legit.ng