- On Friday, January 20, former president of Nigeria Olusegun Obasanjo welcomed immediate past leader Goodluck Jonathan at his hometown Ibogun
- They had a discussion on how to continue helping the country even while they are no longer in office
- Obasanjo also allegedly promised to nominate Jonathan for global assignments
On Friday, January 20, the immediate past president of Nigeria, Goodluck Jonathan visited former president, Olusegun Obasanjo at his hometown in Otta, Ogun state.
There were reports that Jonathan's visit to Obasanjo was a way to squash a lingering disagreement between the two former presidents.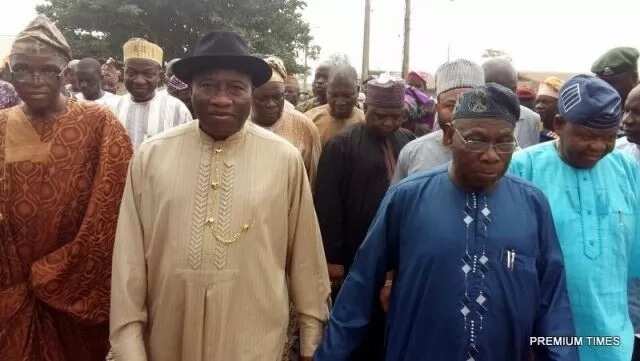 The two ex-presidents had a discussion about Nigeria and Jonathan's plans now that he no longer rules the country. Former president Obasanjo also allegedly promised to nominate Jonathan for global appointments.
READ ALSO: GEJ's aide slams Buhari, says he is Nigeria's most travelled President
According to a report by Daily Post, during the visit, Obasanjo told Jonathan that: "When leaders come, they have little or no experience. When they have to go is when they have really amassed a lot of experience, where they have wisdom, their experience is in high demand.
"Those like you and me who have the grace of God to bow out gracefully, if there is now what I call constitutional office, we have residual responsibilities for Nigeria.
"The first point I want to make is to thank you very sincerely and most sincerely for taking it upon yourself to pay us a visit at this point in time and at this location.
"Secondly, since you left office, you hardly have time to sit down and relax like you have been able to do today and I hope, I sincerely hope and pray for more such relaxed situation where we can reminisce on situations of the past that we have been through in this country and we can also look at what the future portends.
"I believe that not only Nigeria, West Africa and Africa and indeed the world will continue to tap our experiences, our wisdom and I hope and pray that when the call is made to you, you will be more than ready to put your experience, the lessons you have learnt into the service of this country, for Africa and indeed for humanity in general.
"I have said to you before and I will say again that there are plenty of opportunities out there, within the country, within West Africa, within Africa and indeed in the larger world where people will want you to make contributions.
"I believe that you are resting now and when you have fully rested and you will be hearing from me because I have this opportunity to be around the world and if I mention your name in dispatch… I thank you sincerely that you have received us as we are in this village to prove to you that we are in a typical village, I was telling you that your village is better than mine.
"I want to say that Nigeria is a good country and we must never be tired of lifting the country up to the height that God has created it to be and God did not make a mistake when he put all of us together and if He doesn't want us to be together no power in the world will have made us come together.
"My regards to everybody at home, especially your wife. Please, tell her that my wife sends her regards and I hope sooner or later we will be on your part of the world to enjoy the atmosphere together. I want to thank you on behalf of everyone here in this village."
Jonathan was accompanied on the trip by former minister of special duties Tanimu Kabir Turaki; a former minister of national planning Prof. Suleiman Abubakar; King A.J. Turner and a former chairman of the Federal Roads Maintenance Agency (FERMA) Engr. Jide Adeniji.
READ ALSO: Senator Nelson Effiong defects to the APC
Meanwhile, the Nigerian Senate has asked President Muhammadu Buhari to ensure that all projects embarked upon by his predecessors, including Goodluck Jonathan are not abandoned by his administration.
The Senate said Buhari's government must look at projects started by former presidents including Olusegun Obasanjo; the late Umaru Yar'Adua and Jonathan since government is a continuum.
Source: Legit.ng