Donald Trump on Friday, January 20, was sworn-in as President of the United States.
Donald Trump arrived in Washington earlier in the day, he's going to be there for at least four years.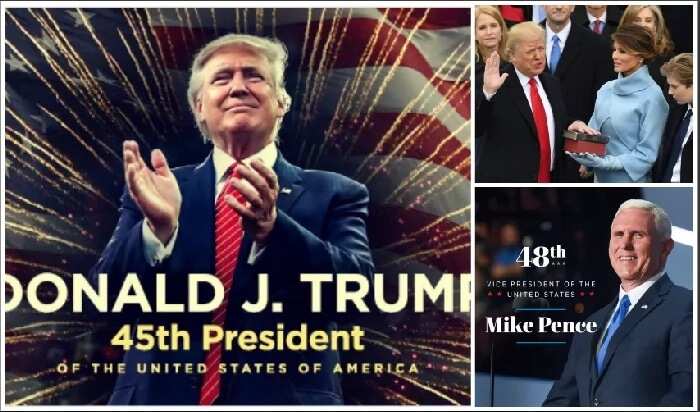 Legit.ng takes you through a timeline of history being made.
Below is a moment by moment account of the president-elect's move to the White House.
22.00pm President Trump takes the historic and traditional inauguration parade on his way to the White House. He was with members of his family, including First Lady Melania Trump and his ten-year-old son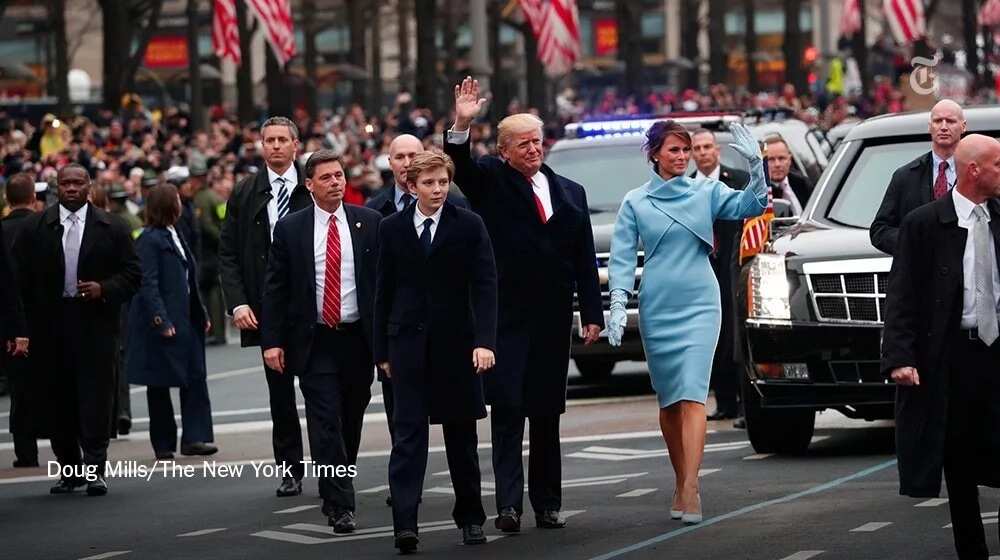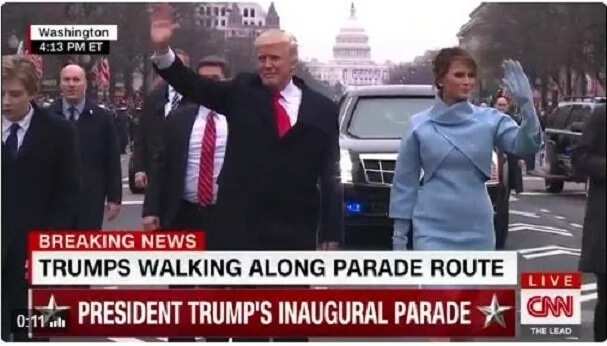 18:32pm Obama and family escorted out from Capitol, heading to a waiting helicopter.
18:28pm Donald Trump leaves the podium, heads out of Capitol.
18:23pm Final prayer for the 45th president and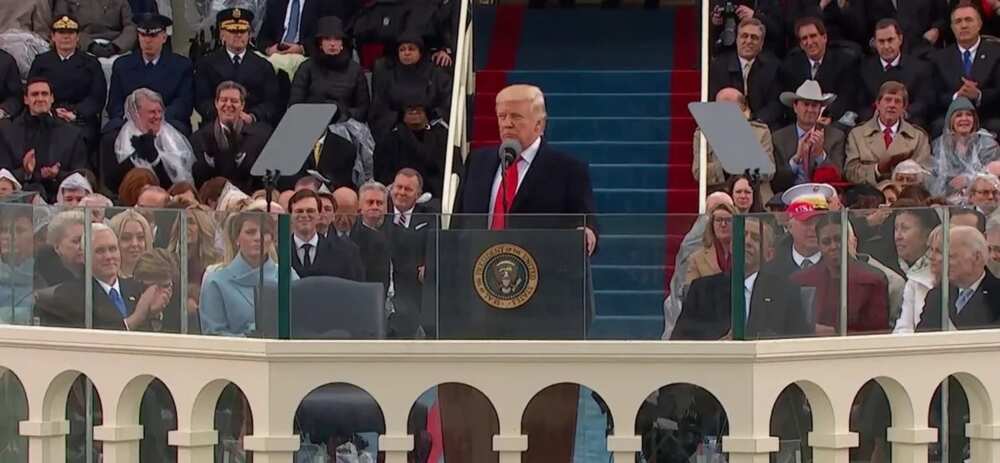 18:19pm: Clerics take to the podium to read from the bible and take the benediction
18:17pm Trump promises that no American will be abandoned as he steps down, "God bless America"
18:13pm "We will shine for other nations to follow" - Trump speaks, says when America is united, it cannot be defeated.
18:12pm ""We will bring back our jobs, we will bring back our bothers and we will bring back our dreams" - Trump
18:08pm "We are here to take the government from Washington to the people" - Trump speaks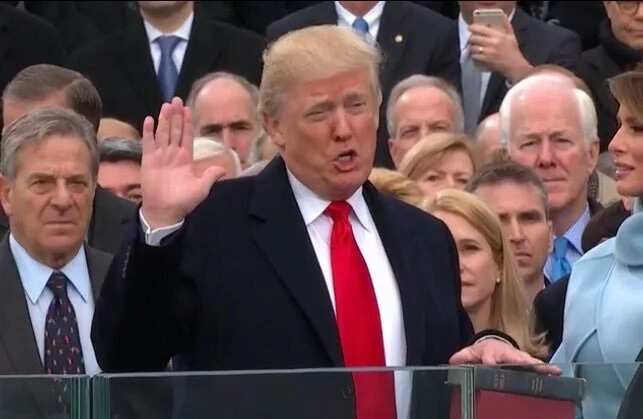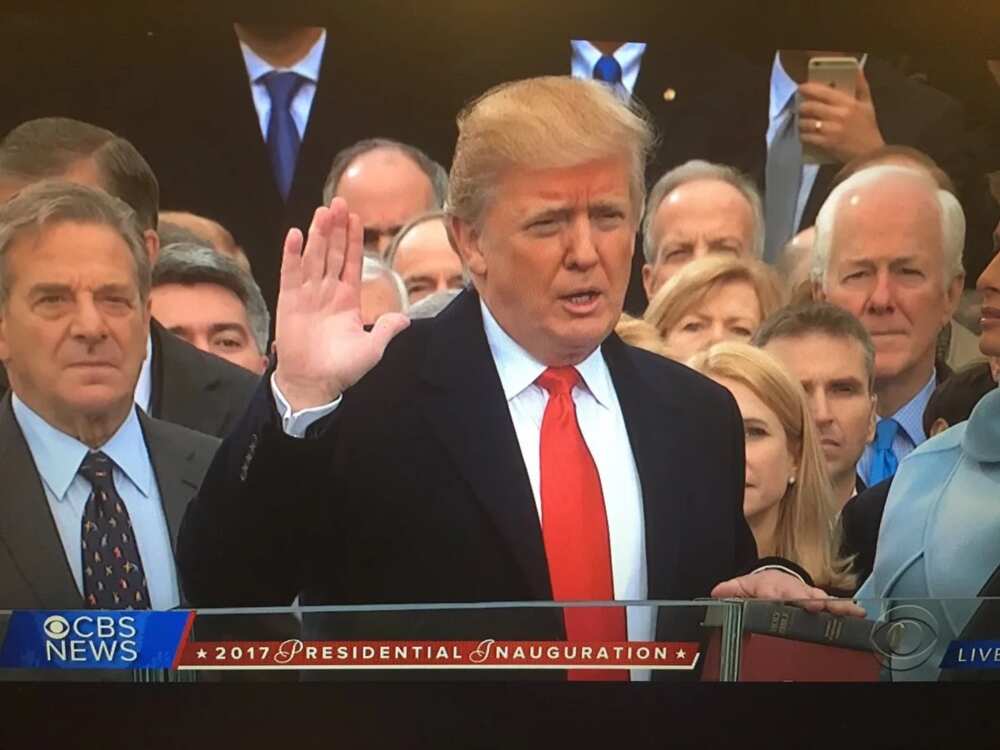 18:02pm Donald Trump speaks to America
17:55pm The American anthem is chanted aloud in great symphony.
17:54pm Mike Pence is sworn in, the crowd cheers and the band sounds a chorus.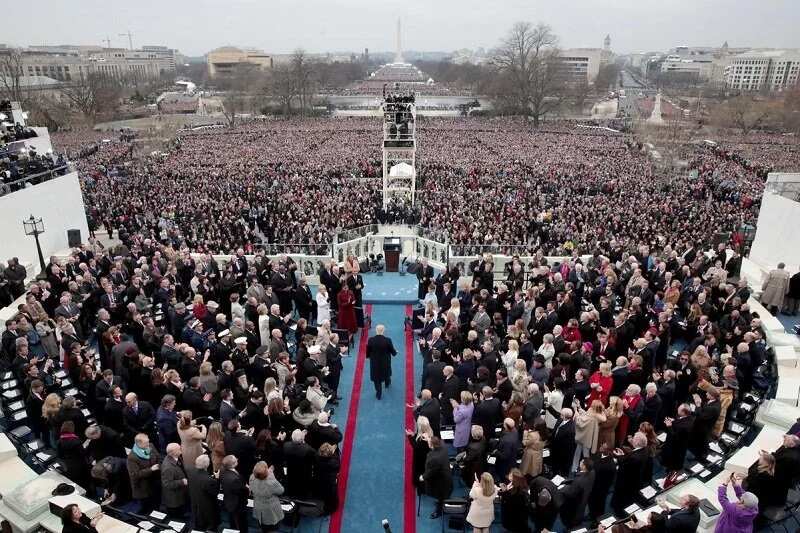 17:53pm Mike Pence swears oath of office as Vice President of America.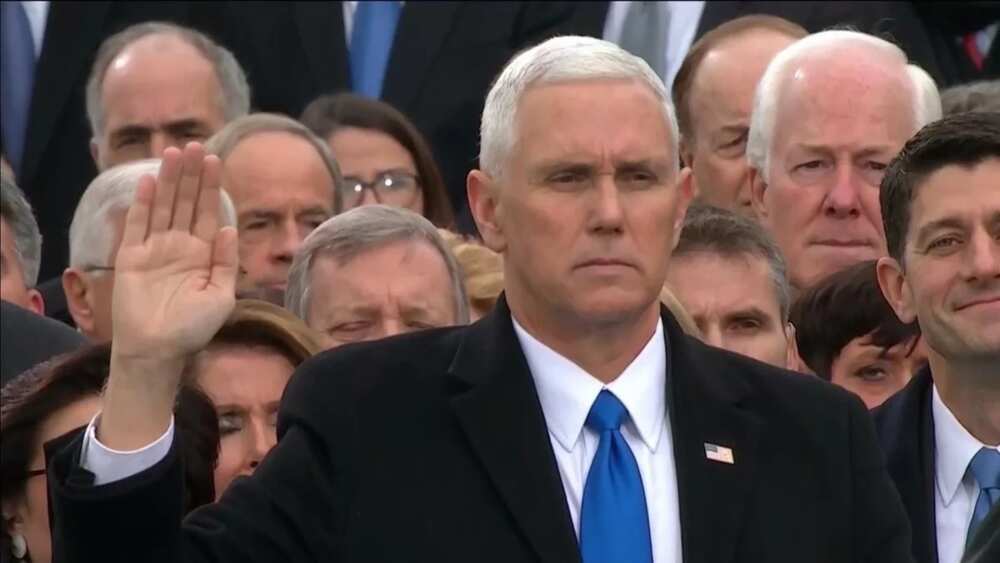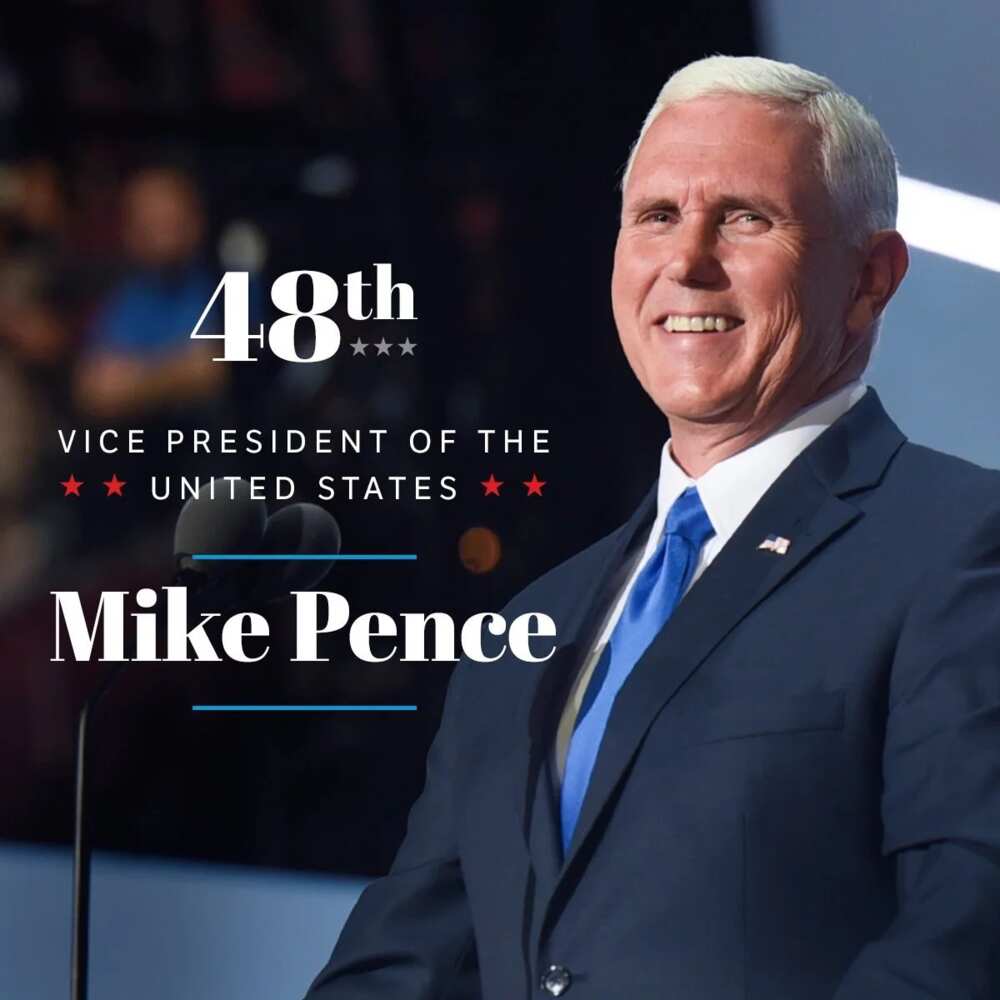 17:49pm "Today we celebrate one of Democracy's core principles" - Sen Chumer.
17:43pm Sen Chuck Schumer - Democrats minority leader, takes the podium.
17:42pm Missuori state university coral takes to the podium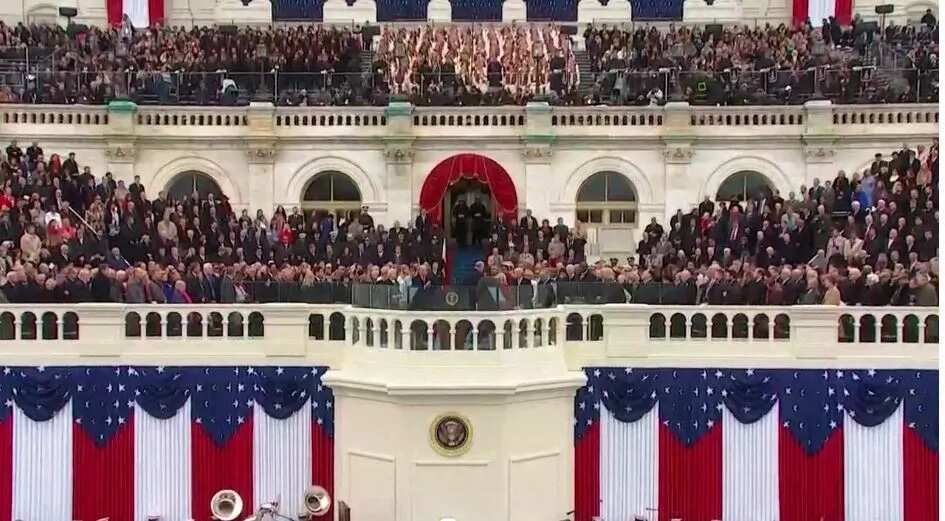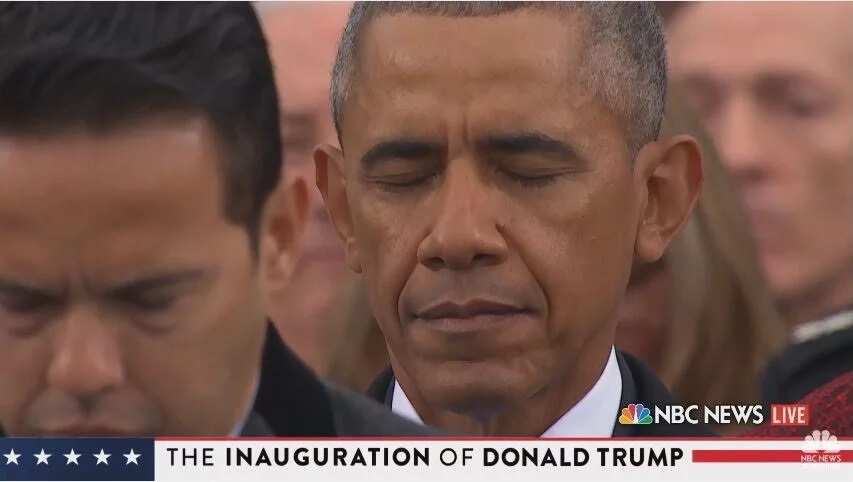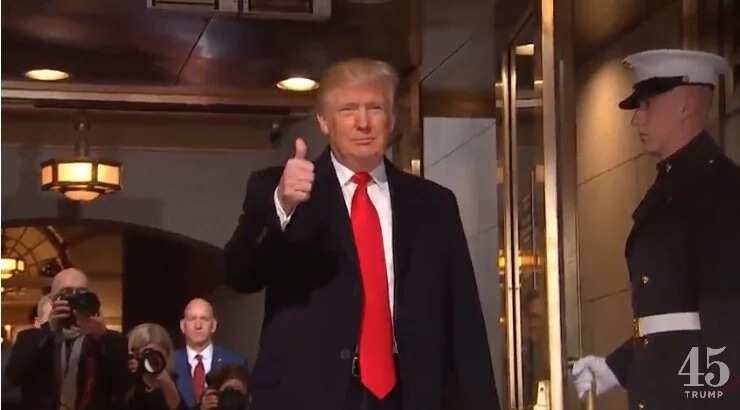 17:39pm Reverend Samuel Rodriguez, takes Bibilical Charge from Mathew chapters 5 and 6.
17:37pm Cleric takes to the podium to say a prayer to commence the ceremony
17:26pm The President-elect steps out
17:25PM The president of America, Barack Obama steps in on the podium
17:21pm Mrs Trump and Mrs Pence arriving on Platform, as Obama and Biden takes position to march in.
17:17PM Mrs Obama and Mrs Biden arriving on platform.
17:11pm Chants of US fills the arena, Americans showing that only America matters at this moment.
17:08pm Trump's children arrive on platform
17:05pm Obamas and Trumps arrive Capitol, head for the platform
16:59pm George and Laura Bush arrive on the platform at Capitol.
16:58pm Bill and Hillary Clinton arrive on platform.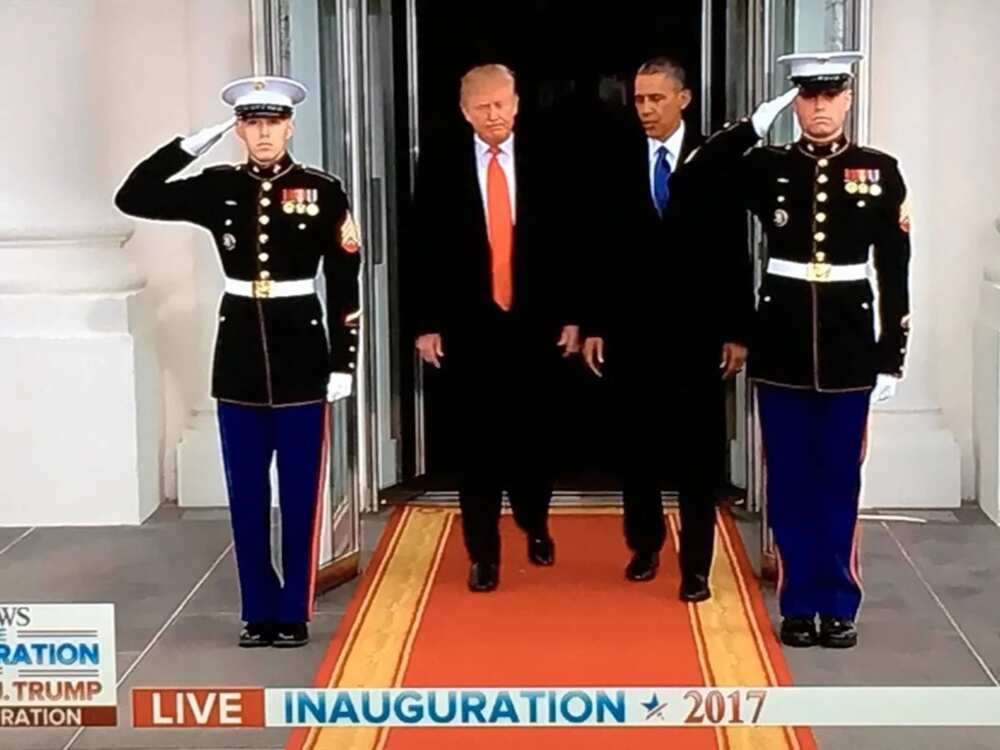 16:48pm Obamas and Trumps leave the White House, head for Capitol.
16:45pm Supreme Court members arriving on platform.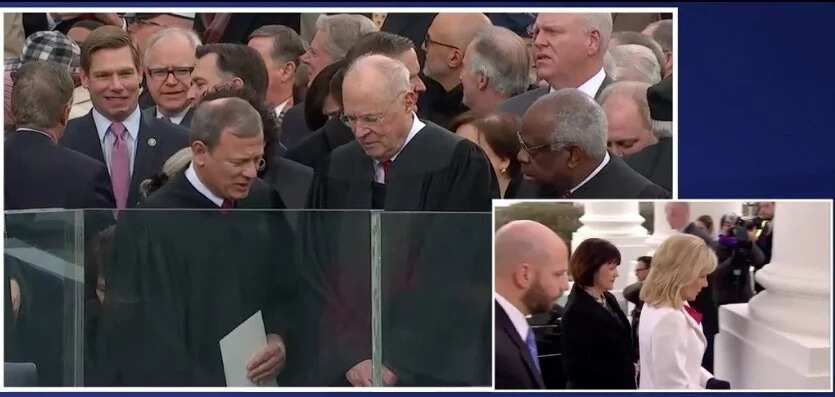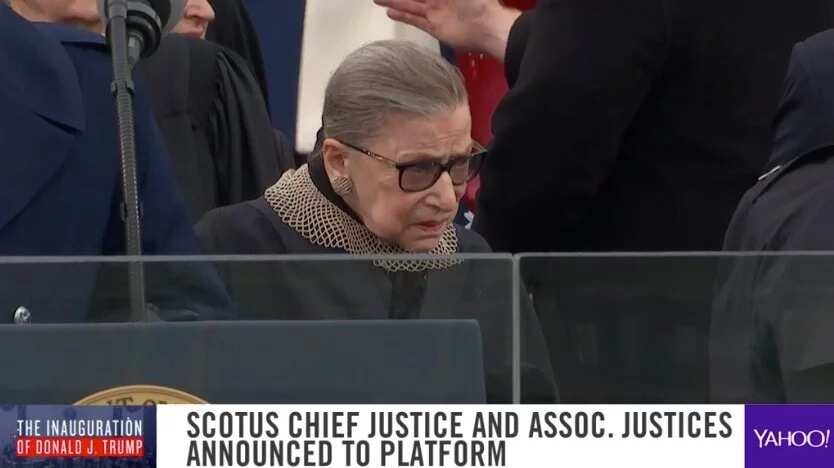 16:19pm Bill and Hillary Clinton arrives Capitol.
16:16pm Dignataries, (Joint service chiefs and military leaders) arrive capitol.
16:06pm Trump staffers arrive podium
16:01pm Hundreds of thousands arriving at National Mall.
15:49pm: Trumps meet Obamas at White House.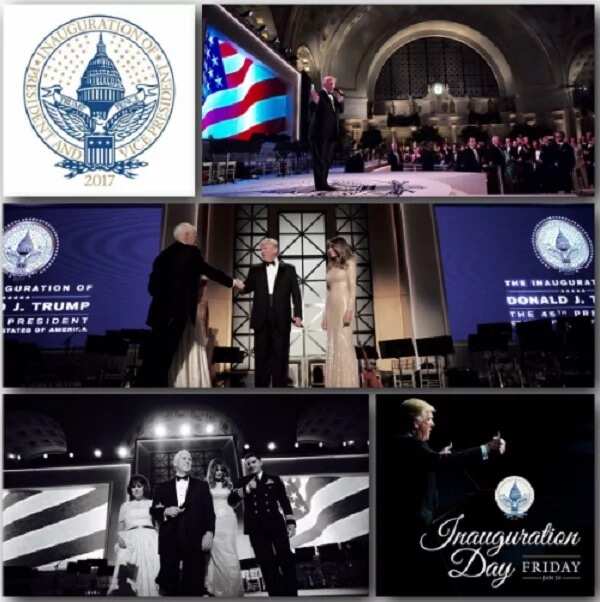 15:36 Anti Trump protests continues
15:27pm Obama leaves Oval Office for the final time.
15:22pm Obamas waiting for Trump and Pence at White House, as Trumps depart church.
15:15pm Trump about to meet Obamas at White House.
14:36pm The Trumps depart Blair House, heads for church service, in line with a long standing American tradition.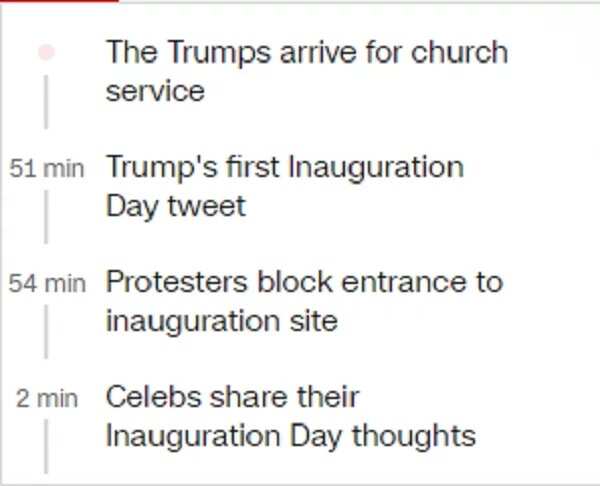 All times EST
Below is what you need to know about the Donald Trump Inauguration Day schedule
1:00pm President Trump, Vice-President Pence, Melania Trump and Karen Pence will attend a joint congressional inaugural committee luncheon.
Where? The US Capitol
2:30pm The President and Vice-President will attend a military review.
Where? US Capitol on the East Front
3pm Trump and Pence, along with their families will attend the inaugural parade in stands just outside of the White House.
7pm President Trump, Vice-President Pence, Melania Trump and Karen Pence will attend the Liberty and Freedom Ball.
Following a very strong battle against and victory over Hillary Clinton, the real estate mogul and reality show star will recite the oath of office as the 45th President of the United States.
Trump's brash statements about ISIS, his cozy relationship with Russia and his criticism of NATO have the world bracing for a new type of American president.
Legit.ng is set to bring you moment by moment account on key happenings at the inauguration ceremony which is one that promises to go down great in history.
Speaking at a pre-inauguration concert Thursday night at the Lincoln Memorial, which featured performances by Lee Greenwood, Toby Keith and 3 Doors Down, Trump told the crowd he vowed to be a president "for all our people," CNN reports.
READ ALSO: These 11 facts about US presidential inaugurations will amaze you
Americans are already trooping out in their hundreds, though the inauguration does not kick off until noon local time which is 5pm GMT.
The main ceremony is held at the White House, followed by a number of Inaugural Balls across the city of Washington DC. The official swearing-in ceremony occurs on the steps in front of the Capitol.