Niger-Delta militants to resume bombing of oil facilities - Edwin Clark
- Chief E.K. Clark has warned that Niger Delta militias might return to the creeks and resume hostilities if the federal government holds out too long on the issue of dialogue
- He also warned against the scrapping of the Maritime University in Okerenkoko, Delta state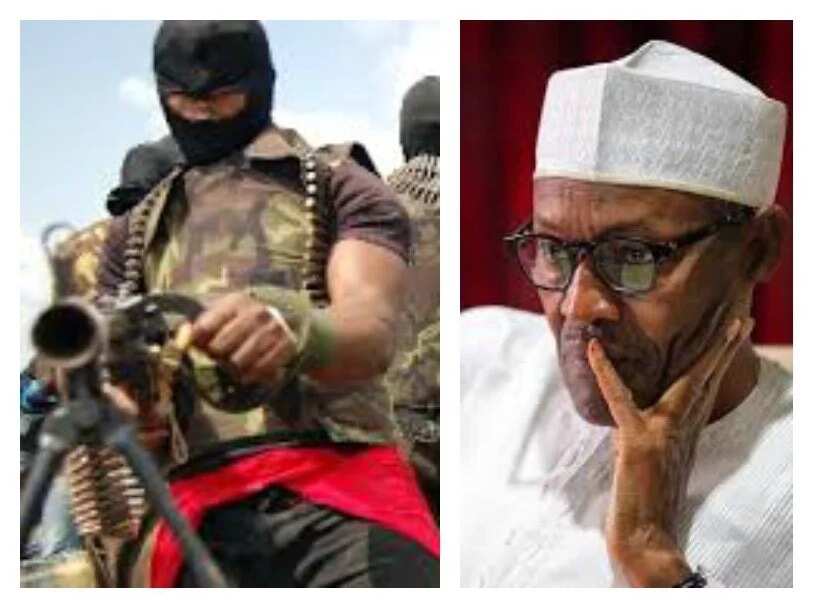 A leader in the troubled Niger-Delta region, Chief E.K. Clark has warned that Niger Delta militias might return to the creeks and resume hostilities if the federal government holds out too long on the issue of dialogue with the agitators.
READ ALSO: Southern Kaduna killings: MASSOB spits fire
According to Clark, "It is getting late for President Muhammadu Buhari and the federal government on the issue of dialogue with the aggrieved Niger Delta agitators who have stopped the bombing of pipelines and other oil facilities.
"If the dialogue fails to commence as soon as possible, the boys may feel betrayed and go back to the creeks and resume hostilities.
"I saw the president's media man (Femi Adesina) claiming that we are not one and not united, and that the federal government was still looking for people to negotiate with.
"That was a great insult to us. I was in government before he was born. On July 30, 2016, I summoned a meeting of all Ijaw leaders and traditional rulers to my house in Warri and the Deputy Governor of Delta State was in attendance.
"After that first meeting, I decided to call for another one with paid adverts in national dailies, since it was not only the Ijaws that have oil and gas."
He stated this in his country home, Kiagbodo in Delta State this week while receiving the newly sworn-in executives of Izon-Ebe Oil and Gas Producing Communities Association (IOGPCA) – an association of oil and gas contractors of Ijaw extraction that cut across the entire oil-rich region.
He advised the association to maintain peace in expressing their grievances and should not let their enemies to divide them.
"Let us come together and fight our cause as one. I am happy that you realised that for us to achieve our aim we must come together and fight our common enemy," Clark added.
READ ALSO: Be very careful of religious issues, Buhari warned
He also warned against the scrapping of the Maritime University in Okerenkoko, Delta State adding, "I do not see any reason why people are opposed to the Maritime University in Okerenkoko as this was something that was recommended as far back as 1998."
Watch related video:
Source: Legit.ng