- The Indigenous People of Biafra (IPOB) has said it will take to the streets of Enugu in protest of President Muhammadu Buhari visit to the state
- The group said its members have unanimously agreed that Buhari is not welcomed in the South-East a region which has been termed the 'Bifaran land'
- President Muhammadu Buhari is scheduled to attend the Economic and Security Summit with former president Olusegun Obasanjo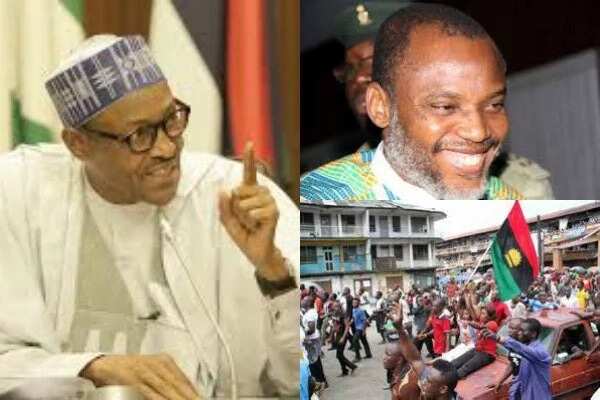 The Indigenous People of Biafra (IPOB) has said it will embark on a protest on Thursday, December 22, in Enugu state.
The group said the protest will be in agitation of President Muhammadu Buhari's visit to the region on that day.
President Buhari is set to visit Enugu for an economic and security summit alongside former president Olusegun Obasanjo.
The summit chaired by former minister of power Barth Nnaji will focus of insecurities in the region and possible ways of curbing them.
READ ALSO: Biafra: SHOW DOWN as 16 members of European parliament move against FG
IPOB said: "From the foregoing, it is crystal clear that Buhari is not welcome in Biafra land because his coming is tantamount to biting off our nose to spite our face."
"Therefore, we warn Muhammadu Buhari to stay away from Biafra land to avoid unpleasant consequences on him and those inviting him. To be forewarned is to be forearmed," IPOB said.
The group also listed reasons why President Buhari must never set foot in the South-East.
In a statement released by its spokespersons Emma Nmezu and Clifford Iroanya, the IPOB accused President Buhari of complacency in various attacks in the region.
The group said its members have unanimously agreed that Buhari is not welcomed in the South-East a region which has been termed the 'Bifaran land'.
READ ALSO: FACE OFF! Buhari set to storm South-East despite IPOB's threat
"We recall that on the 2nd of June, 2016, Mrs Bridget Agbahime, a 74-year old Biafran trader was beheaded at Kofar Wambai Market in Kano by five Islamic fundamentalists," IPOB said.
The group said despite the attack on Agbahime, there was condemnation from President Buhari.
"To make matters worse, the killers were freed unconditionally from detention on November 3, 2016 by a Magistrate court in Kano presided over by Jibrin Muhammed.
"Under the watch of Buhari, the case has been closed and the killers are free to go ahead and carry out more killings for Allah and for Prophet Muhammed.
"On April 25, 500 Hausa-Fulani terrorists who go by the name Miyetti Allah Cattle Breeders' Association Of Nigeria (MACBAN) invaded Nimbo Community in Uzo-Uwani Local Government Area (LGA) of Enugu state and slaughtered Biafrans and burnt 11 residential houses and some churches," the group said.
In addition, IPOB said, various reports gave a conservative figure of 40 Biafrans who were slaughtered in Enugu.
READ ALSO: Biafra: Nnamdi kanu's supporters deny Christianity (photos, video)
The group accused the president of nonchalance to the incident even when he received a call from the governor of the state.
"Till date, Buhari and his acolytes have not condemned the killings. We have to remind the public that Muhammadu Buhari is the official Grand Patron of Miyetti Allah Cattle Breeders' Association Of Nigeria (Macban).
"According to the Vanguard Newspaper report of April 4, 2016, the Police Public Relations Officer, DSP Ahmad Muhammad confirmed that Hausa-Fulani terrorists invaded the community of Ohali-Elu town in Ogba/Egbema/Ndoni LGA of Rivers state, Biafraland and killed 12 people including a priest.
"Prior to that incidence, on the 5th of January, 2016, the Buhari-supported Hausa-Fulani terrorists abducted the King of Ubulu-Uku Kingdom, His Royal Majesty, Akaeze Edward Ofulue III and killed him in the forest.
"Typically, no words of condemnation from Buhari and his acolytes and nobody was arrested and prosecuted," IPOB said.