War: Hamas Fighters Surrendered to Israeli Forces? Fact Emerges
Israeli attacks on Gaza Strip have killed more than 10,000 Palestinians since October 7, according to the Hamas-run Palestinian Health Ministry
More than 1,400 Israelis have also been killed in a conflict that has worried many people from across the world
Claims have been shared by a YouTube channel that Hamas fighters (pro-Palestine) have surrendered to Israeli forces, however, a fact-check report found this claim to be false
Legit.ng journalist Ridwan Adeola Yusuf has over 9-year-experience covering global issues
Gaza, Palestine - Several videos have been shared widely online since mid-October with the claim that Hamas has surrendered to Israel's ground invasion.
Hamas is an acronym for Harakat al-Muqawama al-Islamiya ("Islamic Resistance Movement"). The pro-Palestine group launched a brutal attack on October 7, killing 1,400 in Israel. This attack prompted Israel to declare war on Hamas, and by extension, Israel.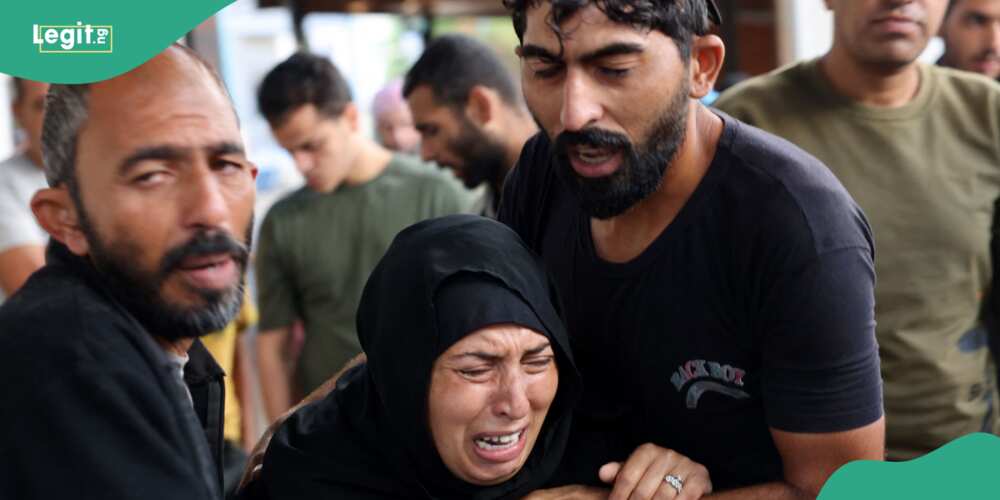 Hamas has not surrendered
According to Al Jazeera, thousands of civilians remain in the disputed Gaza area, with some trying to flee even as Israeli forces press into the city.
The conflict which has claimed tens of thousands of lives has drawn the attention of the world.
The most common version of the retreat claim is a video which claimed that "the Hamas militia was forced to surrender to the Israeli army by waving their white flags in their hands".
According to the video, branded with a logo reading "DCM Global", the Israeli special forces unit Sayeret Matkal took part in a large military operation which rescued several Israeli hostages, "neutralised a large number of Hamas militiamen", and forced Hamas to surrender. A fact-checking platform, Africa Check, probed this claim.
Africa Check said the claim is untrue. The platform explained that the video was first uploaded to a YouTube channel that appears to have changed ownership very recently, and almost exclusively shares unreliable claims about Israel and Palestine.
The platform said:
"Hamas has not been forced to surrender to the Israeli army. This has, at the time of this report, not been reported by any major news outlets, the Israeli government, or representatives of Hamas. This would be a major news event and reported widely across the world."
Gaza: "Israel more militarised", activist
Earlier, Legit.ng reported that an activist, Abdul Waheed Atoyebi, said it is "unfair" to refer to Hamas as either a terrorist or militant group.
Atoyebi, the director of the Muslim Awareness International (MAI), condemned the alleged double standards of the global community on Palestine.
Source: Legit.ng