Coup D'état: ECOWAS, Niger Junta Disagree over Transition Plan as Pope Francis Intervenes
The military junta in the Republic of Niger has declared that it would hand over power to the civilian government after three years
The Economic Community of West African States (ECOWAS) vehemently refused this approach and development
Meanwhile, during his Sunday service sermon, Pope Francis of the Vatican called for the international community to intervene
Negotiations between the Economic Community of West African States (ECOWAS) delegates and the Niger military junta led by General Abdourahamane Tchiani have broken down.
In an interview with BBC on Sunday, August 20, the ECOWAS Commissioner for Political Affairs, Peace and Security, Abdel-Fatau Musa, said General Tchiani had proposed a three-year transitional but was vehemently rejected by the sub-regional organisation.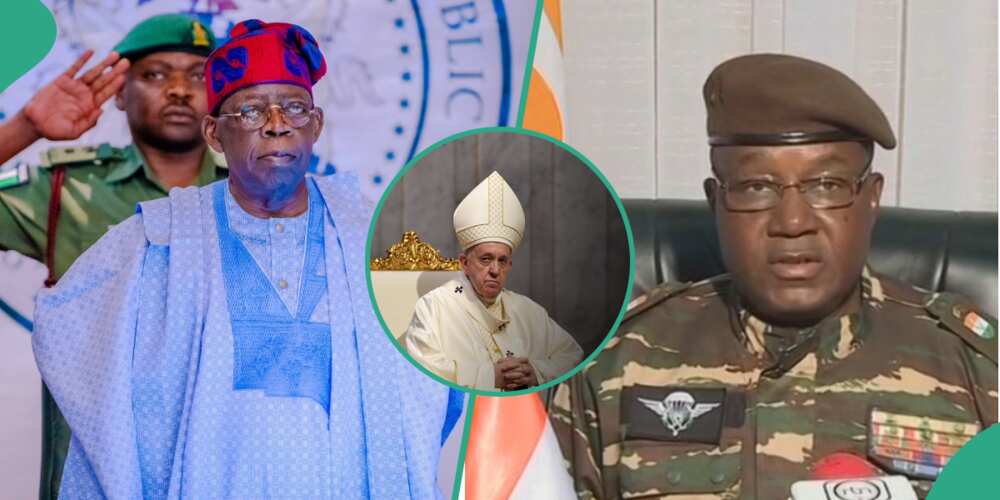 As reported by DailyTrust, he said:
"ECOWAS is not accepting any prolonged transition again in the region. They just have to get ready to hand over in the shortest possible time.
PAY ATTENTION: Follow us on Instagram - get the most important news directly in your favourite app!
"Military aspect is very much on. The earlier they give power back to civilians and concentrate on their primary responsibility that is defending the territorial integrity of Niger, the better for them."
It was gathered that General Tchiani, during a live telecast on national TV on Saturday evening, pronounced that his military government would hand over power to the civilian government after three years.
As part of the message in his live telecast, Tchaini stated that the Niger Republic does not want to go to war but would do so if necessary.
He said:
"Neither the army nor the people of Niger want war, but we will resist any manifestation of it."
Pope Francis speaks from Vatican
Meanwhile, Pope Francis released a message from the Vatican during his Sunday Service sermon.
AP reported that the spiritual head of the Catholics worldwide called for peace in the Republic of Niger and urged all parties involved to resort to a peaceful resolution.
Speaking at the St. Peter's Square, he said:
"I join with prayer the efforts of the international community to find a peaceful solution as soon as possible for the good of everyone."
Niger Republic breaks off ties with Nigeria
In another development, the Niger junta, on Thursday, August 3, 2023, cancelled ties with Nigeria, Togo, France, and the United States of America (USA).
There was no immediate response from these four countries, but Nigeria is believed to be unhappy, especially considering its recent diplomatic intervention.
An ECOWAS delegation led by Abdulsalami Abubakar, former military head of state, returned to Nigeria without meeting deposed President Mohamed Bazoum.
Source: Legit.ng