Niger Coup: Analyst Reacts to Threat to Bazoum's Life, Tells Tinubu, ECOWAS What To Do
Amid serious concern for ousted Nigerien President Mohamed Bazoum, West African leaders have been urged to suspend military action in Niger and apply diplomacy
A political analyst has urged the ECOWAS chairman, President Bola Tinubu to consider the lives and well-being of Bazoum, his family, Nigriens as well as Nigerians living in Niger
According to Mr. Jide Ojo, if the junta refuses to give in to ECOWAS's diplomatic solution, Nigeria should simply back off
Niamey, Niger Republic - Jide Ojo, a veteran political analyst and columnist, has urged Nigeria's President and chairman of the Economic Community of West African States (ECOWAS) Asiwaju Bola Ahmed Tinubu not to apply force in its quest to restore the constitutional order in the Republic of Niger.
Analyst reacts to threat to Bazoum's life, reveals best options available to Tinubu, ECOWAS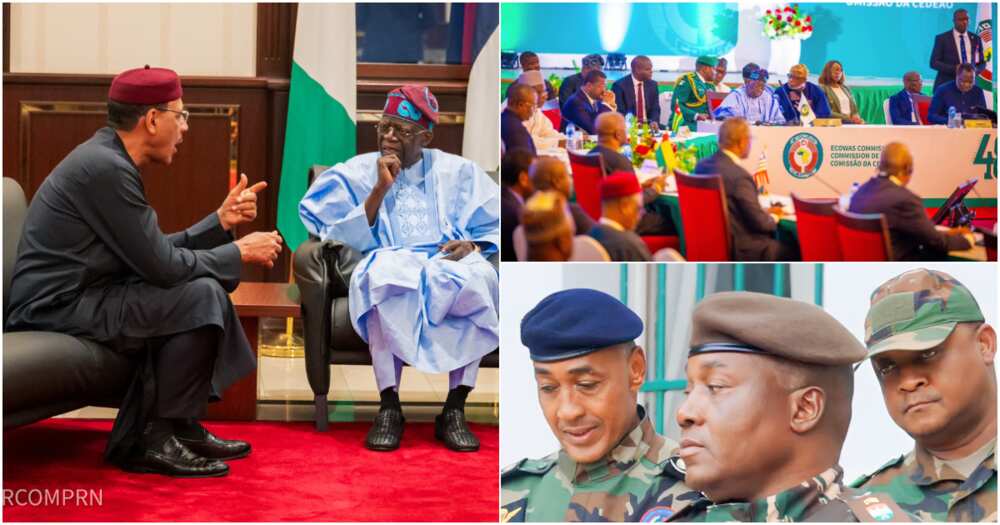 Mr Ojo noted that the only solution available for Tinubu and other West African leaders at the moment, is a diplomatic and political solution.
According to him, Nigeria stands to lose more by imposing reinstatement of ousted Nigerian President, Mohamed Bazoum, following the junta's threat to his life at the moment.
PAY ATTENTION: Follow us on Instagram - get the most important news directly in your favourite app!
Mr Ojo said,
"There are no two ways to it than a diplomatic solution and political solution.
"If you do a cost-benefit analysis, Nigerian stand to lose more by imposing the reinstatement of President Bazoum.
"If they are forced to do the impossible, Bazoum's life is at stake, they can make do with their threat of killing Bazoum.
"This is almost akin to what happened in 1993 as a result of the nullification of the 1993 election when MKO Abiola eventually had to die in detention.
"So we need to tread very carefully. I believe diplomatic and political solutions should be encouraged. And if the junta's refuse to budge, let's back off."
ECOWAS sanction: "We'll kill Bazoum if military intervenes", Niger Junta warns West African leaders
Legit.ng reported earlier that West African leaders of the ECOWAS have been slammed with a fresh threat.
Niger's military junta, Général Abdourahmane Tchiani, said they would kill deposed President Mohamed Bazoum if neighbouring countries attempt any military intervention to restore constitutional order in the West African country, Associated Press reported.
"Do not drag us to war", Shehu Sani faults ECOWAS military power, sends words to President Tinubu, others
The former Senator of Kaduna Central District, Shehu Sani has sent a strong message to President Bola Ahmed Tinubu, the Nigerian leader and chairman of the Economic Community of West African States (ECOWAS).
As a president, Tinubu necessitates acting in the regional interest and in defence of democracy, but it could prove very costly to the other hat, as ECOWAS chairman.
On Thursday, August 9, ECOWAS, after a meeting held in Abuja, Nigeria, activated its standby force for possible action against the Niger Republic Junta, with the aim of restoring constitutional order in the country.
Source: Legit.ng