JUST IN: ECOWAS Parliament To Hold Emergency Session Amid Niger Crisis
The Economic Community of West African States (ECOWAS) parliament has announced that it would converge for an extraordinary plenary session
This emergency plenary session is on the heels of the military coup in the Republic of Niger led by General Abdourahamane Tchiani
The extraordinary plenary session is expected to deliberate on measures and solutions to mitigate the ongoing crisis in Niger
FCT, Abuja - Amid the military takeover in the Republic of Niger, the Economic Community of West African States (ECOWAS) parliament will converge for an extraordinary plenary session.
This development was confirmed in a statement made available to Legit.ng on Saturday, August 12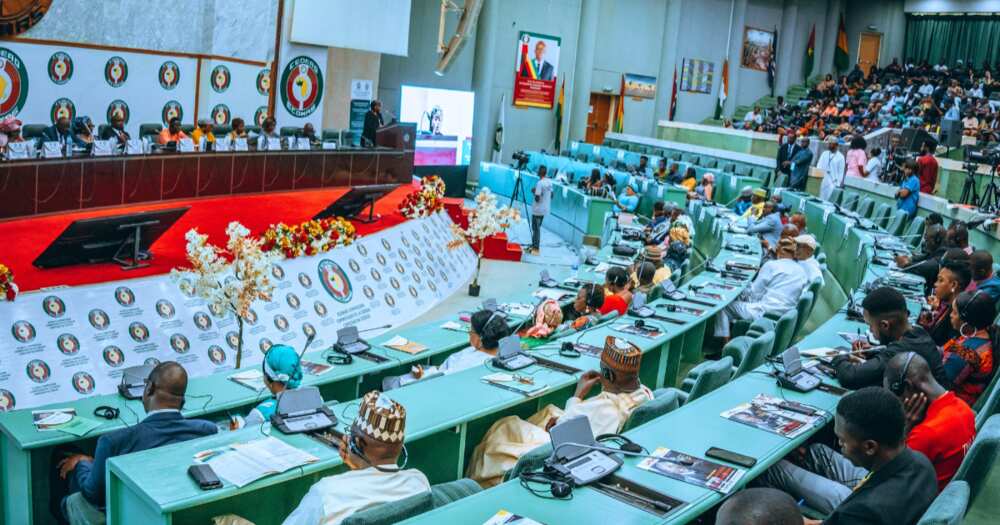 The statement reveals that the session will be held virtually on Saturday, August 12, by 10 am.
The statement reads:
"The Parliament of the Economic Community of West African States (ECOWAS Parliament) will convene an Extra-Ordinary Session to exhaustively discuss the recent political developments in the Republic of Niger.
"The session which will take place via virtual platforms, is scheduled for Saturday 12 August 2023 at 10am (Local time, Abuja).
"Within the context of giant changes that occurred in the politico-economic spectrum of the world in the late 1980s, several ECOWAS Member States were motivated to take decisive steps towards achieving peace and security through the development of democracy and good governance by the early 1990s.
"Thus, the ECOWAS Supplementary Protocol on Democracy and Good Governance came into force in 2001, marking an important stage in the sub-region's political development. Military regimes and one-party systems caved in for the emergence of multi-Party democracies."
The parliamentary session is expected to have all the 115-member parliamentarians who will deliberate on the possible solutions to curb the incessant violation of the statutory provisions of the ECOWAS constitution by some member States like Mali, Guinea, Burkina Faso and most recently, the Republic of Niger.
Coup d'état: Niger Republic military leaders declared terrorists
Meanwhile, the Niger Republic coup plotters led by General Abdourahamane Tchiani have been declared terrorists by President Alassane Ouattara of Côte d'Ivoire.
President Ouattara made this known on Thursday, August 10, at the 2nd ECOWAS extraordinary summit in Abuja, Nigeria.
He stated that the fight against the military coup in the Republic of Niger is a collective battle agreed upon by all the ECOWAS member states.
Source: Legit.ng