Check Out How BetKing's Amazing Big Winners Won Last Weekend
For sports betting enthusiasts, the thrill of winning big is the ultimate goal. And last weekend was no exception, as BetKing's big winners took home some impressive payouts. So, how did they do it?
To illustrate how you too can win big, we'll share how three of their big winners did it last week as well as some tips you can follow to replicate their success.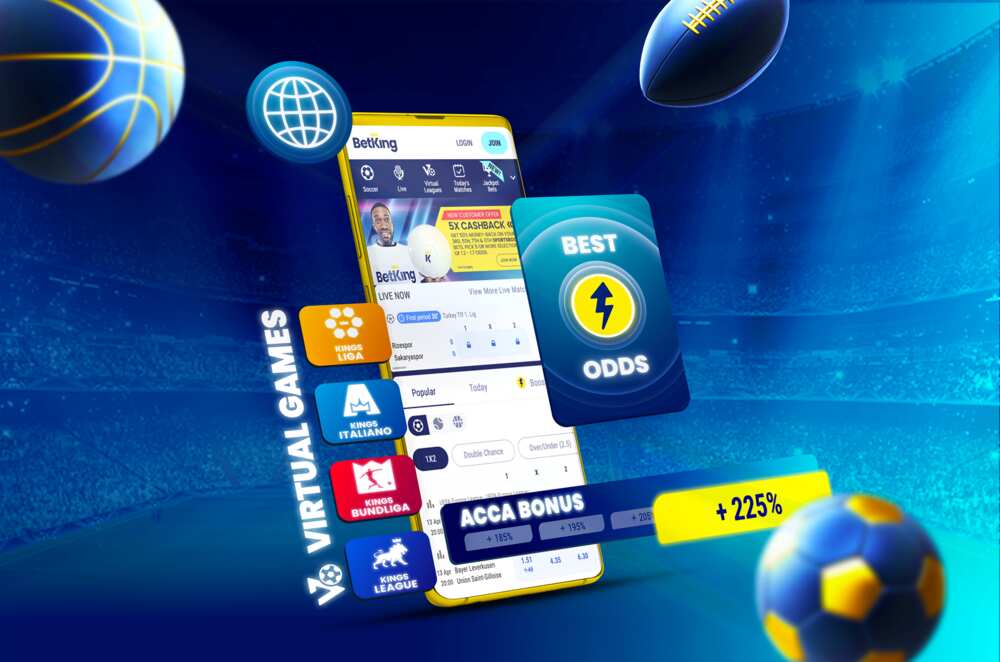 First ticket - 821V-BH3DY-6-4831
This bettor won N9, 073, 770. 85. To win this, he committed N2,000 and played a 10-game acca of 3,498.91 total odds. Luckily for him, the 30% Acca Bonus added N2, 093, 947.11 to his win, boosting him up to an eventual win figure of N9, 073, 770. 85.
This winner prioritized a high-risk, high-reward approach and had five picks ranging from 2.02 – 4.75 odds.
Second ticket - 821X-NZS97-3-QBH7
Our second bettor placed his bet on Saturday, 29th April and parlayed just N500 into a MASSIVE win of N8, 117, 275.93. How did this person do it? They focused on teams/leagues outside the European top five Leagues, ignoring leagues like the English Premier League, German Bundesliga, and the Spanish La Liga.
The 13 games they played yielded N5,598, 121.33 from an odds total of 11,196.24. a 45% acca bonus then took the win total to an amazing N8, 117, 275.93
Third ticket - 821X-NJ881-2-2UG3
Our third winner is perhaps the most impressive of the three. This person won N4, 013, 456. 84 by wagering just N100. Predictably, this ticket has higher odds than the other two as the punter somehow mixed taking more risks with hedging some bets. For example, there are several predictably high draw picks but there are also odds as low as 1.18 and 1.02 where the punter picked a surefire winner instead of taking a risk.
How to emulate their success
When done right, sportsbook betting can be incredibly rewarding. Follow these steps to give yourself the best chance of success this weekend:
Do your research: One of the keys to success in sports betting is to do your research. The most successful punters take the time to study the statistics, form, and history of the teams and players they're betting on. They also keep up to date with the latest news and developments in the world of sports. Luckily, BetKing has all this information readily available on its blog.
By having a thorough understanding of the sport you're betting on, you'll be able to make informed decisions and increase your chances of winning.
Have a strict budget: Another important factor in successful sports betting is managing your bankroll effectively. This means setting a budget for your bets and sticking to it. It's also important to only bet on what you can afford to lose. This ensures that even if you don't win big, you won't be left in financial trouble. You have to be disciplined and factor in how much you're willing to bet within a specified time period and more importantly, have the discipline to stick to that budget.
Balance taking risks and placing safe bets: Finally, successful punters also know when to take risks. They understand that sometimes the underdog can win, and they're not afraid to place a bet on them. However, they also know when to play it safe and stick with their favourites. Striking the right balance between taking risks and playing it safe will greatly increase your chances of winning big.
Additional options
BetKing offers a wide range of sports betting options, including football, basketball, tennis, and more. Their platform is easy to use, and they offer competitive odds and a wide range of promotions to give you the best possible betting experience.
Even better, Sportsbook is not the only option for you to cash out. You can also win by betting on BetKing's Jackpot every weekend, their virtual offerings as well as the imminent casino launch.
So, why not sign up today and see if this weekend is your turn to be one of their big winners?
[Sponsored]
Source: Legit.ng