World's Strongest Footballer of Nigerian Descent Set to Make WWE Debut After Retiring From Football
- Nigerian and English footballer Adebayo Akinfenwa wants to become a wrestler
- The 38-year-old is having talks with the authorities in charge of wrestling
- Adebayo Akinfenwa currently plays for Championship side Wycombe Wanderers
PAY ATTENTION: Join Legit.ng Telegram channel! Never miss important updates!
Adebayo Akinfenwa who is regarded as arguably the strongest footballer on earth is now on the verge of quitting the round leather game and boxing would be next for him if things should work out.
According to the report on UK Sun, Adebayo Akinfenwa is ready to play soccer for one more season at Wycombe Wanderers before he will hang his boots and go into wrestling.
On Wednesday night, April 21, Adebayo Akinfenwa scored the second goal for Wycombe Wanderers in their 2-1 win over Bristol City as their fights to avoid relegation continue.
Since he started his football career in the year 2000, Adebayo Akinfenwa has played for close to 20 clubs even though he has never featured in the Premier League.
Most footballers always turn into coaching after retiring from the game, but Adebayo Akinfenwa has ruled that out of his plans.
"I don't want to be a manager, I don't want to be a coach. I've given two decades to football. I'm 39 next month. I'm at the transitional stage.
"Exclusive out here, I think I'm going to play on one more year. Then look, you know what, it's funny.
"We're talking to a couple of producers in LA, there's a couple of movie projects. Then also, there are also talks with WWE. I reckon I'd be a good wrestler.
"I've always been able to live my life where nobody has put me in a box, so that's how it is, I'm excited for the future."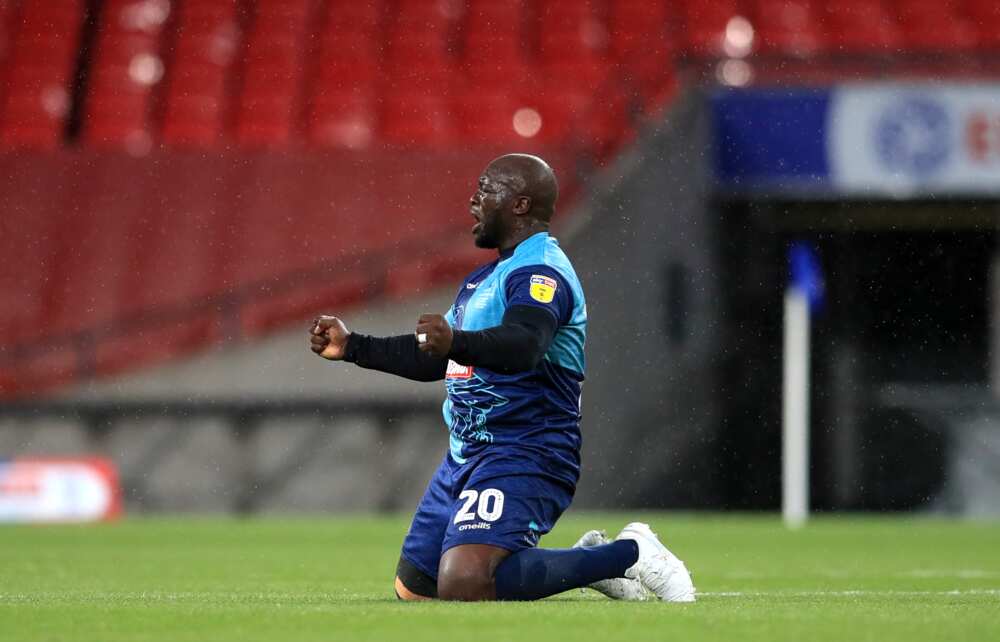 Earlier, Legit.ng had reported how Adebayo Akinfenwa made it clear that he is considering playing football for the next two years before he can hang his boots.
Despite being disturbed by a nagging knee problem, Akinfewa who will be turning 39 in the month of May this year explained that he wants to hit 40 years before quitting the round leather game.
Akinfenwa who is the father to boys Ajani, 11, Jai, 10, five-year-old Jaylan and daughters Kamira, 13, and eight-year-old Kaliyah stated that he wants to continue playing so as for him to be able to cater for his children.
He explained that he was going through pain, but he has to adapt to his current situation because of his family.
Source: Legit.ng