Pastor Isaiah Wealth Releases Prophecy on Peter Obi Becoming President of Nigeria
Lagos-based cleric, Prophet Isaiah Wealth, has predicted victory for Peter Obi at the Supreme Court
Prophet Wealth said God told him that Obi, the Labour Party candidate, would eventually become Nigeria's president
The cleric stated that all Obi and the Labour Party need to do is present "proper evidence" in court
Ikeja, Lagos state - Prophet Isaiah Wealth has said Peter Obi will become president of Nigeria.
Prophet Wealth during one of his recent church service, said if Obi, the Labour Party candidate, presents "proper evidence" at the Supreme Court, he will be declared the actual winner of the 2023 presidential poll.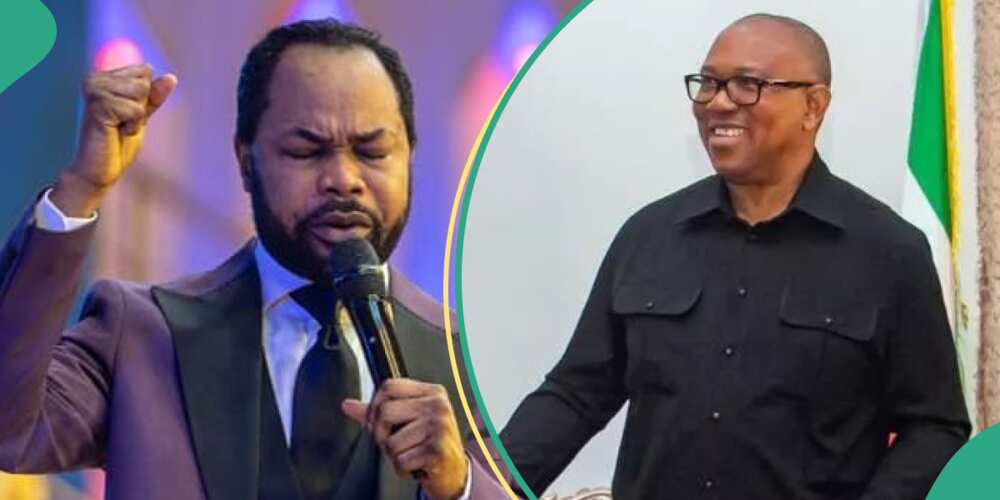 'Obi will win break trend and win'
The cleric, who is the lead preacher at Isaiah Wealth Ministries, also stated that President Bola Tinubu came third in the election while Atiku Abubakar and Obi came second and first respectively.
His words:
"I saw it clearly, as I was praying in the spirit, He (God) said, 'say to Peter Obi, I have set before you an open door which no man can shut'. It stands till now. It is not going to change.
"The Lord said the door is open, walk through it. There must be no loss of courage. You fight the battle with courage."
He continued:
"I went to ask The Lord, will this man ever be president? He said "Yes". It is written: This is the ruler of thy people.
"The Lord said, if they go to court with proper evidence, they'll win this case.
"Don't say it has never happened in a presidential election. This can be the first.
"I don't guess; I have seen it, it is clear.
"The result you see, first, second, third is actually third, second, first; it was reversed.
"I saw people celebrating on the streets. It will happen finally."
Iginla reveals person who can remove Tinubu
In a piece of related news, Legit.ng reported that the founder of the Champions Royal Assembly Ministry, Prophet Joshua Iginla, declared that "the only person that can remove President Tinubu is God."
While addressing his church members recently, Joshua advised Obi and Atiku to "come together".
Source: Legit.ng