Nyesom Wike: Shehu Sani Reveals Why PDP, Atiku Should Withdraw Case at Tribunal
Questions have begun to emanate over the potency and strength of the Peoples Democratic Party (PDP) in the Nigerian political scene.
Senator Shehu Sani has reacted to the PDP's endorsement of some of its members to join the government of the All Progressive Congress (APC).
The former lawmaker also questioned why the PDP and its bannerman Atiku Abubakar are still in court challenging the mandate of APC.
FCT, Abuja - Human rights activist and former lawmaker Senator Shehu Sani has questioned the organisation of the Peoples Democratic Party (PDP) and why its presidential candidate, Atiku Abubakar, is still at the presidential election tribunal when one of its top members, Nyesom Wike, is already a part of the administration of the ruling All Progressives Congress (APC).
Recall that President Bola Ahmed Tinubu, on Monday, August 21, inaugurated Wike as the Minister of the Federal Capital Territory (FCT).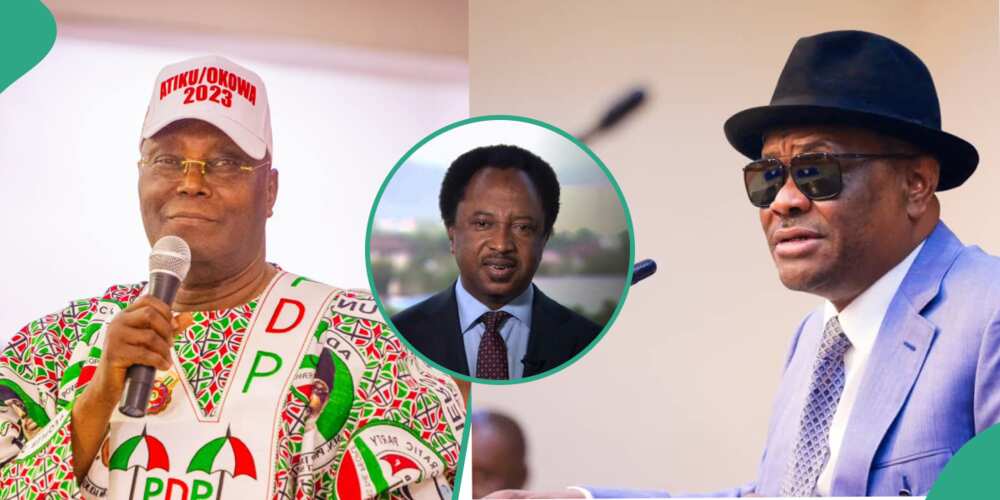 This development has sparked much debate about the potency and strength of the PDP in the Nigerian political scene, with many predictions and insinuations that the opposition party is now weak and has become a shadow of itself.
In a social media post, Senator Sani wrote:
"If the PDP has approved and endorsed its members joining the Government,then it has no business being in Court."
Netizens react
Meanwhile, there were mixed reactions following Senator Sani's post about the PDP and its current status in the Nigerian political scene.
@MyrorMiller wrote:
"For PDP like this, nah only Atiku dey court, dem don finish the one him give them and since him don refuse to pay more, dem jump ship."
@007_Increadible wrote:
"I think they are the most confused party right now. Even Kwankwaso party are more focused than them now. Don't forget during campaign we heard something like "PDAPC" maybe an alliance in coming into play small small"
@HonKanz said:
"Your point highlights a potential contradiction between the PDP's approval of its members joining the government and their presence in court. This could imply that if the party has endorsed participation in the government, it might seem contradictory for them to simultaneously pursue legal actions against the government. The statement brings attention to the need for consistency in political actions and decisions."
"Possibility of Wike Getting Himself and Tinubu Into Serious Trouble Without Doubt", Shehu Sani
Meanwhile, the new minister of the Federal Capital Territory (FCT), Nyesom Wike, has assumed official duties.
Wike is a member of Nigeria's main opposition party, the Peoples Democratic Party (PDP), and is widely considered a controversial politician.
Shehu Sani advised Wike via X (also known as Twitter) and said the new minister needs to behave with care in his new role.
Source: Legit.ng