Wike Drops Bombshell, Reveals 10 PDP Govs Submitted Names to Tinubu For Appointment
Nyesom Wike, minister of the FCT, has disclosed that no less than 10 governors of the PDP submitted names to President Bola Tinubu for appointment
The former governor of Rivers State said the PDP governors responded to Tinubu's request to submit names for appointments but claimed he was the only one being called out
Wike said those calling for his suspension in the PDP are "reggae dancers" and urged the public to ignore them.
FCT, Abuja - Nyesom Wike, the minister of the federal capital territory (FCT), has referred to those calling for his suspension from the Peoples Democratic Party (PDP) as "Reggae Dancers".
Wike, a two-term governor of Rivers State under the PDP, stated this at a briefing held after being sworn in as a minister under the ruling All Progressives Congress (APC) government on Monday, August 21.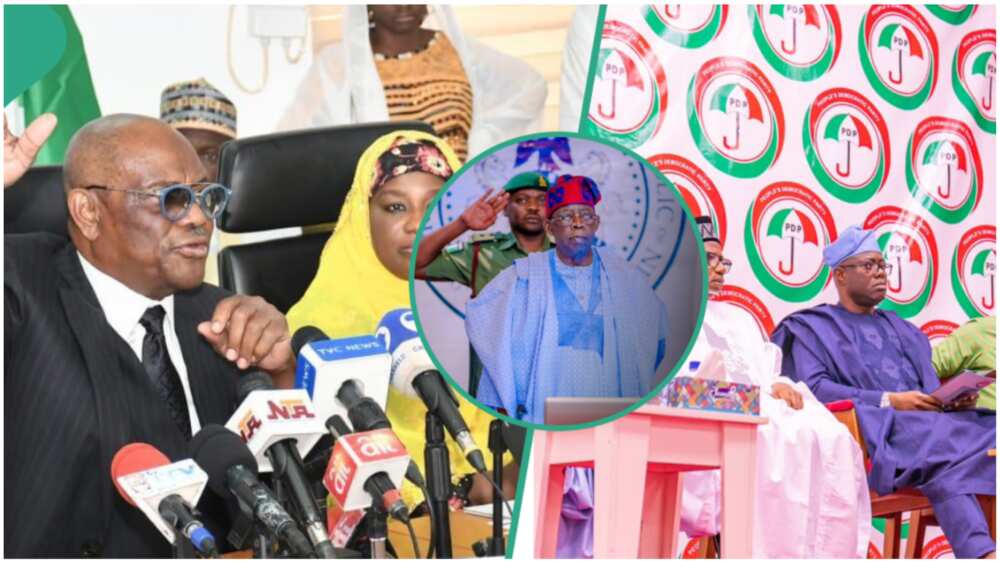 During the press conference, the former governor noted that 10 PDP governors submitted names to Tinubu for appointment. He questioned why he was the only PDP member being attacked.
His statement reads in part:
"I laugh at those Reggae dancers in PDP discussing suspension—ridiculous people. Ignore them, and let's focus on serious matters. There's no PDP Governor who didn't make nominations for Mr President. All of them made ten nominations each."
How PDP leaders supported my appointments
Wike further revealed that he informed the PDP national, zonal, and state chairmen before accepting Tinubu's offer.
He added that he also extended his consultation to the minority leaders of the House of Representatives, the Senate, and his state governor.
According to the former governor, all the PDP leaders told him to "take that appointment".
Wike urged Nigerians to ignore the "bad belle losers" calling for his suspension from the PDP.
See the video here:
"I wrote to National Party Chairman": Wike reveals PDP's role in his appointment
Wike earlier said he informed the PDP national chairman about his appointment before taking up the ministerial job.
He had also tackled those against his appointment by Tinubu and urged the public to disregard ongoing campaigns allegedly targeted at him.
Source: Legit.ng