BREAKING: DSS Seals EFCC Office? Tinubu Gives First Marching Order
Bola Tinubu, the new Nigerian president, has ordered that the DSS should immediately vacate the office of the EFCC it was occupying
Earlier on Tuesday morning, it was reported that the secret police stormed the Lagos office of the anti-graft agency, claiming that it building belonged to the DSS
Tunde Rahman, the personal media aide to Tinubu, in a statement, said the president noted that issues between 2 government agencies should be resolved amicably
Presidential Villa, Abuja - President Bola Tinubu has ordered the Department of State Services (DSS) to immediately vacate the office of the Economic and Financial Crimes Commission (EFCC) in Ikoyi.
According to The Cable, issues between 2 important government agencies would be amicably resolved, citing a statement from the State House.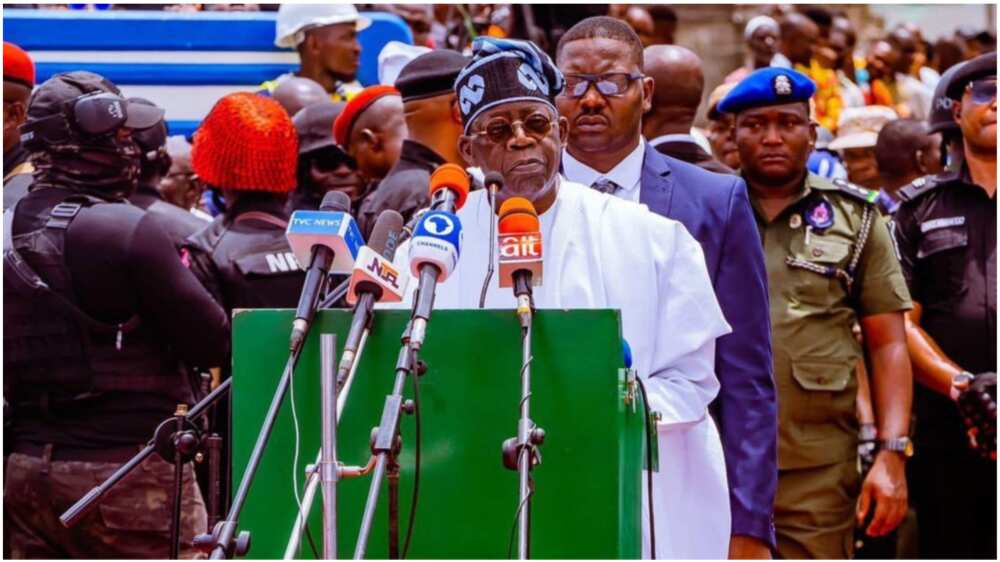 Why DSS stormed EFCC office in Lagos
There was pandemonium on Tuesday morning, May 30, when men of the DSS operatives barricaded the entrance of the anti-graft agency's office. It was reported that the 2 agencies were fighting over the ownership of the building.
The report has it that the DSS argued that the facility belonged to the secret agent while it denied interference in the duty of the EFCC, but only made use of a building that belonged to it.
But the president in a statement by his media aide, Tunde Rahman, ordered the DSS to vacate the premises with immediate effect, adding that any misunderstanding between 2 government agencies should be solved amicably.
Latest about Bola Tinubu, EFCC, DSS, Presidency
The statement added that the president gave the directive after the report of the DSS invasion of the building was brought to his attention.
According to the statement which read in part:
"The President said if there were issues between the two important agencies of government, they would be resolved amicably."
This would be the second controversial issue that would spring within 48 hours of Tinubu's administration, the first was his removal of the fuel subsidy.
5-Bedroom apartment: 6 Other takeaway for ex-Presidents Buhari, Obasanjo, others
Legit.ng earlier reported that Former President Muhammadu Buhari is expected to get at least 6 security details and aides, and a well-furnished office as take home package after leaving the seat of power.
The Daura-born politician was also entitled to vehicles that are replaceable every year, a life diplomatic passport, and 3 other benefits.
What ex-President Buhari is getting is the same as former presidents and vice presidents of Nigeria, the late ex-presidents and vice presidents also have special packages.
Source: Legit.ng