Speakership: Details Emerge As Obasanjo, Tinubu Meet APC Anointed Candidates
Tajudeen Abbas and Benjamin Kalu, the APC-nominated candidates for speaker and deputy speaker in the 10th assembly, have intensified their campaigns
Following the announcement of their nomination by the APC, the duo visited Bola Tinubu, the president-elect, at his residence in Lagos
Surprisingly, the aspirants also visited former President Olusegun Obasanjo at his residence in Ogun state, saying they sought to seek for his blessings
Ikeja, Lagos - The race for the 10th House of Representatives speaker has continued to be tougher ahead of its inauguration in June.
Following the All Progressives Congress (APC) declaration of Tajudeen Abbas and Benjamin Kalu as the preferred candidates of the party for the position of the speaker and deputy speaker of the Green Chamber, the due has been canvassing for members' support.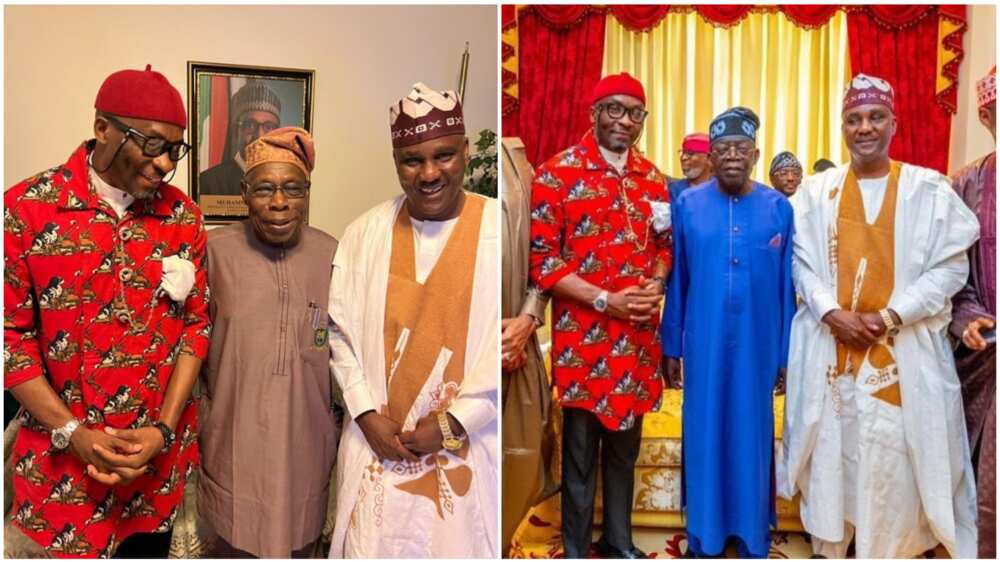 Why APC anointed candidates for speaker visit Tinubu, Obasanjo
The ruling APC on Monday, May 8, announced the zoning of the leadership of the incoming 10th national assembly, in which the Lower Chamber favoured Abbas from the northwest and Kalu from the southeast.
On Tuesday, May 9, the duo, alongside other House of Reps members-elect, reportedly visited Bola Tinubu, the president-elect, in his residence in Lagos before he reportedly travelled out of the country.
During their visit, they were reported to have promised to work assiduously in order to meet the objective of the "renewed hope" agenda.
Latest about Bola Tinubu, Olusegun Obasanjo, Benjamin Kalu, Tajudeen Abbas, 2023 election
A statement from the Tajudeen Ben Kalu's Movement for National Stability, Fairness and Inclusive Parliament reads in part:
"At the meeting, the President-elect promised to work harmoniously with the duo, if elected, to ensure he achieves the objective of his "RENEWED HOPE AGENDA".
After meeting Tinubu, the aspiring speaker and deputy speaker were reported to have met with former President Olusegun Obasanjo in his Abeokuta residence.
Kalu took to his Twitter page to disclose details of the meeting, shared pictures from the meeting and said:
"A moment of respect and shared vision as the former President and Commander in Chief of the Armed Forces, Chief Olusegun Obasanjo warmly received the nominated candidates nominated for the leadership of the 10th House of Representatives."
See the tweet here:
Speakership: Wase, 4 Other APC lawmakers who have declared war against Tinubu
Legit.ng earlier reported that the All Progressives Congress (APC) might have thought of bringing an end to the debate on who will be the speaker of the House of Representatives on its side when it announced Tajudeen Abbas from Kaduna as its nominee for the position.
However, the roof of the party appeared to be boiling with invisible fire as 5 senior lawmakers vowed the challenge the choice of the party in the 10th assembly leadership race.
Source: Legit.ng