2023 Election: More Pressure on Yakubu As Fresh Protest for INEC's Boss Resignation Rocks Abuja
The chairman of the Independent National Electoral Commission (INEC), Professor Mahmood Yakubu, has been hit by another backlash
Protesters in Abuja, the nation's capital, are calling for his resignation and arrest immediately
The protesters told President Muhammadu Buhari to set up an interim government while a fresh election should be conducted
FCT, Abuja - Streams of protesters flooded the streets of Abuja on Thursday, March 23, seeking the immediate resignation of Professor Mahmood Yakubu, the Independent National Electoral Commission (INEC) chairman.
The protesters, who are identified as the National Youth League for Defence of Democracy, said the conduct of the 2023 elections does not replicate the tenets of democracy, and the electoral commission failed to fulfil its promise of a free and fair election.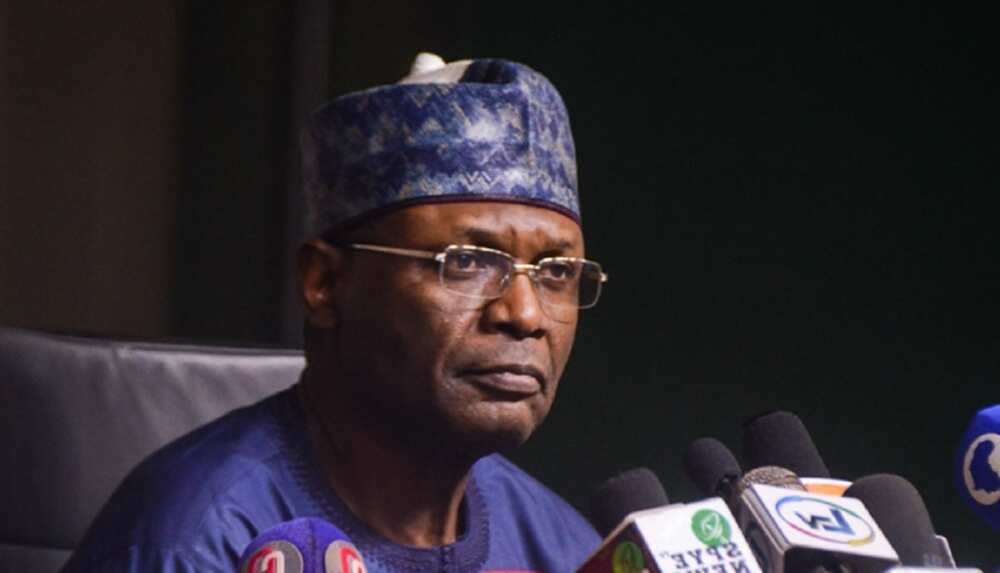 Speaking to journalists at the legendary Unity Fountain Park in Abuja, the group convener, Dr Moses Paul, said the 2023 election witnessed the worst display of electoral practice and incompetence.
He called on President Muhammadu Buhari to set up an interim government and ensure the appointment of a new electoral chairman to conduct a fresh election and annul the outcome of the previous polls.
According to Punch, Paul said:
"We have two demands. We are asking the President of this country to arrest immediately and prosecute the Chairman of the Independent National Electoral Commission, Prof. Mahmood Yakubu, who has committed the greatest fraud in the history of humanity; we need him arrested and be prosecuted.
"Our number two demand is that we are asking for an interim government be put in place. We are saying that because we do not want President Muhammadu Buhari to continue; his tenure is ending; so. as a father he should put in place an interim government so that the interim government will now appoint another INEC chairman who will conduct a free and credible election and produce a befitting President for our country."
Anngu Orngu, the group's co-convener, told journalists that if President Buhari failed to meet their demands, they would continue their peaceful demonstration until their requests were executed.
He urged the Department of State Services (DSS) to arrest Prof Yakubu and initiate an immediate probe into how he conducted the 2023 elections.
Source: Legit.ng