Enugu Governorship Election Result 2023: Live Updates from INEC as Edeoga, Nweke, Mbah, Others Battle to Win
The Enugu governorship election taking place on Saturday, March 18, is expected to be brimful of fireworks because of the calibre of candidates contesting for the seat of power in the southeast state which has 17 local government areas.
Chijioke Edeoga, a two-time former commissioner under Governor Ifeanyi Ugwuanyi, was a powerful chieftain of the Peoples Democratic Party who clinched the gubernatorial ticket after his recent defection to the Labour Party.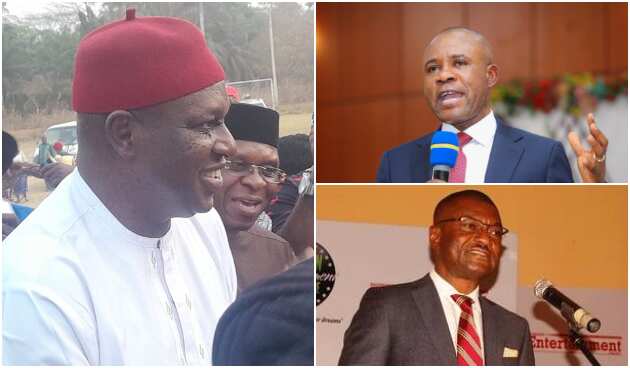 Peter Mbah, a PDP bigwig and another former commissioner under Chimaroke Nnamani, has secured massive support from OBidients.
Both politicians will have to face the power and force of Frank Nweke, a big political figure who is a household name as far as the All Progressives Grand Alliance (APGA) and beyond are concerned.
Udenu LGA
APC: 513
APGA: 412
LP: 11, 315
NNPP: 174
PDP: 10,148
Registered voters: 127,571
Accredited voters: 23, 679
Enugu East LGA
APC: 622
APGA: 2,779
LP: 12,404
NNPP: 92
PDP: 12,803
Registered voters: 210, 600
Accredited voters: 29, 843
Uzo-Uwani LGA
APC: 1019
APGA: 169
LP: 5257
PDP 7299
Igboeze North LGA
APC: 541
APGA: 250
LP: 9955
PDP: 8738
Ezeagu LGA
APC: 963
APGA: 300
LP: 5949
PDP: 7576
Enugu Governorship Results: Isi-Uzo LGA
APC: 231
APGA: 42
LP: 12518
PDP: 6381
LP's Chijioke Edeoga enjoys early lead in Enugu guber election
So far, LP's Edeoga has won eight out of 17 LGAs in Enugu.
Below are the votes for major parties in the state:
APC: 6,766
APGA: 4,196
LP: 56,952
NNPP: 742
PDP: 50,368
ENUGU GOVERNORSHIP RESULT: Udi LGA
APC: 1,648
APGA: 1,724
LP: 10,109
NNPP: 172
PDP: 13,633
Registered voters: 150, 254
Accredited voters: 28,719
ENUGU GOVERNORSHIP RESULT: Aninri LGA
APC: 906
APGA: 498
LP: 3,431
NNPP: 85
PDP: 6,520
Registered voters: 80,312
Accredited voters: 12,010
ENUGU GOVERNORSHIP RESULT: Igbo-Etiti LGA
APC: 939
APGA: 1,259
LP: 11,941
NNPP: 137
PDP: 8,959
Registered voters: 89,636
Accredited voters: 24,303
ENUGU GOVERNORSHIP RESULT: Oji River LGA
APC: 1,060
APGA: 246
LP: 7,747
NNPP: 121
PDP: 7,365
Registered voters: 83, 416
Accredited voters: 17,340
ENUGU GOVERNORSHIP RESULT: Ezealu LGA
APC: 963
APGA: 300
LP: 5,949
NNPP: 81
PDP: 7,576
Registered voters: 88,877
Accredited voters: 15,559