Supreme Court vs FG: Strike Looms as NLC Issues Fresh Ultimatum to Buhari Over Naira, Fuel Scarcity
The leadership of the Nigeria Labour Congress (NLC) has threatened to embark on a seven days strike action should the Federal Government fail to address the fuel and naira scarcity
The congress made the decision public in a communique issued at the end of an inaugural meeting of its Central Working Committee
According to the NLC, workers will be directed to stay at home until the FG addresses the naira and fuel scarcity crisis
The challenges faced by many Nigerians, including civil servants, to access naira notes from banks and Point of Sale agents across the country have continued to elicit reactions from various quarters.
A recent reaction is from Nigerian Labour Congress (NLC), which has restated its resolve to direct all workers to stay away from their offices should the Federal Government fail to address Nigeria's fuel and naira crisis.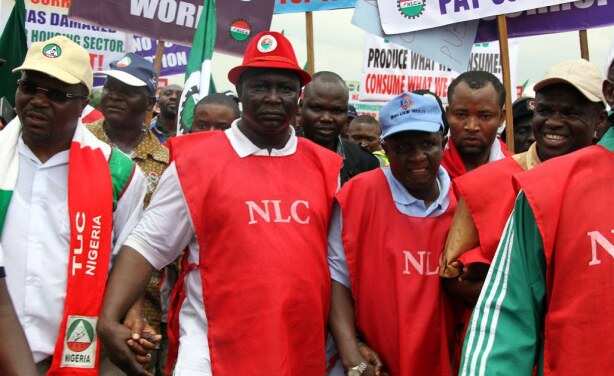 The Punch reports that the NLC, in a communique issued on Tuesday, March 14, after an inaugural meeting of its Central Working Committee in Abuja, said the congress would embark on a strike action if the scarcity is not addressed within the next seven days.
Also speaking on the matter, the national president of the congress, Joe Ajaero, said the NLC would utilise a stay-at-home order if, after seven days, the fuel and naira scarcity continues.
Ajaero said:
"In the period under review, three major issues have engaged the attention of the nation. They are presidential and national assembly elections; scarcity of PMS (petrol) and redesigning of the naira notes and its aftermath.
"The CWC noted that elections have been held and we have made our broad observations in an earlier statement. It reiterated its earlier statement that those with issues with the outcome of the election utilise the court to seek redress."
Second-term seeking Sanwo-Olu issues serious threat to Lagosians over old notes
Governor of Lagos state, Babajide Sanwo-Olu, who is seeking a second term in office, has issued a stern warning to banks and commercial businesses in the state.
The governor, on Monday, March 13, approved the closure of any bank, business or commercial outlet that fails to accept or transact with the old naira notes.
Governor Sanwo-Olu urged residents to report to the nearest Lagos State Consumer Protection Agency (LASCOPA) if they encounter any difficulty.
Naira crunch: "Punish Malami, Emefiele now," Buhari gets fresh challenge
RULAAC, a civil society organisation, has asked President Buhari to punish the AGF, Abubakar Malami and the CBN governor, Godwin Emefiele, for disobeying court orders.
The group also condemned the presidency for trying to dissociate President Buhari from Malami and Emefiele's actions when everything ended up at the president's table.
According to the CSO, Buhari's administration has not been leading by example when it comes to obeying court orders.
Source: Legit.ng