Tinubu's Presidency: Path of Honour Atiku, Obi Must Take to Challenge INEC Declaration
Wale Adeagbo, a prominent legal practitioner, has advised Atiku Abubakar, and Peter Obi, to allow the law to decide on their agitation against the 2023 presidential election results
While noting that the PDP and Labour Party have the right to express their grievances about the outcome of the poll, Adeagbo said the right channel is still the court and not any other means
The legal icon believes that the opposition's expression following the announcement of Bola Tinubu as winner is purely an exhibition of a right statutorily recognized
Bola Tinubu, the president-elect, was declared the winner of the February 25 presidential election by Professor Mahmoud Yakubu, the chairman of the Independent National Electoral Commission (INEC).
Tinubu, the candidate of the All Progressives Congress (APC), had polled over 8 million votes to defeat Atiku Abubakar and Peter Obi, the candidates of the Peoples Democratic Party (PDP) and the Labour Party, who came second and third in the election.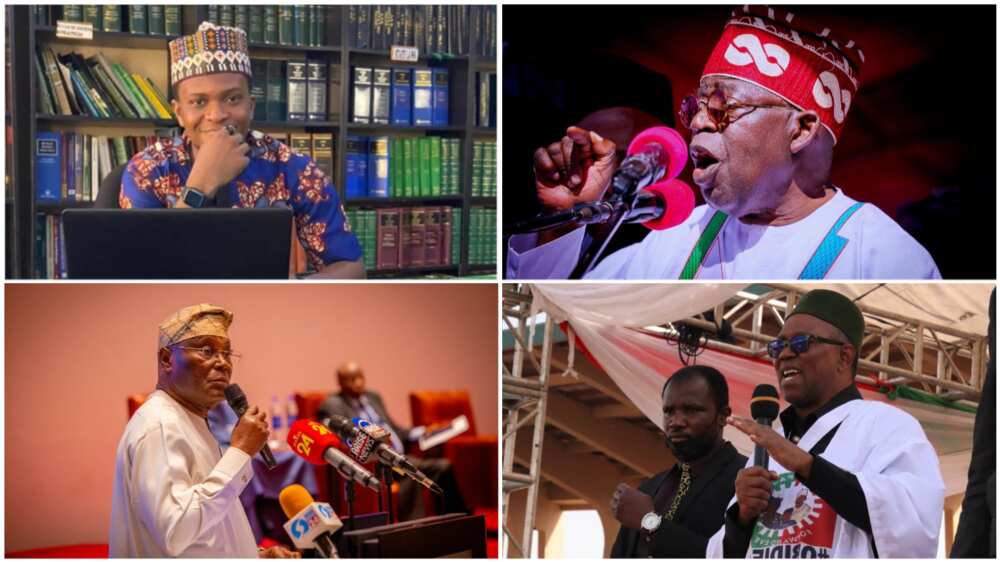 How Atiku, Obi should seek for justice rather than taking alternative roots
The declaration of Tinubu as the winner of the poll did not go down well with the first and second runners-up in the election, and they have been calling for the cancellation of the election.
In registering their displeasure with the outcome of the poll, Atiku had led the PDP leaders and supporters to protest at INEC's headquarters in Abuja while Obi has, in person, appeared in court in his bid to have access to probe the sensitive materials used during the poll.
Reacting to the dramas that are being played out after the election, Wale Adeagbo, a legal practitioner, advised the losers of the election to allow the law to take its course rather than taking other routes to justice.
Latest about Bola Tinubu, Atiku Abubakar, Peter Obi, PDP, APC, Labour Party, 2023 Election, INEC
The Ibadan-born legal icon disclosed to Legit.ng that the outcome of the poll "is purely an exhibition of a right statutorily recognized."
He said:
"The Electoral Act 2022 has given any Candidate who, after the declaration of results, is not comfortable with the result and the declaration. It is purely the right of any party and/or Candidate who is not satisfied with the results to agitate. However, such agitation must be brought vide the proper channel. And the proper channel is the Presidential Election Tribunal/Court."
Fresh trouble for Tinubu, INEC as Peter Obi files fresh charges in court
Legit.ng earlier reported that the Labour Party presidential candidate in the February 25 election, Peter Obi, has filed a new suit to inspect BVAS and other sensitive materials deployed by INEC.
Obi's new application came after he and his party were earlier denied by INEC to inspect the electoral material.
INEC has again asked the court to dismiss the suit, arguing that allowing the application to pass will affect its preparation for the March 11 governorship election.
Source: Legit.ng