"Peter Obi is a Man of Few Words, Can't Be Intimidated," Former Governor Ayo Fayose Warns
Ayo Fayose, a former governor of Ekiti state has described Peter Obi of the Labour Party as a man of few words
The ex-governor also urged Nigeria's next president to ensure that he works with Peter for the good of the Nigerian masses
According to Fayose, the former Anambra state governor has proven to become an institution in Nigeria's political space
A former governor of Ekiti state, Ayodele Fayose has said that Peter Obi, the 2023 presidential candidate of the Labour Party is not an individual who can be intimidated.
Speaking on TVC news on Tuesday, February 28, Fayose said that it will be beneficial for Nigeria's next president to ensure his administration works with the former governor of Anambra state.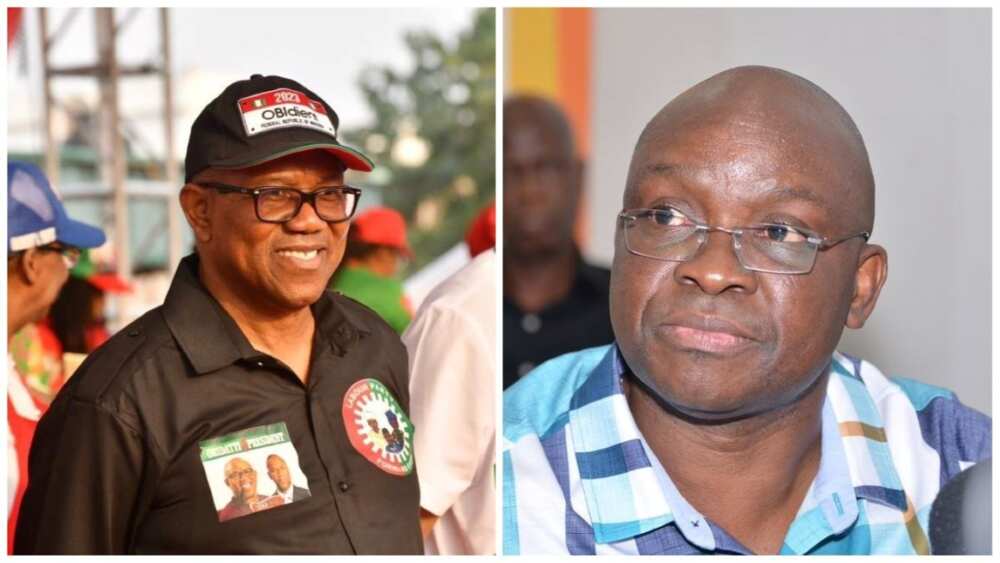 Fayose noting that Obi has become a thorn in the flesh o many political leaders in the country and described the 2023 presidential candidate of the Labour Party as a smart man
He also said that Obi is a man of little want and has the sincerity of heart needed to steer Nigeria to the path of development.
His words:
"Peter Obi should continue to thank God if this is an uncommon grace in Nigeria, Peter Obi has become an issue with Nigeria.
"Whoever wins this election, if he does not carry Peter Obi along will be in trouble, and the government won't stand the test of time.
"Peter Obi is an institution now, you know Peter Obi has been a very smart guy, but that has been Peter Obi. You'll see him carrying his bag alone, enter the motor alone.
"Peter Obi is a man of little wants, and little needs, he is saying the truth, and he is modest. He will tell you that my shoe is to make me comfortable.
Peter Obi deserves what is happening but let me tell you whosoever becomes the president of Nigeria should rally us."
Peter Obi Speaks for the 1st Time 72 Hours After 2023 Presidential Election, Full Video Emerges
The 2023 flag bearer of the Labour Party, Peter Obi, called on every Nigerian especially all the supporters of his presidential ambition to remain calm and law-abiding.
Obi's call for calm comes at the peak of controversies surrounding the coalition of the just concluded 2023 presidential elections across Nigeria.
A Twitter user, Goodluck Okeechukwu in a video post made on Tuesday, February 28, said his friend had met Obi on board a flight from Asaba, Delta state capital city to Abuja.
APC tells Peter Obi, Atiku Abubakar what to do as INEC declares Tinubu Nigeria's president-elect
The presidential campaign council of the ruling All Progressives Congress (APC) urged Peter Obi of the Labour Party and Atiku Abubakar of the Peoples Democratic Party (PDP) to accept defeat and congratulate Bola Tinubu, Nigeria's president-elect.
Speaking at a media briefing on Tuesday, February 28, Dele Alake, the council's media adviser said now is the time for the two candidates to tow the path of former president Goodluck Jonathan by calling Bola Tinubu to congratulate him.
His words: "We call on Atiku Abubakar and Peter Obi, to emulate former President Goodluck Jonathan by conceding defeat.
Source: Legit.ng