Barely 48 Hours Before Election, US President Joe Biden Sends Powerful Message to Nigerians, Candidates
America's president, Joe Biden, has commended presidential candidates contesting the 2023 general election for signing the peace accord
The US president is of the opinion that Nigerians also deserve the opportunity to choose their future in the forthcoming elections
According to Biden, the US government does not endorse any candidate but is in full support of a peaceful, free, fair and credible poll
With preparations for the 2023 general elections hitting top gear, the president of the United States of America, Joe Biden, on Thursday, February 23, said that Nigerians deserve the opportunity to choose their future.
Biden in a statement released by the United States Embassy in Nigeria and seen by Legit.ng commended the peace accord signed by all the political parties and their candidates contesting for Nigeria's number seat.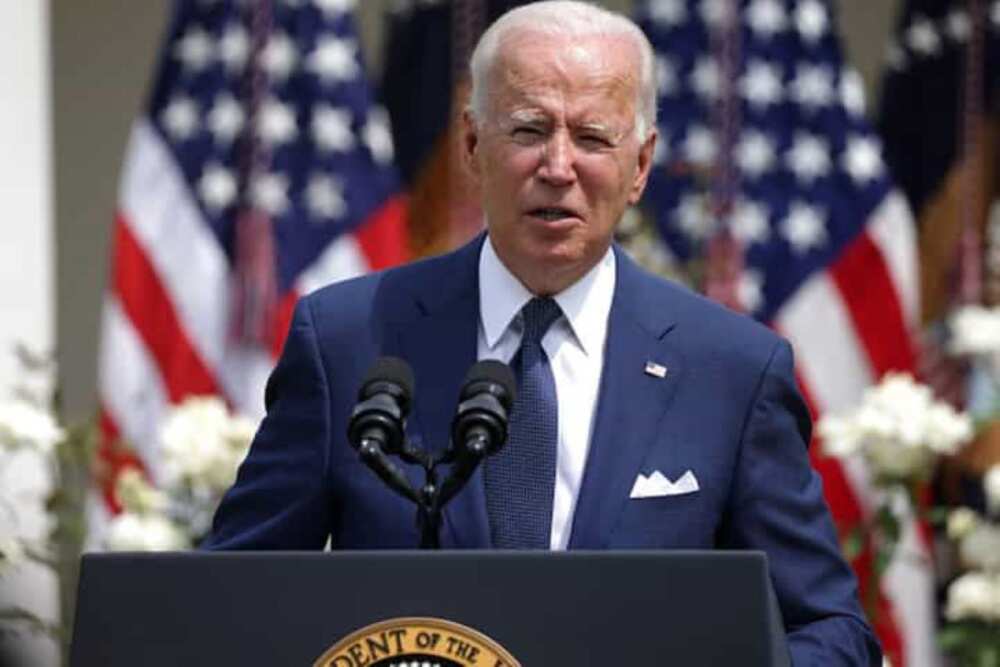 The US president said that by signing the pledge, the parties and candidates have committed to accept the results of the election which will be announced by the Independent National Electoral Commission (INEC).
He also said that the action by the candidates and their parties is a show of support for a peaceful transition of power following the outcome of Saturday, February 25, elections across the country.
Nigerians deserve to choose their future
Further stating that citizens of the country have every right to freely and fairly determine what they want for their future, Biden said that elections are a fundamental part of a functioning democracy.
His words:
"While the United States does not support any single candidate or party, we strongly support a peaceful and transparent process that reflects the will of the people of Nigeria.
"On election day, I encourage all Nigerians - no matter their religion, region, or ethnicity —to exercise this fundamental freedom and make their voices heard - including young voters, many of whom may be heading to the ballot box for the first time."
Biden also noted that the United States of America stands with Nigerians as their move towards a more democratic future.
He said:
"The United States stands with the Nigerian people as they chart a path toward a more democratic, prosperous, and secure future.
"I appreciate President Buhari's firm commitment that the will of the people will be respected. And in the coming days, I encourage voters to remain peaceful and patient as their ballots are tallied and urge the political parties and candidates to live up to their pledges."
2023 presidency: Buhari gives final instructions to candidates
Presidential candidates of the forthcoming polls have been urged to keep the peace no matter the outcome.
The President made the appeal at the signing of a peace pact by all candidates at the International Conference Centre in Abuja.
He stated that any candidate dissatisfied with the election's outcome should go to a court of law to seek redress.
2023 polls: "This election matters to the world," US tells Nigerians
In another development, the United States of America has maintained that Nigeria's 2023 general election is vital to the World.
The U.S., on Wednesday, February 22, stressed the need for a peaceful election, noting it matters to the World.
In a video message to Nigerians by the United States Secretary of State, Antony Blinken, the United States said Nigeria's constitution, like America's, begins with a simple and profound idea, 'We the People.'
Source: Legit.ng