Naira Scarcity: "I Want You to Finish Well," Says Wike as He Sends Cryptic Message to President Buhari
The governor of Rivers state, Nyesom Wike, has urged President Muhammadu Buhari to suspend his naira redesign policy
Wike expressed that his wish for the president is for him to finish well but the policy is purely anti-people and will not stop corruption nor stop vote buying during the election
According to Wike, people cannot have money in their bank accounts and they won't be able to make use of their money
Port Harcourt, Rivers - Nyesom Wike, the governor of Rivers state, has called on President Muhammadu Buhari to suspend the new naira note policy, describing it as anti-people.
The governor, who is a leader of the opposition, the Peoples Democratic Party (PDP), said Buhari means well for the country and he wishes him to finish his tenure well but the scarcity of naira notes is holding the people at ransom.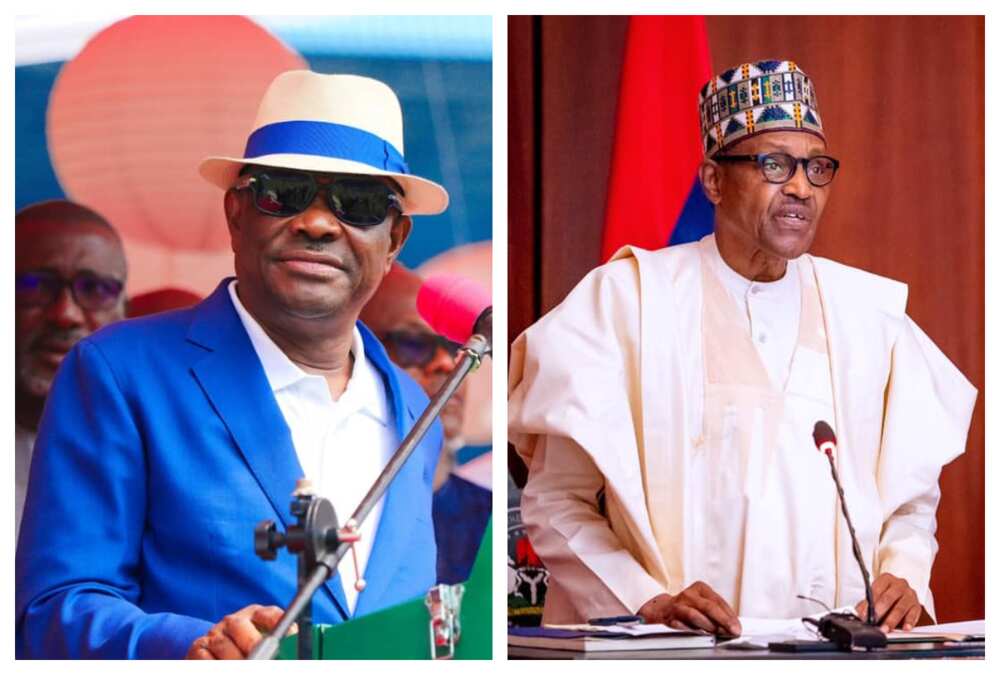 What Wike told President Buhari on naira scarcity
Wike noted that the policy will not tackle corruption as expected and it will not stop vote buying as the president has envisaged, but is making the poor masses suffer more.
He also said that it is not ideal for people to have money in banks and not have access to the money, noting that this move will tarnish the image of the president.
The governor said:
"Mr President, I want you to finish well but the Naira redesign policy is anti-people, the masses, not politicians are the ones suffering."
Latest about governor Nyesom Wike, President Muhammadu Buhari, naira redesign, naira scarcity, 2023 election
The governor said he understood the pressure to revive the economy, fight corruption and stop vote buying but the policy would do nothing to curb the vices but create more problems for the people.
The comment of the governor came a few hours after the President appealed to Nigerians to give him seven days to put an end to the deepening crisis of the new naira note policy on Nigeria.
See the video below:
Naira Scarcity: Buhari Breaks Silence, Makes Demand From Nigerians as He Meets APC Governors
Legit.ng earlier reported that President Muhammadu Buhari has asked Nigerians to give him seven more days to sort out the challenges being confronted on the new naira notes.
The President's appeal came after meeting the governors under his party, who urged him to allow the new currency to co-exist with the old ones.
Buhari said the new naira redesign will boost the economy while expressing doubt over the bank's cooperation with the new monetary policy of the government.
Source: Legit.ng