Another Huge Endorsement Land as Influential Ex-governor Speaks on 1 Thing That'll Stop Peter Obi's Presidency
Peter Obi will become Nigeria's next president in 2023, a former governor of Anambra state Chukwuemeka Ezeife has said
Ezeife believes that it is only rigging done by other presidential candidates that can prevent Obi from emerging victorious at the 2023 election
The Igbo leader noted that, unlike Peter Obi, some other candidates have so much money at their disposal
A former governor of Anambra state, Chukwuemeka Ezeife, has assured Peter Obi's supporters of the Labour Party's flag bearer's victory at the 2023 presidential election.
The Punch reports that Ezeife while speaking ahead of the Tuesday, January 10, rally by the Labour Party's presidential candidate said it is only rigging that will prevent Obi from becoming Nigeria's next president.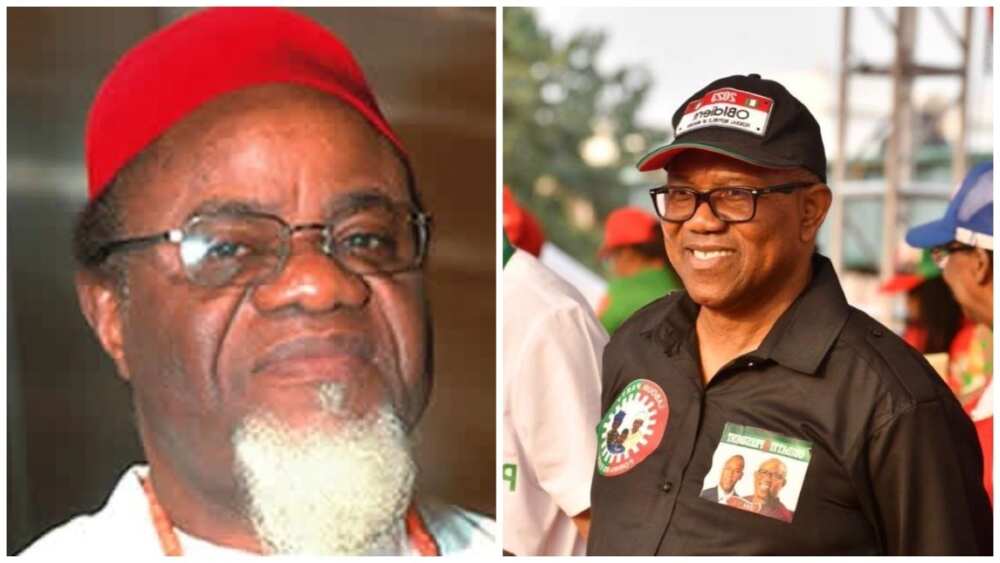 Ezeife said that he has a firm belief that Nigerians are all aware of Peter Obi's competence and capability to turn around Nigeria's situation.
His words:
"I am earnestly looking forward to the day Obi will be sworn in as Nigeria's President. That day will mark the beginning of Nigeria's return to the part of the glory.
"Apart from rigging, I would say that nobody else is contesting this election with Obi, inasmuch as I know that some other candidates have so much money at their disposal.
"All powers belong to God. And our God can stop every rigging and I see the hands of God in the 'Obidient movement' and I thank all Nigerians for thinking right this time around and I must say that all glory is to our God."
God's grace to prevail on behalf of Peter Obi
Also stating that by the grace of God, there will be no interim government, Ezeife said the result of the election is predictable.
He added:
"In fact, I can't wait for that day, May 29, this year when Obi will be sworn in. But if I had my way, why not bring the swearing-in date down to March or April, instead of waiting till May which is three months far away from the February election."
Peter Obi issues fresh advisory, tells Nigerians what to do during 2023 election
Nigerians who are eligible to vote in the forthcoming 2023 elections have been urged to vote out the Peoples Democratic Party and the All Progressives Congress.
This advice was given to Nigerians by the 2023 presidential candidate of the Labour Party, Peter Obi.
According to Obi, 2023 is a time for Nigerians to bid farewell to abject poverty, unemployment, and other challenges.
Finally, Labour Party reacts to Obasanjo, Edwin Clark's support for Peter Obi's 2023 presidential candidacy
The recent endorsement of Peter Obi by a former president, Olusegun Obasanjo and an elder statesman, Edwin Clark has continued to elicit reactions.
The Labour Party, the political platform under which Peter Obi is vying for the 2023 presidency has also reacted.
The party said more endorsements are expected from top political leaders and well-meaning Nigerians.
Source: Legit.ng