2023: Aregbesola-led APC Faction Speaks on Minister's Plan for Tinubu after Omission of His Name from Campaign
Some APC members have reacted to the omission of Rauf Aregbesola's name from Asiwaju Bola Ahmed Tinubu's presidential campaign council
Those who spoke on the issue are Aregbesola's loyalists who said they were surprised over the omission
However, they stated that the minister will work for and support the APC's presidential candidate come 2023
Loyalists of Rauf Aregbesola in the All Progressives Congress (APC) have expressed surprise over the omission of his name in Asiwaju Bola Ahmed Tinubu's presidential campaign council.
The publicity secretary of the minister's faction in the APC, Abiodun Agboola, told The Punch that he and his colleagues were expecting that their principal will get a position of prominence in the campaign council.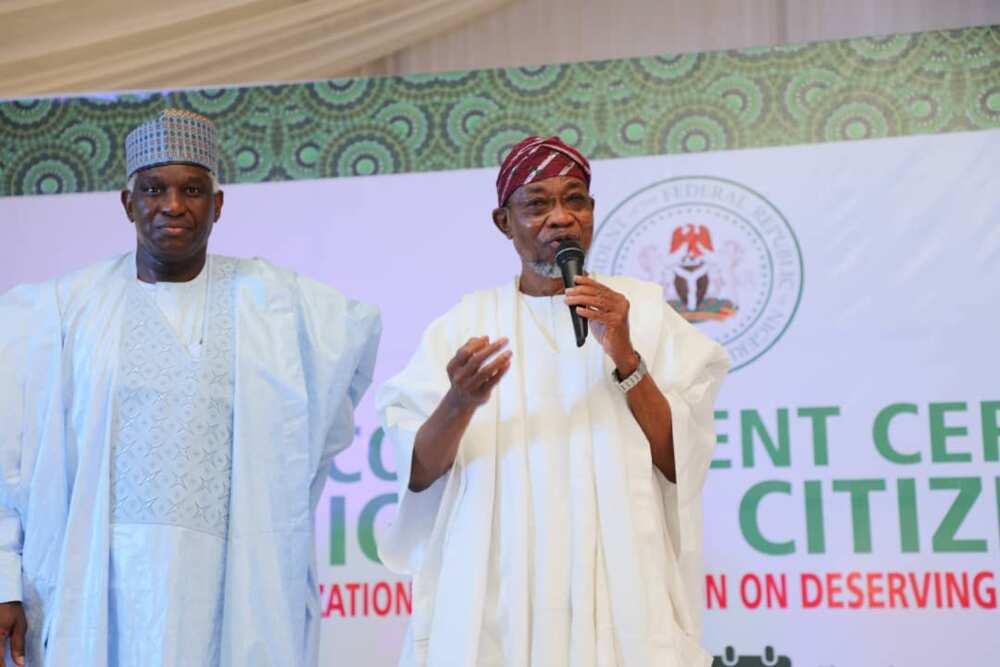 Agboola, on Tuesday, November 1, said the expectation was based on the age-long relationship between Tinubu and Aregbesola who was his DG during the former's governorship campaign in Lagos.
Aregbesola will work for Tinubu - APC faction
The secretary of the faction noted that while they do not know why Aregbesola's name is missing from the list, he will work for Tinubu's victory in the coming presidential election.
His words:
"Actually, we were surprised that his name was not included in the list when it came out. We don't know what is responsible for that but we felt that with his closeness to Asiwaju (Bola Tinubu), he was supposed to be given a prominent role in the campaign.
"As a true party man, he will definitely contribute towards the success of Asiwaju during the next election. But we felt that he deserved to be there. He knows Asiwaju very well; he knows him in and out. Asiwaju also knows his capabilities. At a certain point in time, he was the DG of Asiwaju when he was campaigning for the governorship in Lagos state.
"We felt he deserves more, but if the party hierarchy says that he has to come in as a member of the Executive Committee, there must be a reason behind that which is not known to us. He is a party man who is loyal to the party. Ogbeni Aregbesola will definitely play his role during the next election."
APC demands Buhari cautions Aregbesola for anti-party activity
President Muhammadu Buhari had been asked to caution the minister of interior and former Osun state governor, Rauf Aregbesola, for anti-party activities in Osun state.
The youth block of the ruling All Progressive Congress (APC) made this demand recently as a sequel to the just concluded Osun state gubernatorial polls.
Speaking on the demand during a press briefing in Osogbo, the state capital, the youth leader of the APC in the state, Goke Akinwemimo, accused Aregbesola of pulling strings to derail the progress of the party in the state.
Source: Legit.ng