Bad News for Tinubu, Osinbajo: Powerful Yoruba Leader Backs Southeast To Produce Next Nigerian President
Vice President Yemi Osinbajo and APC national leader Bola Ahmed Tinubu have been asked to drop their political ambition
The call was made recently by leader of Yoruba socio-political group, Afenifere, Chief Ayo Adebanjo
According to him, it was the turn of the South-East to produce Nigeria's next President after the administration of President Muhammadu Buhari
A direct message has been sent to aspirants from the southwest geopolitical zone including Vice President Yemi Osinbajo and former Lagos State Governor, Bola Tinubu.
The message was sent by leader of Yoruba socio-political group, Afenifere, Chief Ayo Adebanjo.
He said they should forget their presidential ambitions.
According to him, it was the turn of the southeast to produce Nigeria's next president after the administration of President Muhammadu Buhari in May 2023, Punch Newspaper reports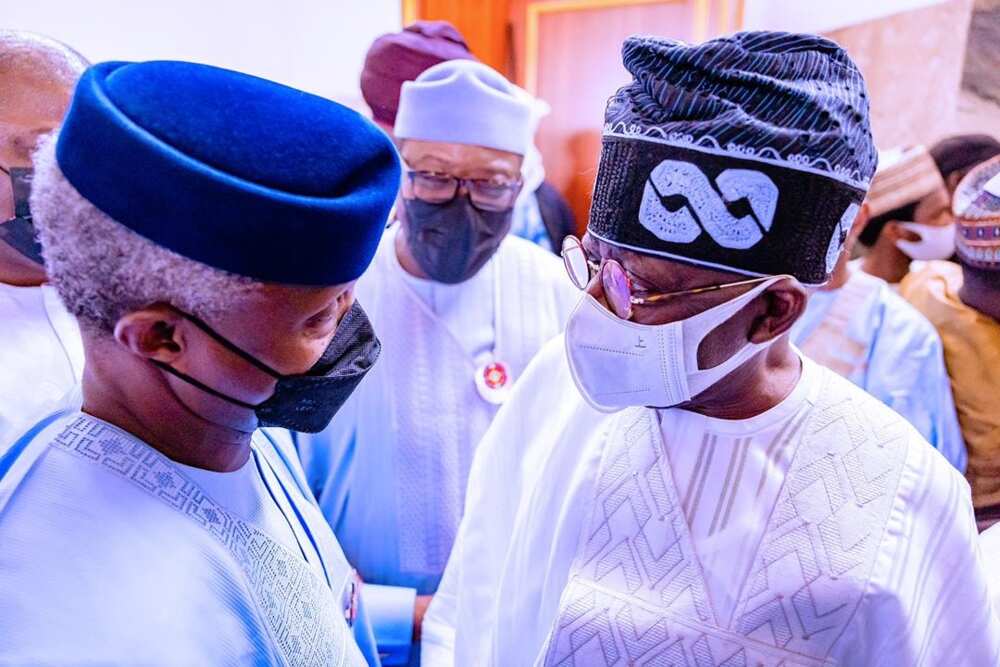 He said it will be an injustice for a southwest president to emerge in 2023 after ex-president Olusegun Obasanjo, Vice-President Yemi Osinbajo, all from southwest.
Adebanjo added that the southsouth zone has also had a shot at both President and Vice-President positions with ex-President Goodluck Jonathan.
He said:
"How can I back a South-West candidate? That is not equity. Has Obasanjo not done so for eight years? Has Osinbajo not done eight years as VP? Has Jonathan not done five years as President? Is the southeast not part of Nigeria?
"We want peace and equity. It is the turn of the southeast. I don't talk ambiguously. It is the South-East that the thing must go; there is no doubt about that but my anxiety now is that before we say, South-East, have we got a country? Let us settle that before we say the southeast is the answer. I am not ambivalent about it at all."
2023 presidency: List of APC delegates by states as Tinubu, Osinbajo slug it out
To emerge the presidential candidate of the ruling All Progressives Congress (APC), Presidential aspirants of the party like Vice President, Yemi Osinbajo, Asiwaju Bola Ahmed Tinubu, Rotimi Amaechi and others will battle for 7,800 delegates.
According to some observers, the numerical strength of states in respect to delegates would play a key role in determining who gets what among the various contenders.
In this report, Legit.ng lists delegates by states.
Kano: 465 delegates
Katsina: 384 delegates
Source: Legit.ng