It Is Finished: Obasanjo Sends Important Message to Nigerians Over Buhari
Nigerians have been advised not to have any more expectations from President Muhammadu Buhari
This advice was given by former president Olusegun Obasanjo who spoke at a retreat in federal capital territory, Abuja
According to him, expecting President Muhammadu Buhari to do anything more than what he has done will be fruitless
A message has been sent to Nigerians over President Muhammadu Buhari. The message was sent by former president Olusegun Obasanjo.
According to Obasanjo, Nigerians who still believe that Buhari has anything to offer the country again should perish such thoughts.
He says expecting Buhari to do anything more than what he has done is akin to beating a dead horse, Daily Trust reports.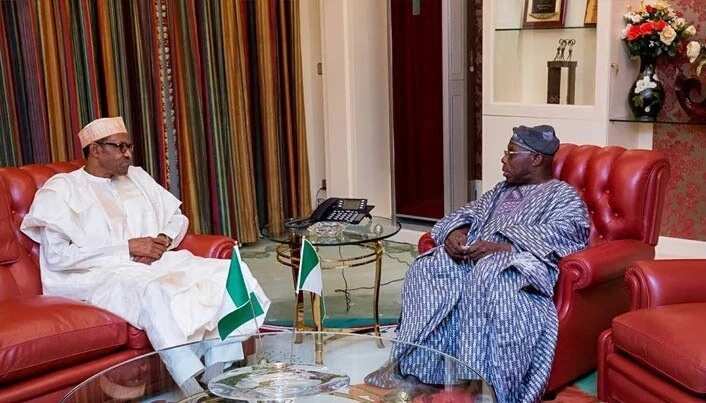 Obasanjo made this known when he spoke in Abuja Monday, December 13, at a retreat on inclusive security organized by the Global Peace Foundation and Vision Africa.
He said:
"The truth is this: President Buhari has done his best. That is what he can do. If we are expecting anything more than what he has done or what he is doing, that means we're whipping a dead horse and there is no need.
"Then, where do we go from here? We cannot fold our hands. I believe that is part of what we're doing here and what we continue to be doing. How do we prepare for post-Buhari? Buhari has done his best. My prayer is that God will spare his life to see his term through.
"But what should we do to make post-Buhari better than what we have now? That is our responsibility now, because it concerns all of us."
Going further, Obasanjo said that military action alone would not effectively end the insurgency in the country.
He added:
"People talk of political will, but I talk of political action. Political will is not enough. It must be matched by political action.
"The problem of insurgency will not go away, if all we are using is the 'stick' (military action). We may suppress it, and keep it down a bit, but we have to use 'carrot and stick' together to effectively tackle the problems."
President Buhari commissions locally built navy ship to boost maritime security
Meanwhile, Legit.ng had reported that President Muhammadu Buhari on Thursday, December 9, in Lagos commissioned a NNS Oji seaward defence ship built locally by the men of the Nigerian navy as well as a helicopter in Lagos
Legit.ng reported that that the defense boat ship built by Nigerian Navy engineers is the third of its kind at the Naval Dockyard. The first and second known as NNS Adoni and NNS Karaduwa were built in 2016.
Legit.ng reports that the president also commissioned six newly acquired ships which are NNS Osun, Sokoto, Aba, Ikenne, Kano and Lana. Also commissioned were 111 boats and one helicopter. The event also marked the keel-laying ceremony for the construction of Boat-IV and Boat-V.
President Buhari condoles with parents of Ojudu Grammar School students
Also, the president in a recent reaction sent a message to the parents and relations of Ojodu Grammar School students who were crushed by a trailer.
President Buhari in a statement signed by his special adviser on media and publicity, Femi Adesina expressed sadness over the tragic incident.
His message followed the incident that occurred in Lagos on Tuesday, December 7, when a trailer suffered a brake failure and rammed into students of the Ojodu grammar school killing 10 of them.
Source: Legit.ng