Ex-Power Minister Blames Southeast Governors, Accuses Them of Being Obstacles to Regional Integration
Southeast governors have been accused of constituting themselves as obstacles to regional integration
According to him, the governors were busy amassing wealth instead of them to work together for the benefit of the region
Going further, he said that the governors failed to realise that with the way things are going, there can be a revolution
Southeast governors have been blamed for the problems being faced by southeast.
This was disclosed by a former minister of Power, Prof. Chinedu Nebo.
He said governors of the South-East constitute major obstacles to economic and regional integration of their states.
He made this know during the unveiling of BECANS 4 Survey report in Enugu by the African Heritage Institute.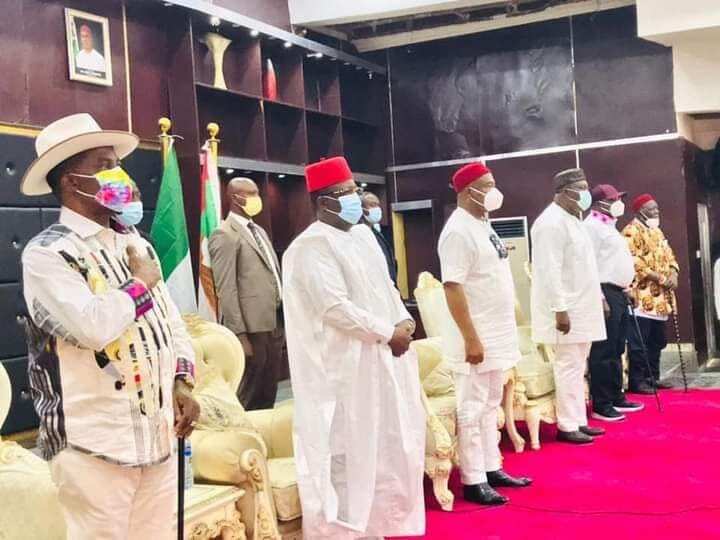 The former vice-chancellor of the University of Nigeria Nsukka, while delivering his keynote address, titled 'The need for regional, economic integration of Nigeria: A perspective from the South-East,' alleged that the governors rather than working together to maximise and utilise the abundant natural and human resources in the region, were busy amassing wealth for themselves and their generations.
He said:
"They don't think about the development of their states; they only think about how to secure second tenure. It's how much can I get. How much can I amass? How much can I acquire within eight years period? They don't realise that because of the massive corruption we have in our land, one day there might be a revolution, and everything they have acquired will be destroyed in the process.
"If our governors will be sensible enough to see 'Igwebuike' phenomenon as a principle for existence and survival, they will do better. How often do they come together to strategise? They should avoid selfishness and self-centeredness that will destroy them and the state they are presiding over."
2023 elections: Denying Igbo presidency will be highest level of marginalization against Ndigbo, Okeke warns
In another report, Legit.ng reported that ahead of the 2023 general elections a former chairman of the Police Service Commission (PSC), and president Pan-Ndigbo Foundation (PNF), Chief Simon Okeke, has said that if Igbos are not given a chance to rule the country it shows the highest level of marginalization against the Ndigbo.
Chief Okeke made this statement during an interview with Vanguard on Friday, November 26, at his Amichi, Nnewi South Local Council, Anambra state home.
The Igbo leader who spoke on national issues, including the Biafra secession agitation by the Indigenous People of Biafra (IPOB) and tackling insecurity disclosed that a peaceful agitation or protest is not an offence in Nigeria and all over the world, adding that there is a genuine move for Nigerian President of Igbo extraction.
2023: APC Northern Coalition gives reasons Okorocha should become Nigeria's president
Meanwhile, Legit.ng had earlier reported that a former governor and the present lawmaker representing Imo west senatorial district, Rochas Okorocha, seems to have been gathering a lot of support towards his presidential ambition.
In a recent move, a coalition of All Progressives Congress (APC) Support Groups across the country have launched campaigns to support Okorocha's drive towards Nigeria's presidency in 2023.
The Sun reports that the group in an event in Kano metropolis attracted APC supporters across the northern region of the country.
Source: Legit.ng