Sit-Tight Politicians Killing Nigeria, Says Senator Theodore Orji
Senator Theodore Orji has said that the re-cycling of expired politicians have affected Nigeria's progress in the last few years
The former governor of Abia state also said the refusal of sit-tight politicians to vacate politics is impeding the growth of the country
Orji made the comment while reiterating his decision to quit politics in 2023 to allow younger politicians to take over from him
Umuahia - The immediate-past governor of Abia, and senator representing Abia Central Senatorial District, Theodore Orji, has said re-cycling of expired politicians and the refusal of sit-tight politicians to quit politics are the reasons Nigeria is not making much progress in governance.
Senator Orji stated this while addressing journalists in Umuahia, the Abia state capital, while reiterating his decision to quit elective position come 2023.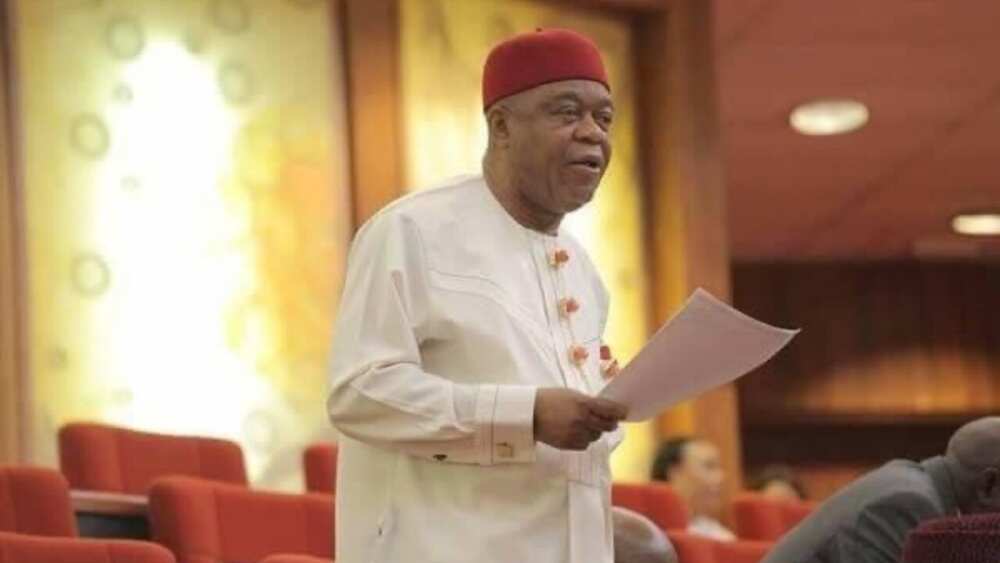 He said that his decision to bow out at the completion of his second tenure at the Senate is to allow the young generation to prove their mettle in politics.
Orji argued that there was no way the Not Too Young to Run Act signed into law in 2018 would be effectively implemented without the cooperation of the old politicians.
According to Senator Orji, the Not Too Young to Run Act will remain a paper tiger until the old politicians are willing to vacate the political space for the younger ones.
Vanguard newspaper quoted him as saying:
"I don't speak from both sides of my mouth. By 2023 I will not seek an elective position again. Dominating the political space till eternity is inimical to raising new crop of political leaders."
Orji who further explained that his decision to step aside in 2023 was personal and not under any pressure, urged old politicians to allow the young ones to test their hands on the saddle.
2023: Buhari says he would not spend a day longer in office
In a related development, President Muhammadu Buhari has said he would not spend a day longer in office even as he denied nursing any plan to extend his tenure beyond May 29, 2023.
The president made the comment during a meeting with United States Secretary of State Antony Blinken at the Presidential Villa, Abuja.
He said those who attempted to extend their tenures were disgraced and he wouldn't attempt it.
Buhari reveals he will leave office in 2023
President Buhari had earlier promised that he would leave office when his tenure ends come May 29, 2023.
The president also warned against campaigns targeted at the extension of his tenure while reiterating he had sworn to serve in accordance with the constitution.
The Nigerian leader made this disclosure at a meeting in Makkah with a selected group of Nigerians who are residents in the Kingdom of Saudi Arabia, where he visited recently.
Source: Legit.ng