Mama Came Through for Me: Soludo Hails 102-Year-Old Woman Who is Backing Him to Become Anambra governor
Charles Soludo ha commended a 102-year-old woman, Iyom Josephine Ezeanyache, who attended his interactive session with Anambra residents in Abuja
The APGA governorship candidate said the old woman told him she has been a member of APGA since it was formed
Soludo noted that the woman whispered words of encouragement into his ears after listening to his presentation
FCT, Abuja - Professor Charles Chukwuma Soludo, the candidate of the All Progressives Grand Alliance (APGA) in the November 6 Anambra governorship election, has hailed a 102-year-old woman, Iyom Josephine Ezeanyache, for attending his interactive session with Anambra residents in Abuja.
In a Facebook post on Monday, October 25, Soludo said the old woman said she has been a member of APGA since the party was formed.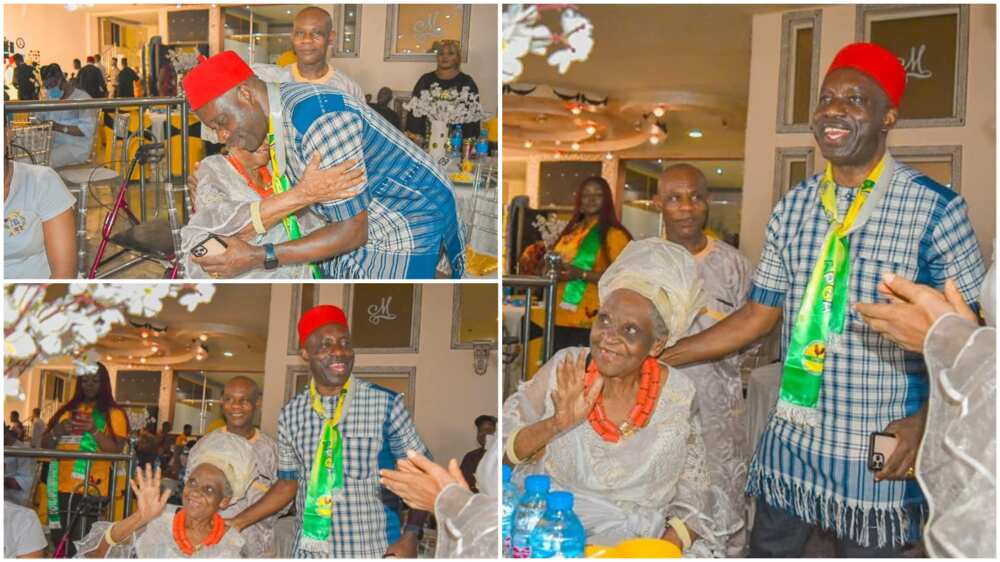 The former governor of the Central Bank of Nigeria (CBN) said the woman patiently listened to her presentation on Sunday, October 24.
The Facebook post reads:
"MAMA CAME THROUGH FOR ME...
"I was delighted yesterday to have Iyom Josephine Ezeanyache from Igbo-Ukwu at my interactive session with Ndi Anambra resident in Abuja. She is 102years old.
"Mama says she has been a member of APGA since it was formed.
"She had patiently listened to my presentation, and when she was mentioned for special recognition, I walked up to her seat to greet her. As I bent over to her warm embrace, Mama whispered words of encouragement into my ears. At 102, I marvel at her coherence.
"Indeed, successful and healthy aging is a blessing never to be taken for granted. Mama daalu for coming."
5 economic transformation plans of APGA candidate Chukwuma Soludo
Meanwhile, Professor Soludo has unveiled his economic transformation plans for the state.
Soludo, a well-respected professor of economics, said if he is elected, his administration plans to attract 2,000 small, medium, and large industries across the various industrial parks/clusters they will set up in the state.
Listing his plans in a document seen by Legit.ng, Soludo said his government will designate new locations as Industrial Technology Parks Akwaihedi, Awka environs including parts of Orumba, Ozubulu, Anaku, Awka, etc, in addition to the existing clusters in Nnewi, Onitsha/Ogbaru, etc.
Source: Legit.ng