Kano Mass Wedding: "Don't Search Your Spouses' Phones", Kwankwaso Advises
The 1,800 couples joined in holy matrimony over the weekend by the Kano State government have been given crucial advice to strengthen their marriage
Senator Rabiu Kwankwaso told the couples not to deep into their spouses' phones while together as man and wife
He said avoiding this would save their marriage from breakup and other related misunderstandings
Former Kano State governor Rabi'u Kwankwaso advised the more than 1,500 couples who participated in a mass wedding in the state.
He urged them not to check their spouses' phones, which could help prevent marriages from falling apart.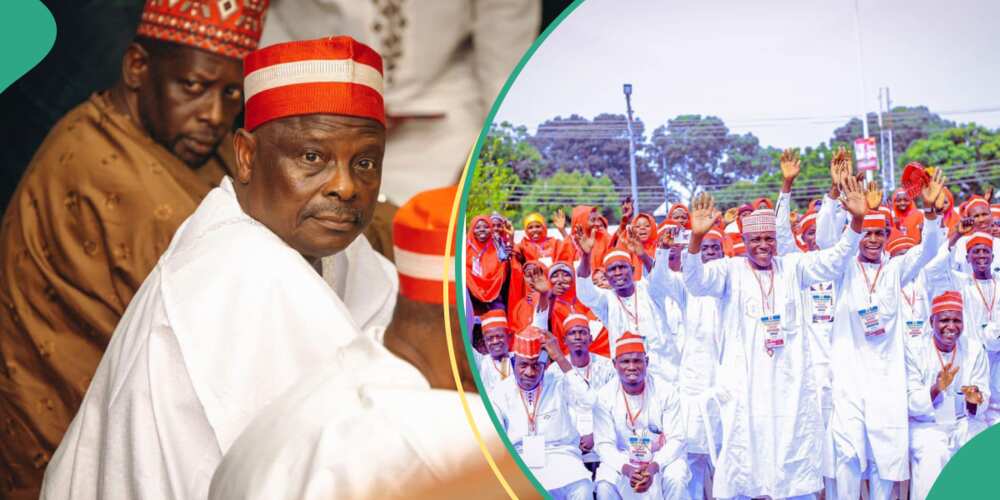 Mr Kwankwaso made these remarks during a reception organized by the Kano State Government for the newlyweds at the Open Theatre in Kano Government House on Saturday, October 14.
On Friday, Mr Kwankwaso and Governor Abba Yusuf acted as trustees for the newlyweds in a mass wedding that took place simultaneously across all 44 local government areas of the state.
As reported by Premium Times, 1,800 couples were initially scheduled to be married, and over 200 could not attend due to health reasons.
During the Saturday reception, Mr Kwankwaso, who also serves as the National Leader of the NNPP, emphasized that checking a partner's phone significantly contributes to marital breakups and advised couples against doing so.
He said:
"You have been advised by all and sundry. I believe you have been advised a thousand times. Ulamas, parents, relatives and even business people have advised you on how to live peacefully with one another.
"But, I have one single (piece of) advice for you; that is checking spouses' phones. Don't peep (into) your spouses' phones as that is the major cause of marriage breakup these days."
Kwankwaso hails Gov Yusuf
He praised Governor Yusuf for his political commitment to making the mass wedding possible.
He commended the government's initiative to sponsor over 600 students with over N700 million to study in foreign universities.
Kwankwaso said:
"We have made the right choice by electing Governor Abba Yusuf as our governor. He is a good leader who has continued with our legacies. One of such of legacies is this mass wedding.
"Apart from this, he is delivering mass-oriented projects. We call on the good people of Kano state to support his administration."
Gambo Haruna: Kano widow pushing wheelbarrow to feed 6 children
In another report, a widow whose husband died six years ago has struggled to care for their six children.
Reports confirmed that the embattled widow sells water from a wheelbarrow to cater for her kids' wellbeing.
She says she earns as low as N750 to N1,000 daily, which is insufficient to buy a proper loaf of bread.
Source: Legit.ng