"It's Cheap": Nigerian Lady Displays Imo Bride Price List Used for Marriage in 2013, Surprises Many
Mixed reactions have trailed copies of an Imo state bride price list used for marriage in the year 2013
An Imo state indigene shared the bride price list on Facebook, saying the anguish and gnashing of teeth it gives men excites her
Some items on the list include two gallons of palm wine, one bottle of Seaman Schnapps and four crates of minerals
A Nigerian lady, Ijeoma Chinonyerem, has proudly shown off an Imo state bride price list used in 2013.
Ijeoma, on Facebook, took delight in the fact that the list makes men gnash their teeth and leaves them in anguish.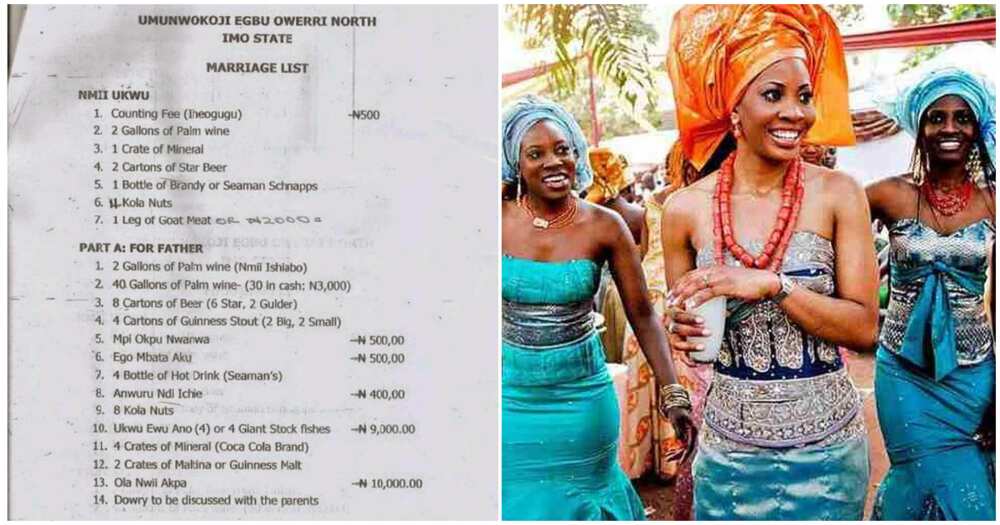 A look at the marriage list showed it was used for a bride who hailed from Umunwokoji Egbu, Owerri North on September 23, 2013.
The marriage list which was divided into three parts requested numerous edibles from the husband-to-be including eight cartons of Star beer, one bottle of Seaman Schnapps and eight kolanuts.
For the dowry part, it read on the list that it would be discussed with the parents. The list stirred mixed reactions.
People react to the bride price list
Doris Ibe said:
"This list is not too much ..... It's too small biko."
Amy Jay said:
"Ndi odogwu don't complain, they do the needful because they know what they want but you see broke afamels with no shi shi, na them dey cry wella, mana onye na ejii ego ona eri ofe owerri, olooo daaa."
Debbie's Haven said:
"The good part with all these lists is that there's always a money option if you can't do all these. And it's usually not plenty."
Rosemary Esu said:
"I can understand some things in this list no p... but which one is money to bring mother out of maternity 10k is the man paying for the hospital bill way the girl mama take born am what is his business with that one baayi."
Chidiadi Ukachukwu said:
"Me keeping quiet as a proud Ngor-okpala daughter.
"Onye shi ala Owerri Ari ya nma..."
Ada Mbaise said:
"Tomorrow they will drag Mbaise people.
"Go to Akwaibom and run.
"My friend's kinsmen demanded for a lister.
"I didn't say gen o.
"Lister!!!"
Chizz O-h said:
"The money items are cheap...na the ones wey no get price tags wey need intentionality.
"Anyway onye na-ari ego o jị.... enyị achọhu."
Curvy lady rolls out her bride price list
Meanwhile, Legit.ng previously reported that a curvy lady had rolled out her bride price list on Facebook.
The curvy and beautiful lady made a handwritten list of the items which are included in her bride price.
The list included 10 bottles of Azul, N10 million cash for her parents, 10 bags of rice, 15 iPhone 14 Pro Max and a host of other expensive items.
When asked if she had never been with any man to demand such a list, the lady said she was good in bed.
Source: Legit.ng