Igbo Mum Reacts after Seeing Son's WhatsApp Photo of Lady on His Lap, Their Funny Chat Leaks
A young Nigerian man has shared how his Igbo mother reacted to seeing a picture of a lady on his lap
The woman saw the picture on her son's WhatsApp status and enquired who the lady was to him
A voice note she made in response to the photo has left internet users in stitches, while others gushed over the mother-son relationship
A Nigerian woman, of Igbo descent, came across a picture of a lady on her son's lap and did not let it slide.
Her son, @fesco_dhaboss, shared his mother's response on TikTok as he laughed it off.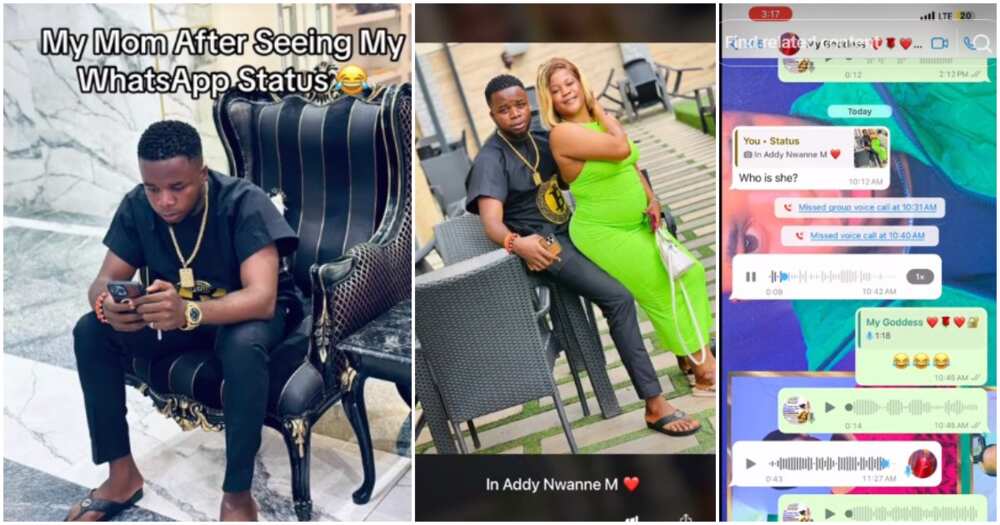 He had shared on his WhatsApp status a picture taken with a lady as he felicitated with her on her forthcoming birthday. In the photo, the lady, in a green gown, was positioned on his lap.
His mother first asked him who the lady was and then went on to funnily caution him in Igbo language.
Apparently, she was not pleased with the lady's pose on his lap. The woman's voice note gave people hard laughs.
Watch the video below:
His mum's reaction left people in stitches
Jane said:
"But my question is who be dis ur nwanne your mama did not know???"
Xoxo Vee said:
"If you no dey hear Igbo Otilo the hehe got me please explain to mummy cause she doesn't understand what's going on."
Cynthia16savage said:
"Anambra mums and their son's nah 5/6. She said NO oooo( mba ooo)."
KEWACO said:
"This is my mom.
''She will be like, ole etu IGA ASI buru nke a."
Iweego@Umuchu said:
"The mom speaks like she is from aguata."
M Illi Cent said:
"This is d reason I no wan buy my mum the iPhone she is asking for."
miss_nina said:
"They don already call you for group before the voice note oh."
Mum tackles daughter after seeing her WhatsApp status
Meanwhile, Legit.ng previously reported that a woman had criticised her daughter over her WhatsApp status.
Temi posted a picture on her friend's birthday in which she wore a mini jean skirt and sat on a man's lap while he put his arms around her waist.
She captioned the post, "My handsome sugar daddy."
Her mother saw it and sent voice notes, slamming her daughter for the position, saying the man was smartly "tapping current."
She asked her daughter who the man was and ordered her to take down the photo immediately. She lamented over what people would say when they saw such a photo of her daughter.
Source: Legit.ng